Customer Reviews
I love Gemselect, they are a quality operation and their customer service is very good. I have only had one purchase that I was not thrilled with, but it still was acceptable ...

kjm1990, January, 2017
Source: Bizrate
I like the fact that that they give the details about the stones such as VVS, VS and gives me the clarity.

Black panther, June, 2017
Source: Bizrate
Stones were beautiful.....each time I requested information about a stone I had a quick reply

Bowerbird, February, 2017
Source: Bizrate
Very happy to find the stones I wanted. I'm making a ring for my self. I belong to a silversmith class and will mention you among classmates.

Bowerbird, January, 2017
Source: Bizrate
Easy to use, quick checkout, overall very happy with purchase and experience.
Beautiful colors with wide selection

Joey, November, 2016
Source: Bizrate
You Selected (1): Gemstone Jewelry: Earrings
Clear All
ID: 462590

2

pcs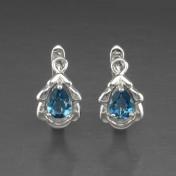 1.6ct Topaz Sterling Silver Earrings
USD
96.77
Item in Stock
Gemstone Jewelry: Earrings
Unique gemstone earrings made from natural gemstones and high-quality metals, by GemSelect are ready-to-wear and suitable for statement jewelry or subtle, everyday wear. Choose from a range of designs that are crafted by first selecting gemstones and then making sketches, and finally, producing the finished piece in sterling silver and other standard metal alloys.