Pharrell Williams' Jewelry Style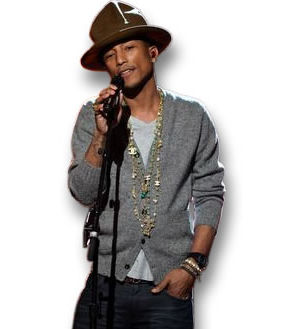 Pharrell Showing his Gemstone Chains
Pharrell Williams is a successful American musician and producer who is known for his unique sense of style. He is more famous for accessorizing with hats than jewels, and has his own clothing line called BBC (Billionaire Boys Club), which he founded with Japanese designer, Nigo. In 2008, he collaborated with Louis Vuitton designer, Camille Miceli, to create the "Blason Collection" of jewelry. These featured aristocratic European motifs, such as coats of arms, crowns, cherubs, with white gold, yellow gold, diamonds and other colored gemstones. Another collaborative project was unveiled at the 2009 Art Basel in Miami Beach. The work revealed was a sculpture by Takashi Murakami, Pharrell Williams and Jacob the Jeweler called "The Simple Things". The work of art depicts "the value of simple things with some of the staples of American culture" - a bag of Doritos, tomato ketchup, a condom, a can of Pepsi, baby lotion and a cupcake, being eaten by a colorful cartoon character called "Mr. Dob". Colored gems such as rubies, sapphires, emeralds and diamonds were used to embellish the sculpture, part of which was made from white, yellow and pink gold. It was purchased in less than 30 minutes by art collectors for approximately $2 million.
Before Pharrell became famous for his music, he was known for skateboarding, and he even had a half-pipe installed in his house. His jewelry also reflects his interest, since he had a Jacob & Co. platinum and gold skateboard chain made. Pharrell has worn some large custom-made diamond pendants from Jacob & Co. including an enormous $1 million multicolored chain with an N.E.R.D pendant (the band formed by Pharrell and Chad Hugo) and a KAWS Blitz blue diamond necklace and pendant. Pharrell also owns a custom-made Lorraine Schwartz yellow diamond necklace and a Bulgari Roman coin chain. While he has worn more than his fair share of bling, Pharrell now has a less showy approach to his jewelry and is interested in the healing properties of gemstones, such as yellow diamonds, emeralds and pearls. He likes to wear natural gems on layered necklace chains, including a custom-made Chanel rosary embellished with gemstone beads and a gem-encrusted cross. It is interesting that he chooses the brand Chanel, who advocated the "less is more" school of thought and advised fashionistas to look in the mirror before leaving the house and remove one accessory. It is plain to see that Pharrell is not afraid to pile on the accessories and maximize when it comes to jewelry.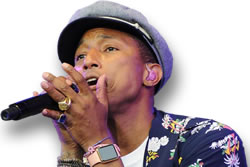 Pharrell's Gemstone Rings and Bracelets
In a similar vein, Pharrell is no shrinking violet when it comes to floral motifs. He has rocked floral clothing, shoes and jewelry, such as a flower necklace pendant, and often wears colors that are traditionally considered feminine. As with his chains, excess is the key when it comes to Pharrell's bracelets. He has been known to wear a single, prominent diamond bracelet, but more often layers several bracelets. He is not afraid to mix and match, and has been seen wearing a pink breast cancer awareness bracelet, along with his Apple watch, and friendship bracelets. Other bracelets that he wears are Lorraine Schwartz "2B Happy" tennis bracelets, Ofira Jewels bracelets and mixed beaded bracelets. Some of the beads seen on his wrist are turquoise and pyrite. Luxury watches are another jewelry item that Pharrell owns several of, from a pink Apple watch to a Jacob & Co. Five Time Zone watch.
As if chains, bracelets and earrings are not enough, Pharrell wears various rings, from gold and diamonds to a jade Buddha carving. One of the most noticeable rings worn by Pharrell is set with a 26-carat yellow diamond, said to be worth $2 million. He also owns a sizeable white diamond ring. Other rings that Pharrell has worn are a heart-shaped, pale yellow gemstone ring, a deep blue cushion-cut gemstone ring and a two-finger ring. When it comes to earrings, he is most often seen in yellow diamond studs, or white diamond studs. Unlike many men, he wears earrings in both ears.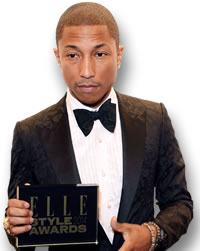 Pharrell Williams at the Elle 2014 Style Awards
Pharrell seems to be something of a style chameleon; he can pull off a tailored, casual or bling look. Whether he's in a sharp suit or shorts, the message that comes across from Pharrell Williams is that whatever you wear, you should be yourself. Williams once said, "Fashion has to reflect who you are, what you feel at the moment, and where you're going. It doesn't have to be bright, doesn't have to be loud. Just has to be you." Indeed, Pharrell certainly has his own, unique style which reflects his mood and inspires fashion and jewelry fans from East to West.
First Published: June-03-2016
Last Updated: December-18-2017
© 2005-2022 GemSelect.com all rights reserved. Reproduction (text or graphics) without the express written consent of GemSelect.com (SETT Company Ltd.) is strictly prohibited.