History and Guide to Buying Tennis Bracelets
Tennis bracelets are a classic jewelry design introduced in the 20th century. The traditional tennis bracelet is often referred to as an eternity bracelet and is designed to be worn around the wrist. Despite its name, the tennis bracelet wasn't actually designed to be worn for playing the sport of tennis. It earned its name after an incident that occurred during a U.S. Open tennis tournament in 1987. Tennis legend, Chris Evert was well-known for her large collection of diamond in-line eternity bracelets. In the middle of a match, she asked officials to stop the game so she could search for a diamond bracelet that she had dropped because it had somehow become unclasped.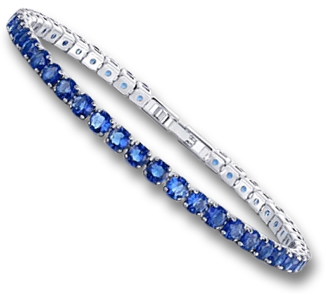 Blue Sapphire Eternity Tennis Bracelet
Since Evert's unfortunate incident, the name 'tennis bracelet' has stuck and the trend for sporty inline bracelets has grown tremendously in the jewelry market. In fact, even other tennis stars have been wearing tennis bracelets on the court, including Serena Williams, Anna Kournikova and Gabriela Sabatini. The attractive and sporty style of bracelets can range in price from hundreds to thousands of dollars. Diamond and platinum tennis bracelets can cost tens of thousands of dollars, while a 14K gold tennis bracelet with semi-precious gems may only a cost a couple of hundred dollars or less.
Bangles and other types of bracelets such as cuffs and strands are often too heavy, gaudy or delicate for those who live active lifestyles. This makes tennis bracelets perfect since they are lightweight, flexible and durable. Traditionally, tennis bracelets were made with white diamonds linked together by gold, platinum or other precious metals, but today, the definition has expanded to encompass any bracelet with an in-line or eternity design. Today's jewelry trends include tennis bracelets made with a variety of other materials, including colored stones, especially birthstones. Even though white diamond is no longer the rule, it is still considered the trademark look when it comes to high-end tennis bracelets.
Over the past twenty years or so, the tennis bracelet has evolved into one the most important jewelry pieces of our time. In fact, many jewelry collectors wouldn't even consider a collection complete without a tennis bracelet. Although the basic design has remained the same over the years, since the Evert incident, jewelry designers have made some improvements to tennis bracelets. Jewelry manufacturers introduced a safety chain along with the clasp to prevent what shouldn't have happened during the 1987 U.S. Open. The new safety chains are designed to keep the bracelet suspended from the wrist in case the bracelet clasp breaks - and with the high price of some tennis bracelets, the improved safety feature is definitely more than welcome. When buying a tennis bracelet, here are some helpful tips: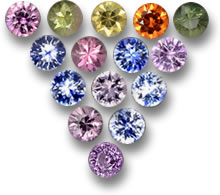 Matching Set of Faceted Sapphire Gems
The material of the bracelet should be heavy enough to weigh it down against your wrist. If it is too light, it may move around too much during wear, and since tennis bracelets have several moving mechanisms and numerous gemstones, too much constant movement is not a good thing. Check to make sure that each and every link of the bracelet is sturdy. The hinges of the bracelet should be firmly attached to the links. Gemstone settings should be polished smooth to ensure that no prongs or mechanical parts protrude from the bracelet. Most importantly, all gemstones should be well set and squared within each setting; they should also be as closely matched as possible in cut, color and size. Buying your gemstones in matching lots is the best way to ensure you are getting a good pre-matched set of gems.
Before buying or ordering bracelet jewelry, be sure to measure your wrist and have your bracelet made in the correct size. If there is too much extra room, it will move around too much and the bracelet will stretch and wear out from extra stress. If it's too small, it obviously becomes an unwearable piece of jewelry. While wearing a tennis bracelet, you should be able to comfortably slip a finger between the bracelet and your wrist. Lastly, tennis bracelets with security chains are recommended, whether made with fine diamond or cubic zirconia. This will protect against loss. Also double-check the quality of the clasp; ensure that the clasp is both strong and secure. After all, the bracelet is only as strong as its weakest link or clasp.