Buy Chocolate Opal Gems
(3)
Click for Details
1 pc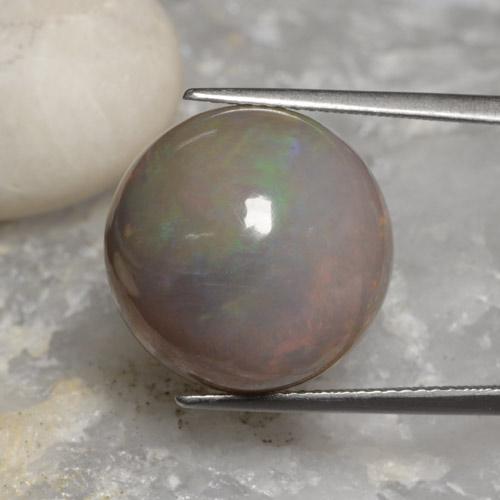 Round Multicolor Chocolate Opal
11.3ct
16.2 mm
Item in Stock
Click for Details
4 pcs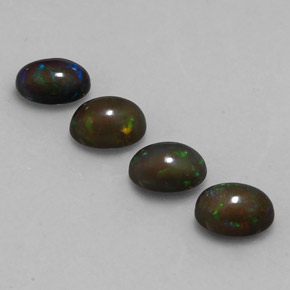 Oval Multicolor Chocolate Opal
0.60 ct (total 2.39ctw)
7.1 x 5.1 mm
Item in Stock
Click for Details
4 pcs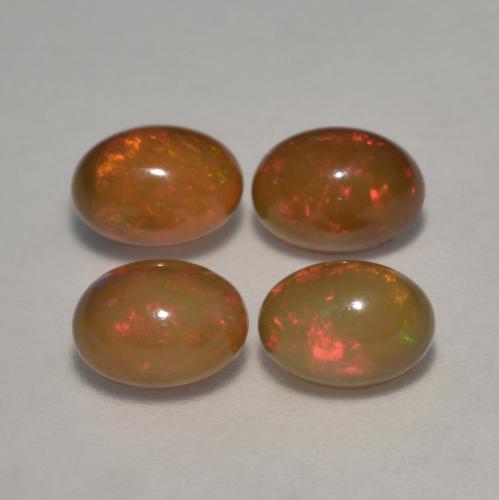 Oval Multicolor Chocolate Opal
0.71 ct (total 2.83ctw)
7 x 5.1 mm
Item in Stock
Chocolate Opal
About Chocolate Opal
Chocolate Opal is a lovely stone found in Ethiopia. It is sold like most Opal as a Cabochon cut Gemstone. It displays various base colors that can range from dark to light mimicking the shades of Chocolate hence the name Chocolate Opal. The darker base tones generally enhance the stones play-on-color but some lighter stone exhibit extraordinary effects too. Chocolate opal also is known as Ethiopian Opal has a Mohs Hardness of 5.5 – 6.5 and ranges from Opaque, Transparent, and Translucent.
How do I Buy Chocolate Opal from GemSelect?
The best way to purchase this stone is by its appearance and the stone size. Due to this and many Opal varieties rarity, it's available only in limited quantities. This particular Opal, however, is available in lots which are quite uncommon for the rarer types of Opal.
What are the advantages of buying GemSelect's Chocolate Opal?
There genuinely are numerous advantages to buying loose stones when compared to purchasing finished jewelry. One of the benefits is the ability to judge the actual quality of the gem. Another advantage is the vast selection of Gems you can choose from by purchasing online from GemSelect. Additionally, you will find that buying your Opal online from GemSelect will save you tons of money due to our affordable pricing.
What Types of Custom Designs are great for Chocolate Opal?
Chocolate Opal is perfect for Cabochon rings, and they happen to be the preferred stone for men. For men, this stone can be used in tie-tacks, cufflinks, and money clips too. Chocolate Opal is, however, a favorite stone for earrings, pendants, broaches, and pins which can be worn by ladies. Due to the full range of colors displayed by Chocolate Opal, it can be set in any precious metal as well.
Opal is, of course, the Birthstone of October and is an excellent piece of jewelry for anyone who's born in this month. In addition to birthstone jewelry, Opal is also traditionally given for the 14th year of marriage as an anniversary gift.
Certified Customer Reviews
Overall Rating -> 9

Well I was looking for the perfect stone to set in a ring for my partner. I found this Garnet on a website called Gemselect and it captured my eye. I had to have it for her. It looked as perfect as she does. I got the stone I wanted for $150 shipped straight to me. It'll be the perfect Christmas present
Posted By Willy Wonka in December, 2019
Overall Rating -> 10

Always enjoy browsing the website. It's super easy to use and very informative. Second order I have placed and will buy again in the future.
Posted By Negem in December, 2019
Overall Rating -> 10

GemSelect has a wonderful well described selection that surprises me how quickly it ships.
Posted By Tim in December, 2019
Overall Rating -> 10

They have the best selection of different gems and the prices and fantastic
Posted By Brandi in December, 2019
Overall Rating -> 9

Very clear site. The photos and video make sure you know exactly what you are getting. I also appreciate all of the additional info. and definitions/explanations offered
Posted By NuthinClever in December, 2019
Overall Rating -> 10

Working on a special anniversary gem collection for my wife, and was able to find almost everything on this one site. Having bought from yall before, this was a no-brainer on where to go for the right stones/buying experience.
Posted By ESP in December, 2019
Gemstone Information
Popular Gemstones