Click for Details
1 pc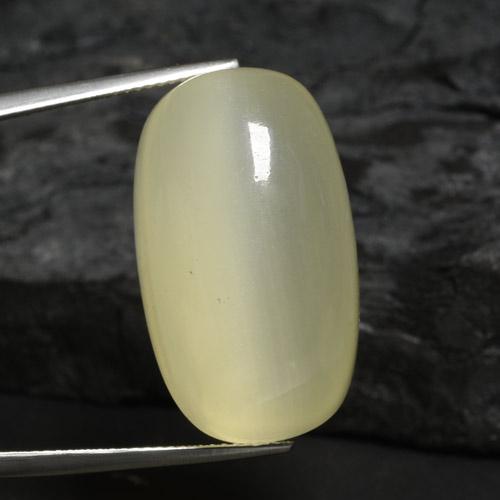 Oval Yellow Calcite
61.3ct
27 x 15.8 mm
Item in Stock
About Calcite
Buy Calcite Gemstones
Calcite is a carbonate mineral and is the most stable form of calcium carbonate. With a hardness of only 3 on the Mohs scale, it can only be used in jewelry that won't be subject to knocks or scratches, such as earrings and pendants. Its hardness is similar to that of gems like amber, coral and chrysocolla. Though calcite is not an especially durable material, it does take an excellent polish. Many historical artifacts identified as alabaster are in fact made from calcite.
In what colors are Calcite Gemstones available?
Pure calcium carbonate is colorless, but calcite is often colored by various impurities, including iron, magnesium, manganese, zinc or cobalt. Thus you will find calcite in a range of colors including white, gray, yellow, green, red and blue.
Want to learn more about Calcite?
Read our full Calcite information page here.
Certified Customer Reviews
Overall Rating -> 9

felt selecting what I wanted was easier and allowed me to find what I wanted.
Posted By Cara in June, 2020
Overall Rating -> 10

I have used gemselect several times over the past 10 years. I go to no other likeness for my stone needs.
Posted By Peachy in June, 2020
Overall Rating -> 10

Pleased to finally find nice amethyst cabochon that I can afford. I am designing pendant for friend in silver.
Posted By Jenny in June, 2020
Overall Rating -> 10

Secrect
Posted By Cliff in June, 2020
Overall Rating -> 9

When buying high-price items - like gems - it can be scary you are being scammed. GemSelect has no hidden strings. I tested this by purchasing very small, but they have won me over. Their prices are upfront and the quality is as expected. They also package their gems well, and ship incredibly quickly. Their website is easy to use, and they have quick customer service. Best eWholesaler.
Posted By BlueJacers in June, 2020
Overall Rating -> 10

I was looking for very specific loose gems for my collection and some loose gems to add to a piece of jewelry I want to have made and Gem Select had everything I was looking for and the selection and price ranges were outstanding. I will absolutely purchase from this vendor again and often. I am so very pleased with the items I received.
Posted By Plynn in May, 2020
Gemstone Information
Popular Gemstones