Shop By

VIDEO
ID: 446191

1

pcs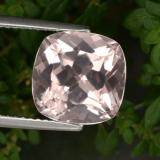 4.85 ct Morganite
10.5 x 10.4 mm
$
727.50
Item in Stock
Morganite
The pink form of
beryl
was named
morganite
, after the American banker and collector J.P. Morgan. A soft pink to violet, morganite belongs to the same family as
emerald
and
aquamarine
. Like the other beryls, morganite is quite hard (7.5 to 8 on the
Mohs scale
) but also rather brittle.
Deposits are found in Afghanistan, Brazil, China, Madagascar, Mozambique, Namibia, Zimbabwe and the USA.
Morganite has indeed become one of the most popular gems of the decade is is frequently used in gemstone rings, engagement rings - center stones and as fancy accent melee - and morganite is very-well suited for all other types of gemstone jewelry, including gemstone earrings, pins and brooches, as well as in necklaces and fine gemstone pendants.