Shop By
ID: 464273

1

pcs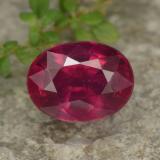 2.14 ct Ruby
8.1 x 6.1 mm
$
62.06
Item in Stock
ID: 482912

2

pcs
3.28 ct Ruby
7.7 x 6 mm
$
75.44
Item in Stock
ID: 401968

10

pcs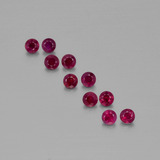 1.34 ct Ruby
2.9 mm
$
186.13
Item in Stock
ID: 484572

1

pcs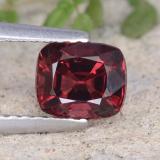 1.00 ct Spinel
6.1 x 5.1 mm
$
60.00
Item in Stock
ID: 466345

1

pcs
1.28 ct Ruby
7.1 x 5.2 mm
$
35.84
Item in Stock
ID: 399444

10

pcs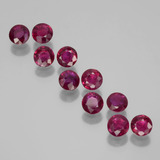 2.00 ct Ruby
3.6 mm
$
339.94
Item in Stock
Red Gemstones
Without a doubt, the best-known red gemstone is
ruby
, which is red corundum; all other varieties of corundum being referred to as
sapphire
. Corundum is the second hardest substance on the
Mohs scale
, with a rating of 9. It is this combination of excellent hardness and the rich color and silky shine that make fine ruby gems so valuable.
Rubies range in color from pinkish to orangey and purplish and brownish red, depending on the chromium and iron content of the stone. Most experts expect a medium to medium-dark color tone in a very good ruby gemstone.
Red gemstones are actually quite rare, and other red gems include spinel, fire opal and garnet. There is some very fine red tourmaline (sometimes called rubellite). Many red gems are only slightly reddish, while others can occur with very pure red color. For example, rhodolite garnet is a purplish-red color, while hessonite garnet and fire opal are red-orange or vice versa.
From this page, you can use the search tools to find red gems by gem type, shape, size, carat weight and other factors. The check boxes at the top of the page can be used to filter single gems, matched pairs, gem lots and cabochons. All items shown are available and ready to ship.