Birthstones, Zodiac and Anniversary Stones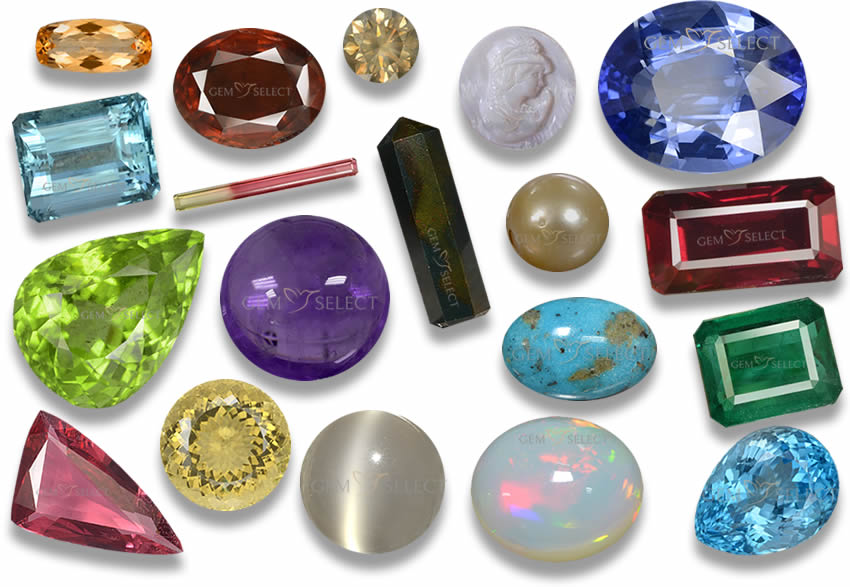 Birthstones are of special interest to gemstone lovers and the association of specific gemstones with months of the year goes back centuries. As the famous gemologist G.F. Kunz noted in his book, The Curious Lore of Precious Stones, "There is no doubt that the owner of a ring or ornament set with a birthstone is impressed with the idea of possessing something more intimately associated with his or her personality than any other stone, however beautiful or costly. The idea that birthstones possess a certain indefinable, but nonetheless real significance, has long been present and still holds a spell over the minds of all who are gifted with a touch of imagination and romance."
Precious gems were first associated with signs of the zodiac, and were adored for their special gemstone meanings. The modern birthstone list was formulated by an organization known as JA (Jewelers of America) in 1912. Birthstones are especially popular for use in gemstone jewelry, such as birthstone rings and birthstone pendants, and are sought-after for religious jewelry, particular in reference to the gems of Aaron's breastplate and Islamic gemstones.
Birthstone Chart and Zodiac Gemstone Information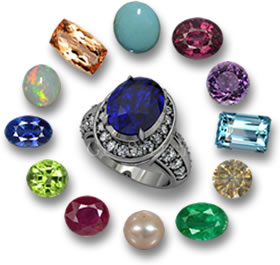 Birthstones and a Blue Sapphire Ring: September's Birthstone, 45th Year Anniversary & Thursday's Gemstone
Anniversary Gemstones & Gems for the Days of the Week
Back to Top
Gemstones For Days Of The Week
Sunday's Gemstone: Topaz
Those born on a Sunday can choose their topaz, from white, blue or regal imperial topaz, all create stunning jewelry.
Monday's Gemstone: Pearl
Monday's child is assigned pearl, an organic gemstone in silver, white, pink, peach, gold or silver hues that makes lustrous jewelry for all.
Tuesday's Gemstone: Ruby
People born on Tuesday can rock red ruby, the precious stone of power, passion, devotion and wisdom that never goes out of fashion.
Wednesday's Gemstone: Amethyst
Wednesday denizens can enjoy regal amethyst, the quartz gemstone that has been worn in rings by religious leaders and royalty alike.
Thursday's Gemstone: Sapphire
People born on a Thursday get to wear sapphire to represent their special day. This precious gem comes in many colors and also special star sapphire gems.
Friday's Gemstone: Agate
Friday folks have agate as their special stone. This is a variety of chalcedony and includes a wide range of wonderful gemstones, such as carnelian, chrysoprase, bloodstone and jasper.
Saturday's Gemstone: Turquoise
People born on a Saturday can take turquoise as their signature stone, the blue to green gem that was prized by the ancients from the Aztecs to King Tutankhamun.
First Published: September-10-2006
Last Updated: February-20-2019
© 2005-2019 GemSelect.com all rights reserved.
Reproduction (text or graphics) without the express written consent of GemSelect.com (SETT Company Ltd.) is strictly prohibited.