February Birthstones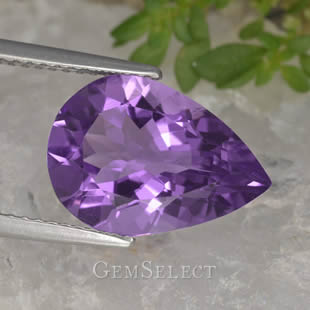 Amethyst - February Birthstone
The modern birthstone for the month of February is amethyst. Long associated with royalty due to its intense violet hue, amethyst at one time was considered to be one of the precious stones, along with sapphire, ruby and emerald. Amethyst was reclassified as a semi-precious stone when large deposits were found in Brazil and Uruguay in the first half of the nineteenth century.
Though amethyst is no longer rare, it continues to be the most valuable form of quartz. Its color is quite unique in the world of gemstones. Though fluorite and spinel can also occur in deep violet, and sapphire and tourmaline can sometimes be found in purple, amethyst is the only gemstone that has violet as its primary color. Amethyst can display all the violet hues from the palest lavender to the deepest purple.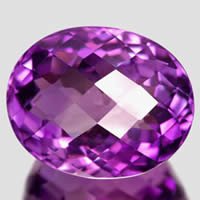 Checkerboard-Cut Amethyst
Amethyst has been known for centuries, and many metaphysical properties have become associated with it over time. The ancient Greeks associated amethyst with wine, probably due to its grape-like color, and they believed it had the power to protect them from intoxication. In fact, the name amethyst comes from the Greek word for sober, amethystos. The Greeks commonly served wine in goblets made from amethyst.
The association of amethyst with sobriety has a long tradition that continues to this day. The Catholic Church considered amethyst to be a symbol of spirituality and piety, and members of the clergy commonly wore amethyst rings. Amethyst is associated with stability, balance, peace, courage, sincerity, inner strength and a calm disposition.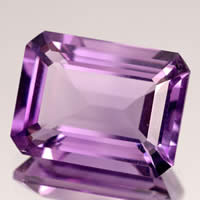 Emerald-Cut Amethyst
The most important deposits of amethyst are in South America, particularly Brazil and Uruguay. African amethyst, though found mainly in small sizes, is highly regarded for its excellent color saturation. Amethyst is found in many parts of the world, including Canada, India, Madagascar, Mexico, Myanmar (Burma), Russia, Sri Lanka, the United States, Italy and Germany.
When choosing a fine amethyst gemstone, look for good color saturation, color consistency and very good clarity. Though color is mainly a matter of taste, rich dark-purple tends to be more valuable than paler lilac. Amethyst can be found in a wide range of cuts and sizes, including cabochons, brilliants, emerald-cuts, Portuguese-cuts and checkerboard-cuts. Since amethyst is a form of quartz, it has very good hardness (7 on the Mohs scale) and no cleavage.
First Published: December-15-2008
Last Updated: November-14-2017
© 2005-2019 GemSelect.com all rights reserved.
Reproduction (text or graphics) without the express written consent of GemSelect.com (SETT Company Ltd.) is strictly prohibited.