Best Value Gemstones
One question we hear frequently from prospective buyers is, "What are the best value natural gemstones in today's market?". We've been giving the matter some consideration and would like to share our thoughts on the topic.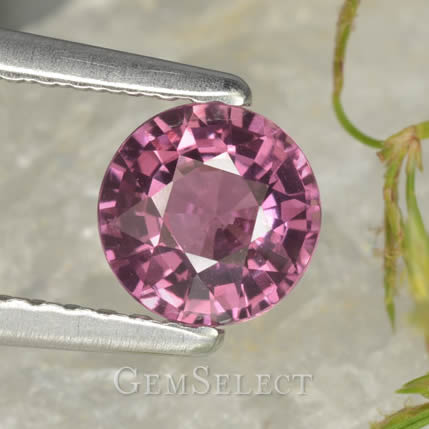 Fancy Pink Sapphire
Gemstone prices rise and fall depending on supply and demand, but generally they increase over time, sometimes dramatically. According to one service that has been tracking gemstone prices over the last 3 years, prices have risen an average of 20% per year since mid-2005. Those that have risen the fastest (around 30%) include tanzanite and Burmese ruby. Smaller increases (around 15%) have been seen in tsavorite garnet, tourmaline and zircon. Blue sapphire, spessartite garnet, spinel and peridot have seen increases that average around 20%.

Based on that information, virtually every gemstone variety is good value today, since they are all likely to be worth more next year. But it seems that the buyer who asks about the best value gemstones has something else in mind. He wants to know, as the Americans say, how do you get "the most bang for the buck."

Since beauty is to a considerable degree in the eye of the beholder, we wouldn't presume to tell you what the most beautiful gemstone is for your money. But we can tell you which stones have the best gemstone characteristics based on their per carat price. That seems to us to be a reasonable way of defining gemstone value.

Good gemstone characteristics, in our view, include superior hardness (greater than 7 on the Mohs scale), durability (absence of cleavage), very good transparency, good clarity and interesting colors. Absence of any sort of gem treatment would also be a definite plus.

Since there are not a great deal of gem varieties with a hardness greater than 7, it didn't take us too long to put together a short list of the best value gemstones. We didn't try to rank them, or say which is "best"; we think the short list is information enough for prospective buyers who want to make sure they are considering the right options. Here is our short list:
Pros: Hardness of 9, no cleavage, high refractive index (excellent brilliance), good dispersion (fire), good choice of colors though blue is the perennial favorite.
Cons: Usually heat treated.
Price range: $300-$600+ per carat for heated sapphire, $1000+ per carat for unheated sapphire.


Pros: Hardness of 7.5, indistinct cleavage, very high refractive index (higher even than sapphire), always untreated.
Cons: Available only in yellow-orange to orange-red.
Price range: $75-$150+ per carat.


Pros: Hardness of 8; indistinct cleavage, high refractive index, very good fire, wide choice of colors, always untreated.
Cons: Can be difficult to find, especially in larger sizes.
Price range: $50-$400+ per carat, depending on size.


Pros: Hardness of 7 to 7.5, indistinct cleavage, good brilliance and fire, amazing choice of colors, affordable in large sizes, usually untreated.
Cons: Gemstones tend to be highly pleochroic or multicolored.
Price range: $25-$150+ per carat, depending on size, Paraiba tourmaline $300 to $1000+ per carat.
Notes:
Price ranges are approximate, based on our current inventory. The upper ranges for any gemstone variety are always unlimited, since very special pieces are priced accordingly.
There are many fine gemstones which didn't make our short list, including ruby, zircon, topaz, emerald and tanzanite. Our intention is not to disparage any of these, but to identify the very best value gemstones on today's market, based on the gemstone characteristics cited above.
First Published: March-17-2008
Last Updated: January-24-2019
© 2005-2021 GemSelect.com all rights reserved.
Reproduction (text or graphics) without the express written consent of GemSelect.com (SETT Company Ltd.) is strictly prohibited.