Best Value Gemstones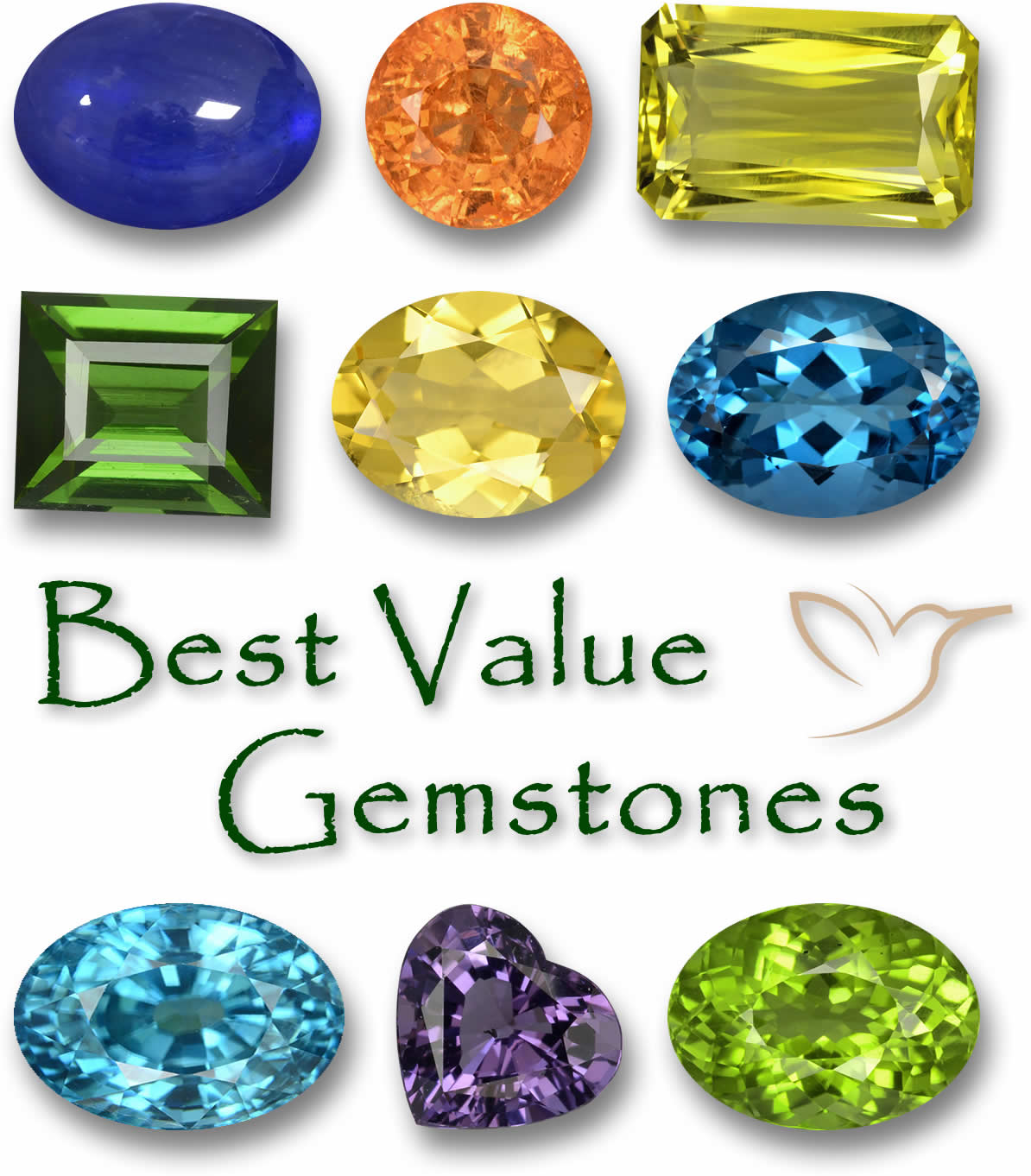 One question we often hear from our customers is:
"What are the best value natural gemstones?"
We've been giving the matter some consideration and would like to share our thoughts on the topic.
First we must point out that this is not an article on the most expensive gemstones or best gemstone investments. That is a totally different issue. What we will be talking about is the best 'value for money' gemstones.
What do we mean by value for money?
For example you may have the choice of two cars. One is $50,000 dollars and the other is a $1000. The expensive one is comfortable, reliable, fast but economical while the cheap one is always breaking down, guzzles gas and its bald tires, squeaky brakes and torn safety belts are a life-threatening danger to passengers. Only one of these cars gives any value for money.
In our case it is simply a gemstone that is worth the money you pay for it. NOT a cheap stone but something that will give you pleasure for years to come without breaking the bank.
There are a few factors that determine the price of a gemstone:
The type of gemstone
The condition of the gemstone itself – color, clarity, size, etc
The gemstone is officially certified
The origin of the gemstone – Burmese rubies are more valuable than Thai rubies
Simple supply and demand
Worldwide 'trends' for particular gemstones which can fluctuate – what cool people are wearing one year they may not be the next!
Of course the most important element is that you must love the look of your gemstone and it fits your budget.
We have put together a selection of gemstones that we feel offer the best possible value for money.
We have based our choices on factors such as:
Great color and clarity
Sufficient durability for most jewelry (Rated 7+ on Mohs Hardness Scale)
The less treatment the better
Wide range of sizes and shapes
Rare but not impossible to find
Let's begin with the king of colored gemstones, they are quite expensive but they are the best!
Notes:
Price ranges are approximate, based on our current inventory. The upper ranges for any gemstone variety are always unlimited, since very special pieces are priced accordingly.
There are many fine gemstones which didn't make our short list, including ruby, emerald and tanzanite. Our intention is not to disparage any of these, but to identify the very best value gemstones on today's market, based on the gemstone characteristics cited above.
Our Quick Guide to Value for Money Gems

| Gemstone | Price / ct | Color |
| --- | --- | --- |
| | $20 - $600 | All Colors |
| | $25 - $150 | Orange / Red-Orange |
| | $20 - $400 | Multi Colors |
| | $20 - $300 | All Colors |
| | $20 - $40 | Yellow / Golden |
| | $5 - $40 | Multi Colors |
| | $15 - $400 | Multi Colors |
| | $2 - $80 | Multi Colors |
| | $10 - $80 | Green |