Tanzanite Gemstone Information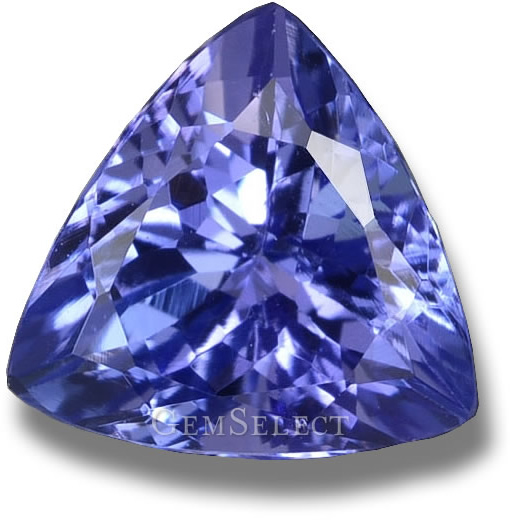 Buy Tanzanite Gemstones from GemSelect
About Tanzanite - History and Introduction
Tanzanite is a blue to violet gemstone which is a member of the zoisite mineral group. It was discovered in 1967 in the hills of Northern Tanzania, which remains the sole source of tanzanite to this day. Exactly who made the discovery of tanzanite is the subject of some debate. According to some, the first tanzanite crystals were found by Masai tribesman, Ali Juuyawatu. Other reports state that the discoverer was Ndugu Jumanne Ngoma. Finally, a further account credits Manual de Souza with the discovery of tanzanite on July 7, 1967. Tanzanite was given its name by Tiffany & Co. who promoted the gemstone, resulting in its sudden popularity.
Tanzanite is pleochroic, which means that it shows different colors depending on the viewing angle. In order to get the preferred blue or violet-blue hue, gem cutters must properly orient tanzanite gemstones. The vivid blue of tanzanite can rival fine sapphire and makes tanzanite an extremely desirable gemstone. This attractive color is so sought after that tanzanite is routinely heated to enhance fine blue and violet hues and minimize the less desirable brownish tones.
Tanzanite ranges from ultramarine to sapphire blue in color. It can also appear blue-violet. It is best identified by its refractive index (1.691 to 1.700) and density of 3.35. Its orthorhombic crystal system can also help to distinguish it from some similar gemstones, such as amethyst. Tanzanite exhibits perfect cleavage with an uneven fracture.
Tanzanite is only found in one place on earth; Tanzania, East Africa. The only known deposit of tanzanite is located on a five square mile hilltop at Merelani Hills near Ausha, ten miles south of the Kilimanjaro International Airport in Tanzania.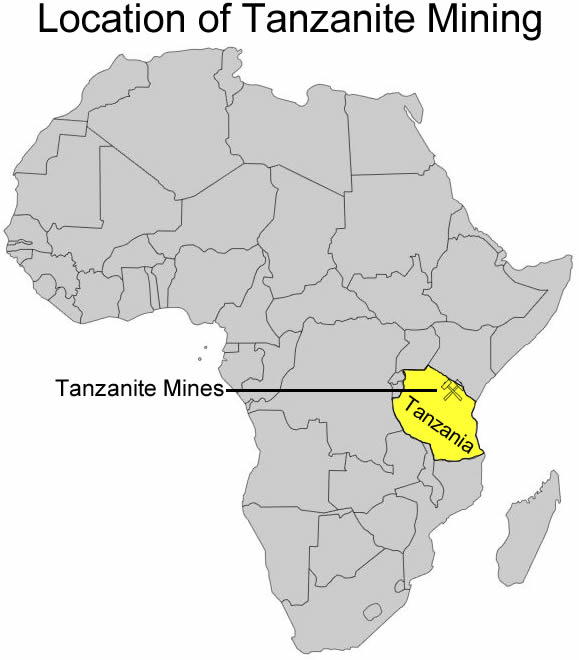 A Map of Africa Showing the Location of Tanzanite Mines in Tanzania, Africa
Buying Tanzanite and Determining Tanzanite Gemstone Value
Back to Top
Tanzanite Color

Tanzanite ranges in color from ultramarine to sapphire blue. Under artificial light, it may appear more violet. Tanzanite's pleochroism means that it can appear blue or violet when viewed from different angles. Tanzanite has a higher color saturation in gemstones of over 5 carats. The most desirable color for tanzanite gemstones is a deep saturated blue or violet-blue.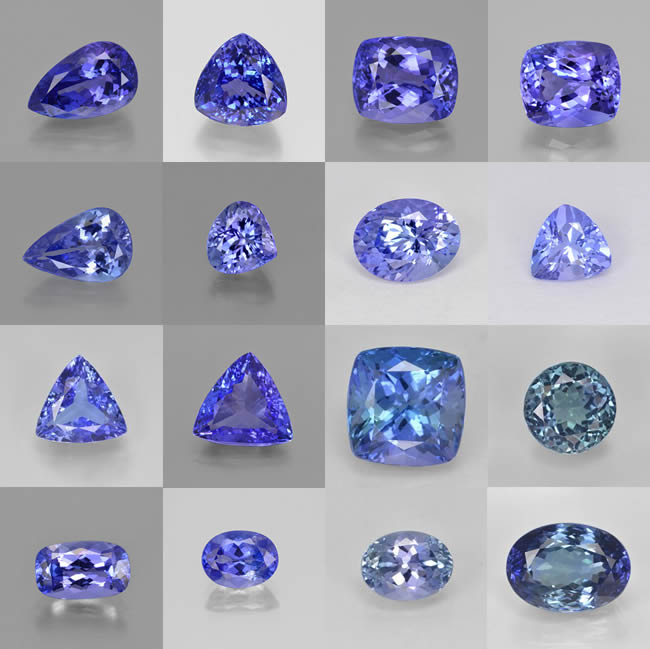 Some of the Different Colors and Intensities Tanzanite Displays
Tanzanite Clarity and Luster

When buying tanzanite gemstones, an eye clean stone should be sought. Tanzanite has an attractive vitreous luster. Eye-visible inclusions decrease the value of tanzanite, except in the very rare cat's eye tanzanite, which has desirable inclusions that cause chatoyancy (the cat's eye effect).

Tanzanite Cut and Shape

Tanzanite is mostly faceted in both traditional and fancy shapes and a variety of cutting styles. When cutting tanzanite, lapidarists generally take cost into consideration, which means that tanzanite is often cut into ovals and cushions. The gemstone's main color depends on the orientation of the cut. Extremely rare cat's eye tanzanite is cut en cabochon to display the desired chatoyancy.

Tanzanite Treatment

Tanzanite is usually heat-treated to enhance its blue and violet colors. Most rough crystals show a large proportion of brownish-yellow tints, which vanish when heated to 752-932 degrees F (400-500 degrees C) All reputable gem traders declare such enhancements, however routine they may be.
| | |
| --- | --- |
| Chemical Formula: | Ca2Al2(SiO4)3(OH) Calcium aluminium silicate |
| Crystal Structure: | Orthorhombic, multifaced prisms, mostly striated |
| Color: | Blue, violet |
| Hardness: | 6.5 to 7 on the Mohs scale |
| Refractive Index: | 1.691 to 1.700 |
| Density: | 3.35 |
| Cleavage: | Perfect |
| Transparency: | Transparent |
| Double Refraction or Birefringence: | 0.009 |
| Luster: | Vitreous |
| Fluorescence: | None |
Please refer to our Gemstone Glossary for details of gemology-related terms.
As a member of the zoisite mineral group, tanzanite is related to thulite and anyolite (also known as ruby zoisite). Thulite is an opaque pink manganese-rich variety of zoisite that is named after the legendary island of Thule. Anyolite is an opaque green zoisite rock that contains black inclusions of hornblende and large, mostly opaque rubies. Anyolite is named after the Massai word for the color green.
Tanzanite can be mistaken for other gemstones of a similar color, such as amethyst, iolite, sapphire and spinel.
Tanzanite Gemstone Mythology, Metaphysical and Alternative Crystal Healing Powers
Back to Top
Tanzanite is considered to be a valuable spiritual stone that can be used in order to relate to other realms or for meditation. Tanzanite is thought to inspire compassion and to encourage calmness. It is also believed to be helpful in facilitating communication and solving problems. In traditional Hindu belief systems, tanzanite is associated with Vishuddha, (the throat chakra), Ajna (the brow chakra) and Sahasrara (the crown chakra). This makes tanzanite a stone for higher consciousness, implementation of desires, self-expression, creativity, wisdom and communication. The color of tanzanite ties it to loyalty, faith, sincerity and respect. Physically, tanzanite is linked to the pineal gland, the pituitary gland, the thyroid gland and the mouth. Additionally, tanzanite has been added to the list of birthstones for those born in December by the American Gem Trade Association (AGTA). According to feng shui beliefs, blue tanzanite carries water energy whilst violet tanzanite carries fire energy.
Disclaimer: Metaphysical and Alternative Crystal Healing Powers and Properties are not to be taken as confirmed advice. Traditional, Ceremonial and Mythological Gemstone Lore is collected from various resources and does not represent the sole opinion of SETT Co., Ltd. This information is not to replace the advice of your doctor. Should you have any medical conditions, please see a licensed medical practitioner. GemSelect does not guarantee any claims or statements of healing or astrological birthstone powers and cannot be held liable under any circumstances.
Tanzanite Gemstone and Jewelery Design Ideas
Back to Top
Tanzanite has a relatively good hardness score of 6.5 to 7 on the Mohs scale. However, due to its perfect cleavage tanzanite should be worn with care. Like diamond and topaz, a single blow could cause tanzanite to split. Therefore, extra care should be taken when setting, polishing or cutting tanzanite gemstones.

Tanzanite Ring Design Ideas by GemSelect
Tanzanite is set in both yellow and white precious metals and accented by diamonds in a wide range of Tiffany & Co's tanzanite jewelery designs. Tanzanite gemstones may be seen in rings, earrings, necklace pendants, bracelets and brooches. High grade tanzanite is often set in gold or platinum and produced into fine jewelry, such as a 18k yellow gold tanzanite ring. A variety of traditional and fancy faceted cuts are used in tanzanite jewelery designs, including fantasy cuts. Smooth, unfaceted tanzanite beads are also fashioned into beautiful jewelery, such as can be seen in a Tiffany bracelet from the 2013 Blue Book Collection. Tanzanite gemstones have also been carved, such as in the earrings designed by goldsmith Gianmaria Buccellati. Tanzanite cabochons are sometimes used for tribal-style and wire-wrapped tanzanite jewelery designs. Tanzanite's vivid color makes it a excellent choice as a jewelery gemstone.
Note: Buy colored gemstones by size and not by carat weight. Colored stones vary in size-to-weight ratio. Some stones are larger and others are smaller than diamonds by weight in comparison.
Probably the most noteworthy tanzanite gemstone is the "Queen of Kilimanjaro", which is set into a white gold tiara along with 803 garnets and 913 diamonds. It is thought to be one of the world's largest faceted tanzanite gemstones, and weighs 242 carats.
The famous, "Queen of Kilimanjaro" with its 242 carat center stone
In the Smithsonian Natural Museum of Natural History collection there is a 122.70 carat tanzanite gemstone. Also in the Smithsonian collection is a Schneider tanzanite ring, which features a 12.11 carat tanzanite gemstone, and a Petersen tanzanite brooch with a pair of matching tanzanite gemstones, weighing a total of 30 carats.
Tanzanite has been worn by many Hollywood stars such as Cate Blanchett, who wore a Chopard tanzanite necklace to the Cannes Film Festival. Penelope Cruz's engagement ring has a tanzanite central stone and Anne Hathaway wore tanzanite drop earrings to complement her electric blue Armani dress during the 2011 Oscars.
Tanzanite Gemstone Jewelery Care and Cleaning
Back to Top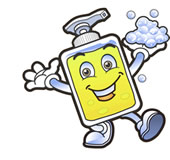 Since tanzanite exhibits perfect cleavage, tanzanite gemstones and jewelery should be protected from hard blows, which could cause damage. Therefore, tanzanite should be worn in protected settings, such as bezel settings, and not worn daily in pronged settings. Tanzanite gemstones and jewelery should not be subjected to extreme heat or sudden temperature changes. Additionally, tanzanite should not be exposed to acid. Avoid the use of ultrasonic and steam cleaners. The best way to clean tanzanite gemstones is by using soapy water and a soft cloth. Be sure to rinse well to remove soapy residue. Always remove any jewelery or gemstones before exercising, cleaning or engaging in vigorous physical activities such as sport. Store tanzanite gemstones away from other gemstones to avoid scratches. It is best to wrap gemstones in soft cloth or place them inside a fabric-lined jewelery box.
First Published: July-02-2007
Last Updated: August-12-2019
© 2005-2019 GemSelect.com all rights reserved.
Reproduction (text or graphics) without the express written consent of GemSelect.com (SETT Company Ltd.) is strictly prohibited.