White Colorless Gems for Jewelry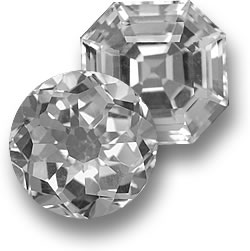 If you're thinking about purchasing white (colorless) gemstones for your jewelry, there are several excellent gem types to choose from. Whether you're in need of a large centerstone to serve as diamond substitute, or just looking for smaller white side stones or melee accents to accompany an existing center stone, there are a range of options to choose from.
When diamonds simply aren't practical or cost-effective, what type of gem do jewelers seek out in regard to the most common white gem alternatives? When it comes to large white gems, the most affordable and available is white (colorless) quartz and white (colorless) topaz. Clean, faceted topaz and quartz gemstones can be found in very large sizes, often weighing in at 10 carats or more. Try finding a 10 carat diamond even remotely eye clean, or even affordable for that matter.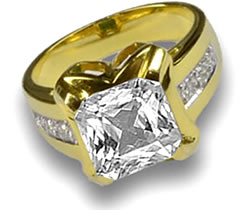 White Topaz Yellow Gold Ring
White quartz, also known as rock crystal, is the defining mineral for 7 on Mohs scale of hardness, which means it is quite durable and is considered to be quite suitable for most jewelry designs, including rings. However, when used as a diamond substitute, white quartz definitely requires a brilliant or diamond-cut since it doesn't have as much brilliance compared to other white gemstone types. It lacks the fire and dispersion of diamond and sapphire, but it offers excellent affordability and can be found in extremely large sizes. It is very common to find white quartz in oversized cocktail rings and fashion or 'costume' jewelry.
White topaz is slightly harder than quartz (8 on the Mohs scale) making it more resistant to scratches; but because of its perfect cleavage, it can easily be fractured, so it is not necessarily more durable. However, the brilliance of white topaz is superior to white quartz, owing to its higher refractive index, making it a slightly better alternative to white diamond.
For smaller white gemstones, white sapphire is by far the most popular colorless gemstone. White sapphire is an excellent substitute for diamond melee accents and could even be used for larger side stones as seen in three-stone ring designs. Sapphire has excellent hardness and durability, making it perfectly suitable for daily wear in any type of jewelry. White sapphire can be found in sizes as small as 1 millimeter, and can usually be found in princess cuts and round diamond cuts. White sapphire is becoming especially popular in bridal and engagement jewelry, not just as melee stones, but it is often worn as center stones too.
There are also some other lesser-known white, colorless gemstones available that offer interesting alternatives. These include white zircon, colorless beryl (goshenite) and danburite. When it comes to replicating the brilliance of diamond, white zircon is actually the best alternative available. It has the highest refractive index of all white gemstones, even higher than that of sapphire. In fact, before synthetic diamond simulants were introduced, white zircon was the most commonly used diamond replacement. A fine diamond-cut white zircon can easily fool many people, although to trained eyes, its high level of birefringence can easily distinguish it from that of fine diamond.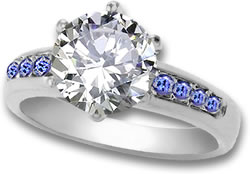 White Sapphire and Tanzanite Ring
The precious green beryl known as emerald is one of the most popular gemstones, and its light-blue beryl sister, aquamarine, is also one of the most important gemstones available today. The colorless beryl, known in the trade as 'goshenite', is for the most part unknown to most average consumers when it comes to jewelry gemstones. However, like all other beryl, goshenite is excellent for any form of jewelry, such as rings, earrings, bracelets, pendants and more. However, it doesn't make for an ideal diamond alternative since its brilliance is lower than that of sapphire or zircon. But it does still have good hardness (7.5 to 8 on the Mohs scale) and excellent transparency.
Another choice when it comes to white, colorless gemstones is danburite. Danburite is rarer than both zircon and goshenite, but it can occasionally be found faceted, though is not often worn as jewelry. Even so, it is perfectly suitable for most types of jewelry since it is relatively hard (7 to 7.5 on the Mohs scale). It has a higher refractive index than goshenite (white beryl), so it can result in better brilliance if cut well. Despite its rarity, danburite remains surprisingly affordable, though clean stones weighing over 5 carats can be expensive when compared with prices of white quartz, white topaz or white zircon.