Art Deco Jewelry; Modernity in Metal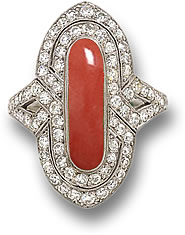 Coral and Diamond Art Deco Ring
Art Deco is a style of art that followed Art Nouveau. Art Deco reached its zenith in the 1920s to 1930s and continued to be popular thereafter. Like Art Nouveau, it favored progression and modernity. In fact, it was referred to as Style Moderne. However, where Art Nouveau used flowing curves and subtle colors, Art Deco brought vertical lines, symmetry and bolder, contrasting colors. The Art Deco style embraced technology and often incorporated geometric shapes. The international popularity of Art Deco took off at the time of the 1925 Paris Exposition, titled, Exposition Internationale des Arts Décoratifs et Industriels Modernes. However, the term "Art Deco" was not used to refer to the style until the 1960s, when the architect Le Corbusier wrote of the Paris Exposition.
Like many other artistic movements such as Art Nouveau, Art Deco spread throughout the world and became evident not only in fine art, but also in architecture. One of the most famous examples of Art Deco architecture can be seen in the spire of the Chrysler Building in New York City. Art Deco also influenced interior design, practical everyday objects and, of course, jewelry.
Popular materials for Art Deco jewelry were white gold and platinum, and white diamonds in contrast with brightly colored gemstones such as jade, emeralds, rubies, red coral, turquoise and sapphires. Black and white was also a characteristic combination, and black onyx was often used paired with white diamond or quartz. Where sophisticated shapes were created by enameling in Art Nouveau jewelry, expert gem cutting and settings, such as the invisible setting allowed Art Deco jewelry designers to produce outstanding mosaic-like images.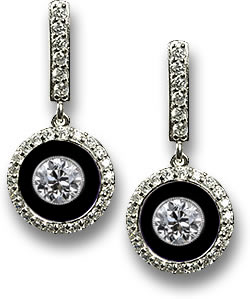 Modern Art Deco Style Dangle Earrings with Onyx and Diamond
Landmarks in history, such as the discovery of the tomb of the Egyptian boy-king, Tutankhamun in 1922 had an influence on the art of the time, including Art Deco jewelry, and Egyptian forms were incorporated into jewelry designs, causing an Egyptian revival. World trade in exotic regions caused foreign concepts to be imported into Art Deco designs, such as Chinese, Japanese, African, Middle Eastern and Indian motifs. These aspects made for an interesting mix of ancient and modern. Art Nouveau was also influenced by modern art movements such as Cubism.
Some jewelry designers are considered to have produced their greatest creations during the Art Deco period. One of the most prominent of these innovative artists were Van Cleef and Arpels. Van Cleef and Arpels created some fabulous Egyptian-inspired items including iconic bracelets and brooches that show ancient Egyptian scenes and motifs in sapphire, ruby, onyx, emerald, and diamond. Van Cleef and Arpels also created the sautoir, a long tasseled necklace that complimented the flapper dresses of the day. In 1933, Van Cleef and Arpels patented an innovative invisible setting known as "Mystery Set", which allows gemstones to be inserted into tiny gold rails, resulting in a continuous covering of gemstones with no visible prongs.
World famous French jewelry designer, Cartier, was influenced by India during the Art Deco period. Jacques Cartier visited India after taking the helm of the London branch of Cartier. This led to some interesting jewelry items, such as Cartier's use of carved gemstones and colorful combinations of sapphires, rubies and emeralds that were later called "Tutti Frutti". Among the most outstanding pieces of this colorful collection was an Indian style necklace, called the Collier Hindu, made for French fashion icon, Mrs Daisy Fellowes. Some of Mrs Fellowes's Art Deco jewelry achieved over $2.7 million on 26th March 2014 at Sotheby's London. On December 9th 2014, a Cartier "Tutti Frutti" bracelet previously owned by Evelyn H. Lauder of Estée Lauder achieved over $2.1 million at Sotheby's. This is the most a Cartier "Tutti Frutti" bracelet has ever been sold for.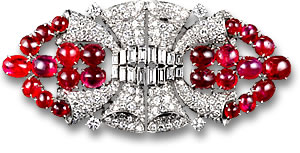 Cartier Art Deco Ruby and Diamond Brooch
Art Deco jewelry represented glamour, opulence and sophistication, which fitted in with the social climate of the roaring 20s and spirit of the Jazz Age. During this time, women experienced great social change. The "New Woman" of the roaring 20s enjoyed greater freedom and fun than her predecessors. This, along with increased consumer spending power led to some of the most luxurious pieces of jewelry ever designed, which continue to be admired to this day.