Costume and Fashion Jewelry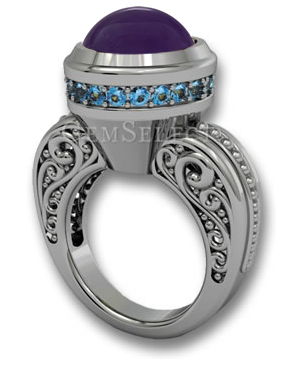 Amethyst Cabochon Fashion Ring
Costume jewelry originally referred to fashionable accessories that complimented an outfit or 'costume'. Nowadays, the term 'fashion jewelry' is used synonymously with the term 'costume jewelry'. When most people think of costume jewelry, they think of fake or cheap jewelry, but this is not always the case. Many fashion jewelry pieces can easily sell for hundreds or even thousands of dollars, particularly costume jewelry made by well-known signature designers such as Chanel or Christian Dior.
Nowadays, there is no clearly defined line that distinguishes fine jewelry from costume jewelry. Many would even argue that jewelry made of 14K gold is still costume jewelry, while others would believe it to be fine jewelry. In general, most costume jewelry is not made of precious metals or natural gems. However, there are always exceptions, including costume jewelry made of sterling silver, plated gold or even a low karat gold alloy (9K-14K), as well as jewelry that has been set with a combination of both manufactured and natural gemstones.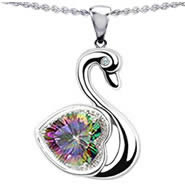 Mystic Topaz and Silver Pendant
Costume jewelry can incorporate a wide range of materials from inexpensive simulated stones to natural precious and semi-precious gems. Many high-end designer pieces combine sterling silver with colored stones such as mystic topaz, or even expensive brand-name crystals, like Swarovski Elements. Low-end costume jewelry is usually mass-produced in factories and utilizes inexpensive materials such as generic rhinestone and cubic zirconia. In most cases, low-end costume jewelry is set into plated base metals, pewter, enamel, or even plastic and wood.
Costume jewelry has been around for hundreds of years, but it didn't truly reach its golden era until the early 20th century. Before this time, most jewelry was made of precious metal and precious gems. However, during the 1700s, some jewelers began to make a small portion of jewelry with inexpensive glass. This began to fuel a small demand for jewelry that could be worn to compliment other, more expensive designs. Shortly after, the term costume jewelry turned into a household phrase, and in the early 1900s, jewelry made of semi-precious materials started to enter the market on a commercial scale.
There were a number of years when costume jewelry was made mostly from sterling silver due to a ban placed on base metals for private production during World War II. Sterling silver costume jewelry produced during this time is now considered vintage, and has become highly sought after by jewelry collectors. Since the value of many vintage pieces has dramatically increased, the buying and selling of vintage jewelry has become a very profitable business over the last few decades.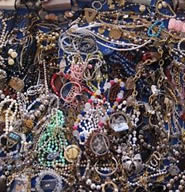 Collection of Vintage Costume Fashion Jewelry
One of the largest contributing factors to the success and popularity of costume jewelry was Hollywood glitz and glamor. Women from all social classes wanted to buy replicas of the jewelry worn by Hollywood's leading ladies, including Elizabeth Taylor and Lucille Ball. During the 1940s and 1950s, many jewelry designers made their way into the limelight through the production of high-quality replicas, including designers like Miriam Haskell, Claudette, Carnegie, Bogoff and Dior. The cost of designer costume jewelry was still fairly high, but it still allowed increasingly more women to obtain a luxurious look at a more affordable cost.
Costume jewelry isn't just a thing of the past. Today, many modern designers have become extremely popular through their designer fashion jewelry lines. If you take a look around the shelves of your local jewelry and department stores, you'll likely find a vast selection of costume jewelry pieces available. Upon closer inspection, it is doubtful that you will be able to distinguish the majority of pieces from their fine jewelry counterparts. Therefore, just because it's labeled fashion or costume jewelry doesn't mean that it's cheap, rather, it simply means more affordable.