Palladium for Jewelry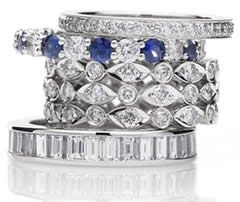 Many people think of gold as the most precious metal. It may be the most traditional precious metal, but it's not the most valuable. Platinum is almost twice as expensive as gold, currently selling at today's rate well over $1,700 per troy ounce, compared to about $900 per ounce for gold. Rhodium, an even rarer metal, was selling at prices as high as $9,000 per ounce in 2008.
With the popularity of white metals in jewelry during the last ten years, platinum became the metal of choice for high end jewelry, particularly wedding bands. Colored gemstones such as ruby, sapphire, tanzanite, spinel and tourmaline, look stunning when set in white metal. But in recent years, platinum has risen dramatically in price. In January 2007, platinum was trading at around $1,100 per ounce. By January 2008, it had risen above $1,500 per ounce and went as high as $2,200 in March 2008 before falling to around $1,700.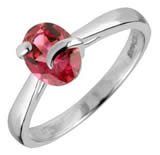 White Gold Tourmaline Ring
The high price of platinum has led jewelers to recommend another member of the platinum group to their customers; palladium. Palladium is not as dense as platinum and has a lower melting point. But like platinum, it is tarnish resistant, electrically stable and resistant to corrosion, as well as intense heat.
Palladium has been used as a precious metal in jewelry since 1939, as an alternative to platinum or white gold. This is due to its natural white color, which eliminates the need for rhodium plating. It is slightly whiter, substantially lighter but about 12% harder than platinum. It is also considerably cheaper, selling at around $380 per ounce.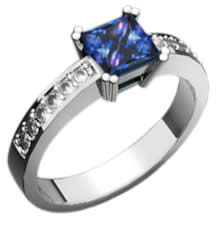 One of the unique properties of palladium is its ability to absorb hydrogen. When at room temperature and exposed to atmospheric pressure, palladium can absorb up to 900 times its own volume of hydrogen. Over half of the supply of palladium and its sister metal, platinum, goes into catalytic converters for automobiles, which convert up to 90% of harmful gases from auto exhausts (hydrocarbons, carbon monoxide and nitrogen oxide) into less harmful substances (nitrogen, carbon dioxide and water vapor).
Palladium bullion has been assigned ISO currency codes of XPD and 964. It is one of only four metals to have such codes, the others being gold, silver and platinum. Palladium was discovered by William Hyde Wollaston in 1803. In 2005, Russia was the top producer of palladium, with at least a 50% world share, followed by South Africa, the USA and Canada.