Guide to Choosing the Right Gemstones for Your Jewelry
When buying gemstones for jewelry, it isn't always about getting the right color of stone per se, though color certainly is one of the most important deciding factors. Since the gemstones and jewelry you are going to choose to buy and wear are going to reflect your personality and fashion style, here are some points to consider that will help guide you in choosing the right gemstones for your custom jewelry.
Considering Durability and Wearability
Most people misinterpret the meaning of durability when it comes to gemstones for jewelry. Often, durability and wearability are gauged solely by level of hardness. Although hardness can be indicative and often coincides with gem durability and wearability, this is not always the case. Gemstone hardness only measures resistance to scratches - and not resistance to fracturing, crumbling, parting, crazing (drying) or even denting. Some hard gemstones are actually quite fragile, due to perfect cleavage, and can be easily split by a single blow. Such gems include diamond and topaz. Yet, some gem types that are actually softer according to the Mohs scale of mineral hardness, are considered quite durable, like nephrite and jadeite. The overall toughness, durability and wearability of gemstones for jewelry is measured by several factors, including hardness, cleavage, fracture, tenacity and sensitivity.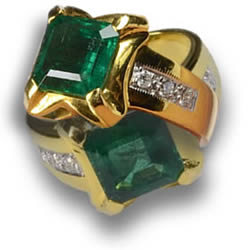 Emerald Rings with Diamond Accents
Considering Affordability
For those without a budget, natural and untreated gemstones are the best choice. The term "natural" applies to gems that can be found in an untreated, unenhanced state. However, since most people are working with a budget and usually do not hold any strong objections to the concept of enhanced gems, choosing treated or enhanced gemstones can cut costs without sacrificing the look of the finished design. So, if you do not have a strong opinion against treated gemstones, these offer a much larger selection. This is partly because many of the most popular jewelry gemstones available today simply cannot be found untreated, including blue zircon and London blue topaz, both of which obtain their color through routine treatments.
Considering Versatility
It is important to ask yourself, how your gemstone jewelry will be worn - occasionally, frequently, or daily. White diamonds, which are most commonly worn in engagement and bridal jewelry can be worn in just about every scenario and matched with every type of fashion trend. Though many types of colored stones may not be as versatile as white diamonds, colored gemstone jewelry can be custom-designed to accommodate versatility. When shopping for the right gemstone for your jewelry, versatility may be important if you plan to wear your jewelry often. Choose versatile gemstones if you plan to invest in jewelry that you want to wear often. Selecting several different colored gemstone jewelry styles will ensure that color of your stone will always suit your attire. Some examples of extremely versatile gems include varieties of sapphire, tourmaline, garnet and spinel, as well as pastel colored stones like aquamarine and kunzite.
Considering Availability
Some colored stones are simply so rare, that no matter how hard you look, you may not be able to find the size or shape you need. Availability may also affect the way you purchase the gemstone for your jewelry. Common gem types such as amethyst and citrine can usually be found even in small 'mom and pop' jewelry stores, while other lesser-known gems will likely need to be sourced from overseas online suppliers.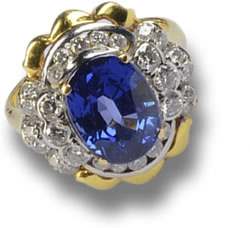 Blue Ceylon Sapphire with Diamond Accents
Many types of gemstones may be limited to certain sizes or weights. In most cases, certain gem types will only be available in small sizes, but there are a handful of gems known to be available only in large sizes as well, such as ametrine. This type of bicolor quartz is rarely found in gems weighing less than 5 carats, since cutting it down any smaller could reduce or even eliminate its attractive colors. Other gems such as alexandrite and demantoid garnet are extremely rare in large sizes. The availability of such gems makes it very hard to source large center stones for jewelry, but for smaller accent stones, alexandrite and demantoid garnet are absolutely ideal.
When it comes to large green centerstones, there are more varied options, which include chrysoberyl, emerald, tourmaline and sapphire. With regard to sapphire, we have often been asked by clients to find them an unheated 20 carat Ceylon sapphire for their custom jewelry design. To put this into perspective, the fact that the Prince William's wife, the Duchess of Cambridge, wears a Ceylon sapphire of only 12 carats in her royal engagement ring, makes the chances of non-noble folks obtaining a substantially larger sapphire slim to none. The availability of natural gems is decreasing by the day.
There are several other factors to consider when buying gems for jewelry, including the quality of cut, color and clarity of the gemstones themselves. However, we hope this article will at least help steer you in the right direction and get you to consider to some important points before you start shopping for your next jewelry project. When it is time to choose the right gemstones to meet your needs, we hope this article can be of help.