Most Valuable Sapphire Gemstones
You will often hear that the rarest and most expensive sapphire is the pink-orange padparadscha from Sri Lanka. But while the padparadscha is extremely rare, the finest blue sapphires are the ones that receive the top prices at auction.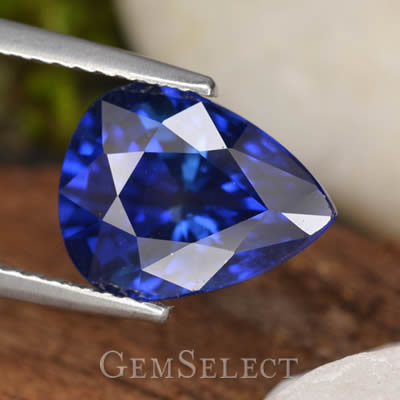 The record price for a sapphire was set in April 2007 at Christie's in New York, when an unnamed 22.66 carat blue Kashmir sapphire sold for $3,064,000; about $135,216 per carat. It broke the record previously held by the Rockefeller Sapphire, a 62 carat blue Burmese stone.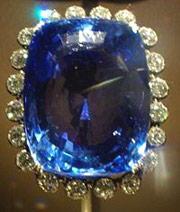 This Kashmir sapphire was originally purchased by James J. Hill, one of the great American railway barons. He reportedly paid $2,200 in 1886 for the sapphire set in a pendant with diamonds. It was later donated to the Minnesota Historical Society by Hill's descendants. The Christie's catalogue describes it as cushion cut, unheated and having a richly saturated and homogeneous color combined with a very high degree of transparency. It was sold to an anonymous buyer.
The Rockefeller Sapphire was purchased by John D. Rockefeller from an Indian maharajah (believed to be the Nizam of Hyderabad) in 1934 for an undisclosed price. It is a 62.02 carat, rectangular step-cut blue sapphire, mounted in a diamond ring. It was first sold by Sotheby's in 1988 for $2.82 million and then sold by Christie's in 2001 for $3,031,000, which amounts to about $48,871 per carat.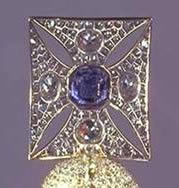 Not all the finest sapphires in the world are from Kashmir or Burma. The Logan Sapphire, donated to the Smithsonian Institution in Washington in 1960 by Mrs. John A. Logan, is a 422.99 carat Sri Lankan blue sapphire. Set in a brooch with 20 round diamonds, it is the second largest known blue sapphire. The largest is a stone known as the Blue Giant of the Orient. It was offered at auction by Christie's in 2004, but did not sell. However, it reportedly sold after the auction for $1 million. The Blue Stone of the Orient is also from Sri Lanka.
Of course many of the most valuable sapphires in the world have never been offered at auction and are unlikely to ever be seen in an auction catalogue. One of the most famous is the St. Edward's Sapphire, a blue faceted cushion set in the Maltese Cross atop the Imperial State Crown of the United Kingdom. Its exact weight is unknown but stories of its history date back to 1042 AD. The British crown also features a 104 carat sapphire known as the Stuart Sapphire; it is mounted on the band at the rear of the crown.
Some famous sapphires have a less distinguished history. The 733 carat Black Star of Queensland was originally a 1165 carat rough crystal discovered in 1935 by 14 year old Roy Spencer. Amazingly, it was used as a door-stop for many years by his family. It was purchased by Kazanjian Brothers and cut in 1948.
First Published: December-12-2007
Last Updated: November-22-2019
© 2005-2021 GemSelect.com all rights reserved.
Reproduction (text or graphics) without the express written consent of GemSelect.com (SETT Company Ltd.) is strictly prohibited.