The Allure of Yellow Sapphire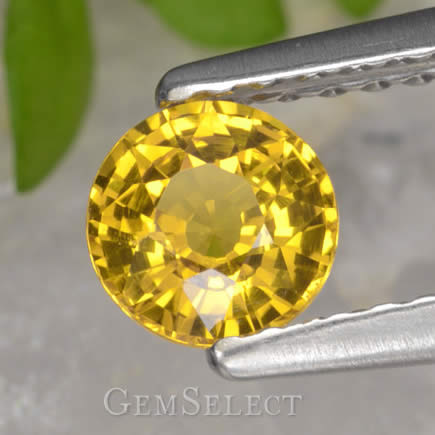 Round Yellow Sapphire
Sapphire and ruby are the very same mineral; corundum. All members of the corundum family are aluminum oxide, which in its pure state is colorless. The wide range of colors in corundum is caused by various impurities such as chromium, titanium and iron.
Red corundum, colored by chromium, has become known as ruby while all other colors of corundum are known as sapphire. Within the sapphire group there is another color distinction; between classic blue sapphire (known in the trade simply as sapphire) and all the other colors of sapphire (pink, yellow, green, violet and white) which are known as fancy sapphire.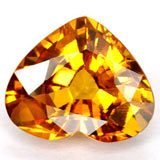 Fine Yellow Sapphire
Among the fancy sapphires, yellow sapphire, colored by trace amounts of iron, has become especially popular with gemstone buyers. One reason is that canary yellow diamonds have become a significant fashion trend. The more affordable yellow sapphire has become an attractive substitute for those unwilling to pay the exorbitant prices for yellow diamond. Since yellow sapphire also has excellent brilliance and hardness, it has also become a fashionable choice as a center stone for engagement rings, usually surrounded by smaller diamonds.
Another reason for the popularity of yellow sapphire is that this gemstone has a special place in the Vedic astrology of India. According to the Vedic tradition, there are nine gemstones that are thought to have special significance for human life; ruby, pearl, coral, emerald, yellow sapphire, diamond, blue sapphire, chrysoberyl cat's eye and hessonite garnet. These nine gemstones are thought to correspond with planetary activity and astrological entities. According to these beliefs, yellow sapphire is the gem associated with Jupiter.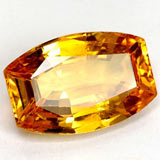 Natural Yellow Sapphire
Yellow sapphire is thought to attract wealth and bring prosperity to the home. It is said to stimulate the intellect and improve overall focus, enhancing wisdom. It is claimed that yellow sapphire assists in bringing about the fulfillment of ambition. For example, it is thought that a girl who wears yellow sapphire will get married early. Another belief is that people aspiring to administrative and political positions should wear yellow sapphire to bring good fortune. Yellow sapphire is also thought to act as a protective charm. It is said that those who encounter obstructions in the progress of their education or suffer from loss of property should wear yellow sapphire for the removal of their difficulties. Furthermore, it is also alleged to aid in the elimination of impurities from the body and stimulate the lymphatic system. Astrological gemologists recommend yellow sapphire to treat liver and gallbladder problems as well as disorders of the spleen and stomach.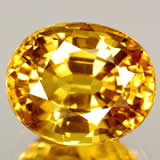 Natural Yellow Sapphire
There are a number of recommendations for wearing yellow sapphire. It is recommended that the sapphire is set in gold, and be worn starting on a Thursday, within an hour of sunrise. If set in a ring, the ring should be worn on the index finger. It is very important that the sapphire is of high quality. The theory is that the larger and cleaner the stone, the better the results. An inferior gem is thought to cause more problems than it solves. For example, it is believed that a stone with cracks invites threats, and one with poor luster and transparency creates enemies and causes disharmony in the family.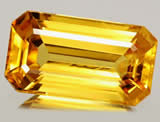 Octagonal Yellow Sapphire
Yellow sapphire comes in a range of hues, from the palest yellow or lemon, to honey and yellow-orange. The brighter and more saturated colors are often achieved through heat treatment. Yellow sapphire is found in Sri Lanka, Thailand, Cambodia, Madagascar and Burma.