Rare Pink Sapphire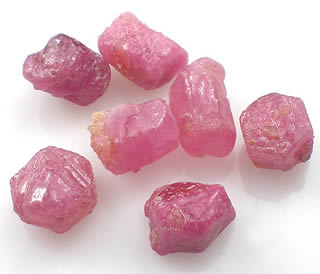 Pink Sapphire Rough
The popularity of pink sapphire can probably be traced to the fascination with pink diamonds. Pink diamonds are one of the rarest and most expensive of all gemstones, unobtainable for most people except the very wealthy. Pink sapphire is a more affordable alternative, though still rare and hardly inexpensive.
Sapphire has become a popular choice for wedding rings since Prince Charles gave Lady Diana Spencer a blue sapphire engagement ring. Sapphire has found favor for both its excellent hardness (9 on the Mohs scale) and interesting choice of colors. Pink sapphire is favored as an engagement ring because sapphire in the lighter colors tends to have more brilliance, luster and fire. Sapphire also has positive associations, such as faithfulness and sincerity.
Blue is the classic sapphire color, but good quality pink sapphire is actually rarer. Pink sapphire in large sizes is particularly hard to find. In general, pink sapphire is more valuable than the other colors of fancy sapphire, such as yellow, green and violet.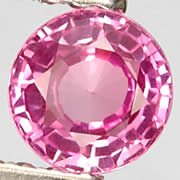 Unheated Pink Sapphire
Pink sapphire can range in color from a delicate pink without any overtones, to pink with a slight violet tinge. Thus, colors vary from those tending toward ruby to those more like violet sapphire. Like ruby, pink sapphire is colored by the trace element chromium, so the concentration of chromium will determine the depth of color. Violet tones result from traces of vanadium.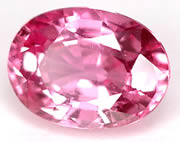 Pink Madagascan Sapphire
In general, the clearer and more vivid the color, the more valuable the sapphire. If the color is in the pastel range, the clarity should be good. This is because in lighter tones, inclusions are more noticeable. In lighter colored gemstones, the cut is also very important; it should reflect light back evenly across the face of the stone, making it lively and brilliant. With darker, more intense colors, the cut is not as critical because the color creates its own impact.
The classic source for pink sapphire has always been Sri Lanka, with some material coming from Burma. In recent years, fine pink sapphire from Africa has made an appearance on the international market, with Madagascar and Tanzania being the most important of the new African sources. Usually pink sapphire is heated to improve its clarity, but rare, unheated specimens can occasionally be found.