Finding Pink Gemstones
Pink has been one of the hottest colors in gemstones for several years and the fascination with pink shows no signs of slowing. So what are your choices in pink gems? What are the color variations and what's the best stone to buy?

Pink Sapphire, Pink Tourmaline & Kunzite
If you're extremely wealthy, you could consider a pink diamond. That is, if you can find one. Pink and red diamonds are the among the rarest gems in the world. So let's consider more achievable options.
You'll find interesting shades of pink in both sapphire and ruby. In fact sapphire and ruby are the same mineral - corundum, the second hardest gem material after diamond.

Ruby is the name reserved for the red variety of corundum. A pink-red corundum is most often called ruby, while any other shade of pink corundum is usually called a sapphire. The Burmese pink-red rubies are quite famous and have a fabulous fluorescent quality. Pink sapphire occurs in colors from the lightest pink to fuchsia. It can be quite hard to find, but nice pieces are available from sources including Madagascar.
Spinel, while not as well known as sapphire, is an excellent choice for those who love pink gemstones. Spinel is quite hard at 8 on the Mohs scale) and has outstanding brilliance and clarity. Spinel is found in a whole range of pastel shades, including many pink variations, from silver pink to coral pink and rose. Most spinel comes from Burma or Tanzania. Although spinel is an excellent jewelry gemstone, it is not often found in mainstream jewelry shops.
The most popular pink stone among the finer gemstones must be tourmaline. You can find every possible shade of pink in tourmaline, including fascinating bi-color and tri-color pieces. If you're searching for a hot pink gem, you'll most likely find it in tourmaline. Also you'll find soft pinks in every imaginable shade.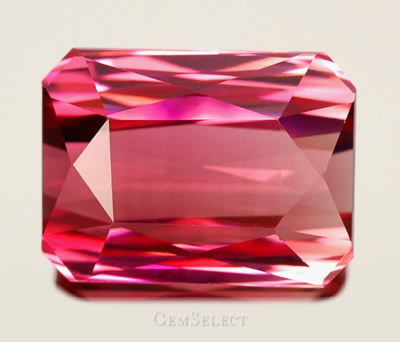 Kunzite, the pink variety of the gemstone spodumene, was named after the famous American mineralogist, George Frederick Kunz. It is typically a very light-pink or lilac, though we occasionally see some more saturated pinks. There are also some interesting pieces in an unusual golden pink. Kunzite is one of the few pink gems that can be found in large sizes, so if you're looking for a fine pink gem for a pendant, kunzite would be a good choice.
Morganite is the pink variety of beryl, the same gemstone family as emerald and aquamarine. Found in a soft pink or violet, morganite is not widely available but has very good hardness (7.5 to 8 on the Mohs scale).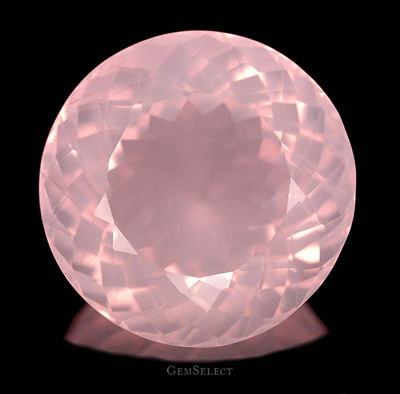 Finally, if you're looking for a very affordable choice in pink, look no further than rose quartz. Usually found in a unique soft pink deepened by the cloudy or milky quality of the stone, rose quartz is available in both faceted and cabochon pieces, and is even carved into unusual figurines. Since it's an inexpensive material, it can often be found in very large sizes.