Green Gemstones – A Complete List of Natural Green Gems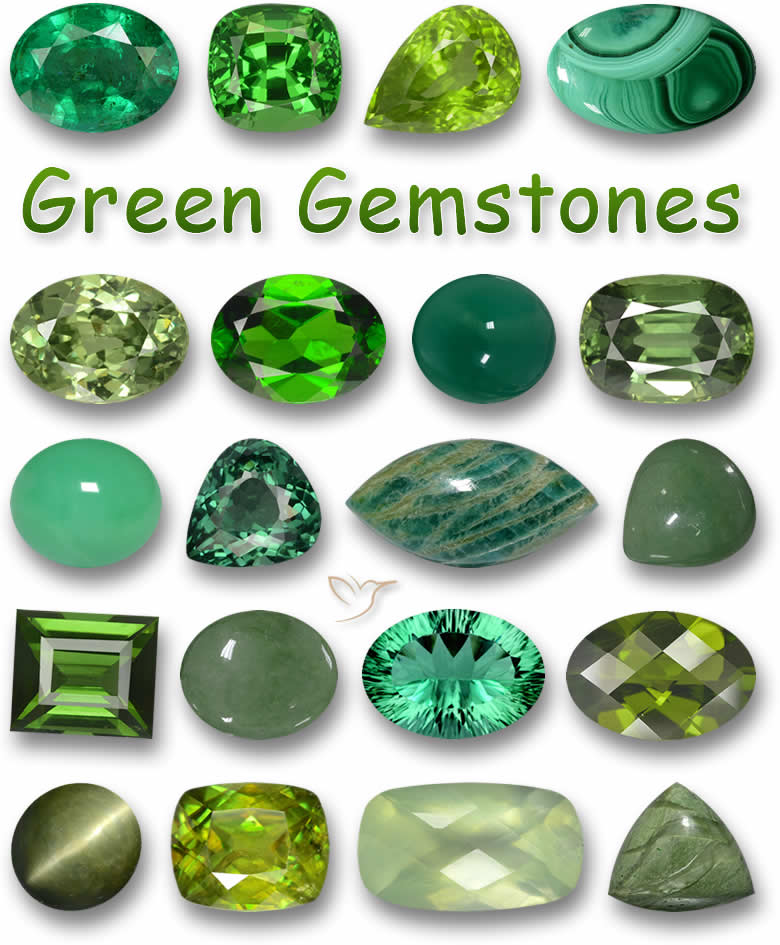 There are a few things to bear in mind when choosing a green gemstone.
The first sounds obvious – the color. Gemstones come in an array of green shades and you are bound to love at least one but certain gems have those special hues that fire and sparkle more than others. Our top picks all have sensational green coloring.
The second is the durability or hardness of the gemstone. Unless the stone is going to remain in a display case it will need to take the bumps and knocks of day to day life as a ring or necklace and not break or scratch easily. We would suggest a minimum of 7 on Mohs hardness scale.
Next we have availability and affordability. Colored gemstones are by no means cheap but we do not want to mortgage the family home on the rarest green crystal on earth. Our choices reflect the fact that gemstones are scarce commodities but readably available and within the reach of most people's finances.
You will probably want to use you green gemstone as an item of jewelry and this can take the form of rings, necklaces, earrings and so on. You may also wish to have matching sets of jewelry pieces. All this means that the gemstones will need to come in a variety of sizes suitable for different occasions and situations.
There are also the gemstone's spiritual powers to consider. As a general rule, green gemstones are most influential over the Heart Chakra although the blue-green crystals can affect the Throat Chakra and the more yellow-green stones can help the Solar Plexus Chakra.
Generally high quality gemstones are transparent with minimal internal flaws or inclusions. Our choices have high levels of clarity although a few gorgeous but opaque green gemstones appear in our alternatives section.
Right let's get on with it shall we?
Green Gemstone Chart

| Gemstone | Color Rating | Hardness |
| --- | --- | --- |
| Emerald | 10 | 7.5 - 8 |
| Tsavorite Garnet | 10 | 6.5 - 7.5 |
| Peridot | 9 | 7 |
| Apatite | 9 | 5 |
| Tourmaline | 8 | 7.5 |
| Demantoid Garnet | 8 | 7.5 |
| Sphene | 8 | 5 - 5.5 |
| Chrome Diopside | 8 | 5 - 6 |
| Agate | 7 | 7.5 |
| Fluorite | 7 | 4 |
| Idocrase | 7 | 6.5 |
| Malachite | 7 | 6.5 - 7 |
| Chrysoprase | 7 | 6.5 - 7 |
| Sapphire | 7 | 9 |
| Grandidierite | 7 | 7 - 7.5 |
| Amazonite | 6 | 6 - 6.5 |
| Aventurine | 6 | 7 |
| Jade | 6 | 6 - 6.5 |
| Kornerupine | 6 | 6.5 - 7 |
| Maw-sit-sit | 6 | 6 - 7 |
| Chrysocolla | 6 | 2 - 4 |
| Bloodstone | 6 | 6.5 - 7 |
| Actinolite Cat's Eye | 6 | 5.5 - 6 |
| Hiddenite | 5 | 6.5 - 7 |
| Serpentine | 5 | 2.5 - 5.5 |
| Prehnite | 5 | 6 - 6.5 |
| Quartz Cat's Eye | 5 | 7 |
| Ruby Zoisite | 5 | 6.5 - 7 |
| Variscite | 5 | 4 - 5 |
| Seraphinite | 5 | 2 - 4 |