Gemstones from Madagascar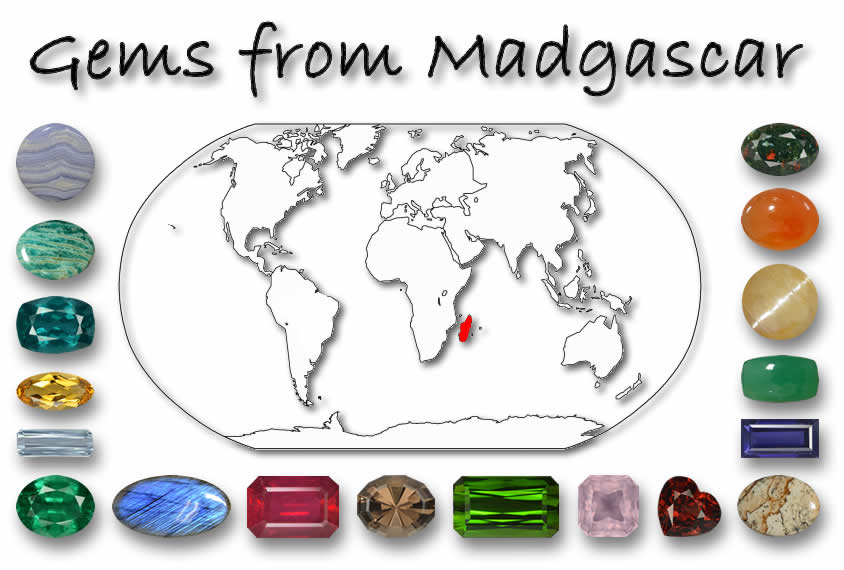 If you have had much experience with buying gemstones from around the world you quickly begin spotting a pattern of the most common sources. Again and again the sources seem to be concentrated in the same old locations - Mozambique, Tanzania, Zambia, Madagascar and Sri Lanka along with a number of neighboring countries.
A bit of geological research can tell you why.
Gemstones are usually created by a combination of pressure, heat and time. Add in a few minerals and chemicals and you have the recipe for colored gemstones.
More than 200 million years ago the world's continents looked very different. Present day Africa, South America, India and the Antarctic were all one giant land mass with continental plates grinding against each other. This grinding provided the pressure needed to form gemstones and the heat was generated by the volcanic activity found where plates meet.
Beneath all these land masses lie enormous deposits of colored gemstones of nearly all types and at the centre of all this activity was Madagascar making it today perhaps the richest source on earth.
Ruby, sapphire, emeralds, tourmaline, garnet are the famous names but the list carries on almost endlessly and today we will bring you a list and a few details about Madagascar's finest gemstones.
As an island isolated from the rest of the world for millions of years, Madagascar evolved some unique flora and fauna not found anywhere else on earth and, with human arrival possibly as recent as 1500 years ago, this wild life was left in relative peace.
Its history of gemstone mining is murky, full of tales of exploitation, boom and bust discoveries and illegal mines and smuggling. Madagascar's potential is unlimited - the gem producing area is more than twice the size of Sri Lanka and Myanmar combined and that is just for sapphires and rubies.
During the period of French colonialism, gemstone discoveries were made but little interest was shown from abroad so locals had no incentive to give up farming and fishing for mining. This changed in the 1990s when the mines of Thailand began to run dry and the sources in Myanmar were blocked by the military.
The gemstone dealers in Chanthaburi, Eastern Thailand, where our offices are located, began to look further afield for reliable supplies of sapphires, rubies and emeralds. Tanzania, Mozambique and then, Madagascar began to take up the slack and produce more and more colored gemstones.
Let us take a look at the best of Madagascan gemstones. I have put them in order of value, availability and fame but it is quite vague and random at the same time! The quick guide at the bottom is in alphabetical order.
So there we have our round up of Madagascar's best gemstones although I am sure there will be more discovered in the years to come. Local Madagascan miners do not really have the funds to invest in the geological research and infrastructure needed to run a sophisticated mining operation. At the same time, foreigners are a little hesitant to invest when faced with the corruption and protectionism that still exists in Madagascar even though things are moving in the right direction.
Quick Guide to Gemstones from Madagascar

| Gemstone | Color |
| --- | --- |
| Agate | Multi-colored |
| Amazonite | Green |
| Amethyst | Purple |
| Apatite | Blue / Green / Yellow |
| Aquamarine | Light Blue / Turquoise |
| Beryl | Yellow / Golden |
| Bloodstone | Dark Green |
| Carnelian | Red / Orange |
| Cat's Eye Opal | Golden Brown |
| Cat's Eye Scapolite | Brown / Black |
| Chrysoprase | Green |
| Citrine | Yellow |
| Emerald | Green |
| Garnet | Multi-colored |
| Garnet Color Change | Multi-colored |
| Grandidierite | Turquoise |
| Iolite | Violet Blue |
| Jasper | Multi-colored |
| Labradorite | Multi-colored |
| Morganite | Pink |
| Rose quartz | Pink |
| Ruby | Red |
| Tourmaline | Multi-colored |
| Sapphire | Multi-colored |
| Silliminite | White / Cream / Brown |
| Smoky Quartz | Brown |
| Sphene | Yellow / Green |
First Published: November-30-2020
Last Updated: December-28-2020
© 2005-2021 GemSelect.com all rights reserved.
Reproduction (text or graphics) without the express written consent of GemSelect.com (SETT Company Ltd.) is strictly prohibited.
Article Categories
Total Number of Articles: 1443