Sapphire and Ruby Gemstone Mining in Madagascar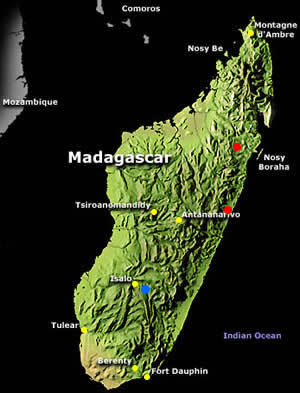 Madagascar Map
A lot of the excitement in the international gem trade in the last 10 years has come from Madagascar. The size and scope of gem deposits there is still not well understood, but experts believe that Madagascar has some of the richest untapped gemstone resources in the world.
Madagascar is a very large island (the 4th largest island in the world) located in the Indian Ocean about 400 km off the coast of Southeastern Africa. Formerly an independent kingdom, it became a French colony in 1886 and regained its independence in 1960. With a population of about 18 million, Madagascar remains one of the poorest countries in the world, largely due to a series of recent political crises that may now finally be ending.
Historically, Madagascar's economy has been dependent on agriculture (they are the largest exporter of vanilla in the world). The discovery of significant gem deposits is very recent. It began with some small finds in the southern part of the country in the early 1990s. But the enormous sapphire deposits discovered in 1998 in the tiny village of Ilakaka (see the blue dot on the map) came as a complete surprise and led to a kind of gemstone fever not unlike the gold rush in California in the mid-19th century.
Isalo National Park Madagascar
Two important new ruby deposits in the east of the country - Vatomandry and Andilamena (see the red dots on the map) - have had a significant impact on the world's gemstone industry. The first Andilamena rubies were discovered in October 2000, but these were not transparent and appeared rather dark, requiring heat treatment to improve the color and remove the purple component. Better quality rubies were found in January 2001, and within 6 weeks there were nearly 40,000 miners working in the Andilamena area. Rubies from this region occur as well-formed tabular crystals (which average 0.5 of a gram or 2.5 carats each) with slightly rounded edges. Clean, attractive rubies showing fine deep red colors coming from this deposit are rare. However some superb examples have been mined weighing in at over 5 grams.
To date, a wide range of gemstones have been discovered in Madagascar; not only sapphire and ruby, but also tourmaline, aquamarine, emerald, garnet, chrysoberyl, alexandrite, topaz, andalusite, apatite, kyanite, zircon, amethyst and citrine.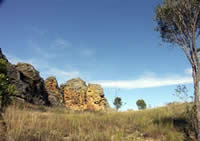 Western Madagascar
Thus far, most of the Malagasy gemstones have been exported in rough form to Asia, where they are cut and sold on the world market. A significant percentage of this material passes through our home town of Chanthaburi, Thailand, so we see a good sample of the production. Our inventory at GemSelect currently includes a number of Madagascan gemstones, including sapphire, ruby, citrine, orthoclase, iolite, apatite, beryl and color-change garnet. We expect to see a great deal more in the years to come.