The Egyptian Jewels of King Farouk; Farouking Fabulous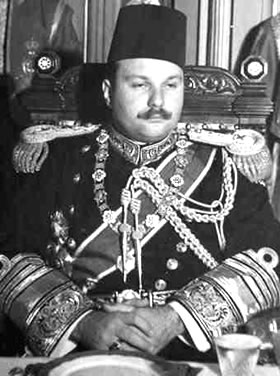 King Farouk of Egypt
King Farouk of Egypt, the last adult ruler of the Muhammad Ali Dynasty really knew how to live like a king. After achieving an impressive girth due to overeating in later life, he was described as "a stomach with a head". It is said that he ate an enormous amount of oysters and drank gallons of soda. He dictated that only his entourage could have red cars so that he would not be stopped by police when racing through the streets, and enjoyed lavish shopping sprees in Europe. Among King Farouk's possessions was rumored to be the largest collection of pornography. The King also had other collections, including rare coins and luxury cars. He received his first car from his father, King Fuad I, at the age of eleven.
Not surprisingly, King Farouk also had an amazing collection of jewels, amassed during the reign of the Muhammed Ali Dynasty which spanned almost 150 years. After Egypt became a republic, the royal jewelry was acquired by the state. Many of these items are now displayed in the Royal Jewelry Museum of Alexandria, housed in what used to be King Farouk's sister, Princess Fatima's palace. Some 246 items of the Muhammed Ali Dynastic jewelry were confiscated by the Egyptian authorities many years after the last King's reign. The jewels were found stashed away in a bank vault by one of King Farouk's attendants during the 1970s.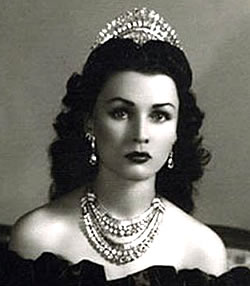 Princess Fawzia Wearing her Diamond and Platinum Parure
Even as a baby, gemstones were part of King Farouk's daily life. He used a diamond, emerald and ruby studded sistrum to call his servants. His mother, Queen Nazli, is said to have owned a remarkable collection of jewels. King Farouk's sister, Princess Fawzia, was a great beauty and her jewelers of choice were Van Cleef & Arpels. In 1939, for her wedding to the Crown Prince of Iran, Princess Fawzia wore a Van Cleef & Arpels diamond and platinum tiara. Princess Fawzia owned other iconic pieces of jewelry by the esteemed designers, such as a "Clip Pivoine" pair of "Mystery Set" peony flower brooches and an Art Deco emerald and diamond necklace made in 1929.
King Farouk also owned several pieces by Van Cleef and Arpels, including "Mystery Set" Ruby Feuilles earrings, composed of diamond and ruby baguettes in white gold and platinum. The earrings could have been a gift for his second wife, Queen Narriman. They are now part of the Van Cleef and Arpels private collection. Also owned by King Farouk's family was an unsigned Art Deco Egyptian revival bracelet that later appeared on the wrist of Elizabeth Taylor. One of King Farouk's gemstones, an enormous 27 carat emerald cabochon was later fashioned into a ring by Joel Arthur Rosenthal (JAR).
King Farouk had a series of affairs throughout his life, with ladies such as Irene Guinle, Barbara Skelton and Capece Minutolo, and two official marriages. He was first married to Queen Farida in 1938. Among her jewelry was a peacock and lotus flower tiara from her mother-in-law, Queen Nazli. King Farouk also gave Queen Farida a 346 carat Boucheron diamond necklace. Once married, Queen Farida owned a gold crown encrusted with 1506 diamonds. King Farouk divorced her almost eleven years later after she had borne him three daughters.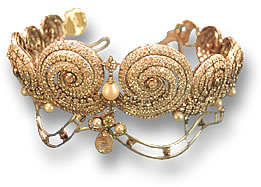 Princess Shivakiar's Platinum, Diamond and Pearl Tiara
King Farouk later met his 16-year-old second bride at a jewelry shop after being attracted by a photo of her, and they were married in 1951. One of their wedding gifts was a Mercedes Benz from Adolf Hitler. King Abdullah of Hasemite, Jordan, sent a wedding gift of a 12-piece crystal and pure gold toilet set, studded with diamonds and other valuable gemstones. Ethiopian Emperor Haille Selassie gave a jeweled vase. Other gifts were a writing set from Stalin with a Russian gemstone surround from the Ural Mountains and a pearl necklace from the King of Morocco. Sadly, the marriage was short-lived. When King Farouk was forced to abdicate in favor of his 6-month-old son and exiled, four years after the marriage, Narriman requested a divorce and returned to Egypt. King Farouk's son, Fuad II reigned for less than a year and was the last ruling monarch.
One of the most curious things about King Farouk was that he is said to have become a bit of a kleptomaniac in his later years. He is said to have taken a ceremonial sword from the Shah of Iran's coffin and a pocket watch from Winston Churchill. His light-fingered habits led to King Farouk being nicknamed "the thief of Cairo" by some. King Farouk died at the age of 45 in Italy after a large dinner. He collapsed at the table after his last supper.