GemSelect January 2015 Newsletter - Gemstone Jewelry Fashion Trends for 2015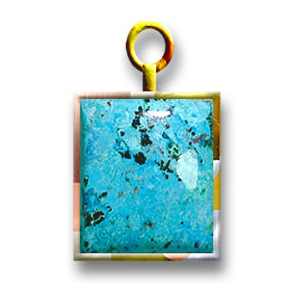 Azurite Mixed Metal Pendant
Bold as Brass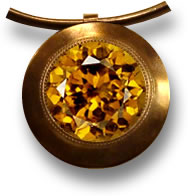 Brass Mali Garnet Pendant
For those of you who are interested in jewelry trends, we would like to provide a summary of the main fashion trends for Spring 2015. While classic gemstone jewelry styles will always remain timeless, such as Art Deco and intricate pave, every year sees innovative designs on the catwalks.
For 2015, we predict more color, not only in the form of gemstones, but also in jewelry settings. It seems that bold yellow gold, rose gold and brass is going to be popular in 2015. It has been seen on the catwalk in necklaces, rings, earrings and large brass collar necklaces incorporating cabochon gemstones, large brass earrings and brass colored rings.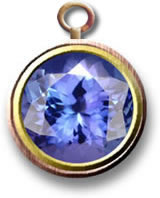 Gold & Copper Tanzanite Pendant
Not only will brass and yellow gold be making an appearance in 2015, but it will be mixed with silver and white gold. In fact everything is going to be a little mixed up in 2015. We predict the emergence of wood mixed with metal, leather and even plastic. Some designs take the rough with the smooth. For example, rough cut druzy gemstones are set in polished brass and hippie-style geodes are juxtaposed with cuboid beads. Hoop necklaces integrate yellow metals with woven fabric. Beads are mixed with feathers and silver for a modern tribal look.
Well-known brands such as Luis Vuitton and Tiffany & Co. are showing a preference for mixed precious metals, so rather than having to choose between silver, yellow or pink precious metals, they can be worn together. Also, colored gemstones are surrounded by white diamond and emphasized with the use of colored enamel or an opaque gemstone inlay background, to modernize the classic high jewelry style. Dolce and Gabbana have twinned East with West in yellow precious metal earrings, studded with colourful red gems, pearls and even flower motifs, in an East-meets-West, Indian Vs romanticism style.

Square Hawk's Eye Cabochon Gem
In 2015, the square shape will be popular, and the beautiful symmetry of geometric Asscher cuts, emerald cuts, princess cuts, cushion cuts and square-shaped gems are in fashion. However, a certain asymmetry will be seen in jewelry designs. For example, some fashion houses show a preference for a single earring, two different colored earrings, two vaguely matching earrings or two completely mismatched earrings. Pendants also will show a modern asymmetry, such as one by Anndra Neen, which featured lapis lazuli cabochons in an asymmetrical collar necklace with mismatched shapes below an off-center square.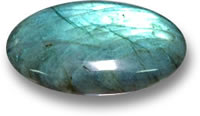 Labradorite Cabochon Gemstone
Trending necklaces for 2015 seem to be either very long or very short. For those with short necks, chokers may not be the best option. Therefore, we would recommend another trend, which is very long (opera length) necklaces with tassles. Some of these appear to be inspired by the "Great Gatsby" 1920s style and others have are more of a hippie style. The 1920s style makes use of pearl beads and white transparent gemstones. However, this effect can be updated with colored gemstone beads and a single pearl above the tassels. Alternatively, colored gemstone beads can be alternated with pearls, or metal chains for a more interesting and modern look. Chokers look to be in style for 2015. These range in materials and styles, with layers of gemstones for a thick choker, single strands of beads such as pearls for a more dainty choker, and large collar necklaces. Chokers with metal over leather, and dangling gemstones have also been showcased on the runway. Thin brass chokers with one large round gemstone on a third, longer metal strand in clean, fluid lines presented an interesting modern look. Gemstones with a metallic luster or schiller, such as labradorite were popular, as were brass collars with different sized cabochons.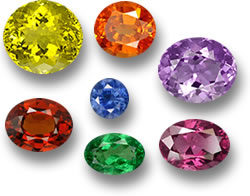 Gems All Colors of the Rainbow
A riot of colored gemstones was seen in Ralph Lauren's Spring 2015 collection. The models wore dangling gemstone earrings, chokers with all colors of the rainbow and collars of glorious colored gems finished with a bib necklace. One of Versace's notable designs features beautiful pave pink and black gems on a wide buckled collar choker. Dior's latest collection displays a rainbow of beautiful colored gemstones and is designed with Dior couture in mind. The shape of the pieces are characteristic of the movement and shape of fabric on the feminine form.
To sum up, the main theme for 2015 seems to be experimentation, whether with settings, shapes, symmetry, contrast or color. Therefore, we advise jewelry designers to be bold and innovative this year. Lastly, Happy New Year to all of our valued customers. We wish you the very best in 2015.
Featured Gems - Chrysocolla, Ceylon Sapphire and Rose Quarz
Back to Top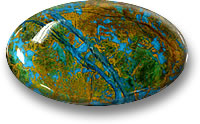 Multicolor Chrysocolla Cabochon
Chrysocolla is a gemstone that exhibits beautiful shades of blue and green. It gets these vivid colors from its copper content. Chrysocolla also has some unique and interesting patterns, such as in the gemstone pictured on the right. Such gemstones can make stunning necklace pendants or brooches. Copper jewelry settings look especially impressive with chrysocolla. Since chrysocolla is a relatively soft gemstone, it should be worn with care. Some specimens contain quartz, which increases their durability, but in general, chrysocolla is not recommended for everyday-wear rings and is best in protected settings.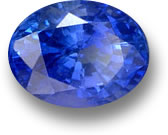 Cornflower Blue Sapphire
Sapphire is a well-known relative of ruby, being composed of the same material; corundum. Sapphire occurs in a variety of colors such as pink, orange, yellow, green, black and purple. The best known color of sapphire is blue, but it is not often that we come across this vivid shade of cornflower blue in sapphire gems weighing over 1 carat. This is one such beauty from Sri Lanka (formerly known as Ceylon). Sri Lanka is one of the most famous sources for sapphire and has steadily mined sapphire since the time of Marco Polo.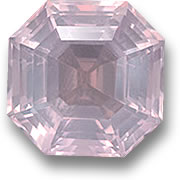 Asscher Cut Rose Quartz
Rose quartz is a type of macrocrystalline quartz. This means that it belongs to the same group as rock crystal, amethyst, citrine and smoky quartz, and forms as crystals that are large enough to be discerned by the naked eye. Rose quartz is semi-transparent to translucent with a soft pink color. Rose quartz gemstones that are semi-transparent are often faceted, such as this Asscher-cut gemstone, while more translucent material tends to be fashioned into cabochons. Rose quartz can also occur with asterism (the star effect). Rose quartz can sometimes be mistaken for kunzite, morganite or topaz. It is found in Brazil, Madagascar, India, Mozambique, Namibia, Sri Lanka and the USA.
The year 2014 has seen record prices for colored gemstones, especially rubies and sapphires. Gemfields' latest ruby auction that was held in Singapore achieved an average of $689 per carat. Sotheby's recently sold an 8.62 carat Burmese ruby for $8.3 million and Christie's Geneva achieved an amazing $17.7 million for the Blue Belle of Asia, a cushion-cut Ceylon sapphire. This indicates that the demand for colored stones is increasing as unenhanced colored stones become rarer.
Four Kenyans have been sentenced to 40 years' imprisonment each for the 2009 murder of Campbell Bridges, the geologist and Tiffany & Co. consultant who discovered tsavorite garnet in the 1960s. Mr Bridges was tragically killed in Kenya due to a dispute over mining rights. A roadblock forced Mr Bridges and his son to stop while they were on a mine inspection trip in Voi, north of Mombasa. Mr Bridges was then surrounded and stabbed to death.
For lovers of Indian gemstone art, a visit to the Metropolitan Museum of Art in New York is a must. The "Treasures from India: Jewels from the Al-Thani Collection" is on display in the Gallery for the Art of Later South Asia until January 25th, 2015. The collection of Sheikh Hamad bin Abdullah Al-Thani features 60 jeweled objects from the Mughal era until the present day. One of the highlights is a throne decoration in the shape of a gold tiger, inlaid with diamonds, rubies and emeralds.
Every month we answer questions of general interest from our customers. Please feel free to send your questions or suggestions to our support team at help@gemselect.com!
Question
Hi there, I notice that you are based in Thailand. I live in the US and would like to know, how soon after ordering can I receive my gemstones??
Answer
Thank you for your enquiry. We are 12 hours ahead of US Eastern Standard Time (EST) and we generally process orders between 9 am and noon our time. Orders are shipped the same day (if no gemstone certification is required). Express shipping can take as little as 3 business days to the USA, since there is no delay for customs clearance into the US. So the quickest time from ordering to receipt of gemstones can be 3 days. Please note that if you require the gems ASAP, it is best to choose the express shipping option.
Question
Dear GemSelect, I was wondering how come the gemstone I have looked at on your site has a clarity grading of "VS" and I can see imperfections in the photos and videos?
Answer
First of all the clarity grading "VS" means that the gem is "eye clean" (though many colored gems have natural inclusions and the
clarity
will depend on the gem type). This means it may have very slight or slight inclusions that can be seen by the naked eye or under 10x magnification. It is also worth noting that most of our photos and videos are taken under magnification, to enable our customers to see as much detail as possible. In our photos and videos, an 8.5 mm gemstone can appear to measure as much as 7 cm on your computer screen! If the actual gemstone is inspected with the naked eye alone, no imperfections will be seen.
We always welcome your questions, comments and feedback! For those who are interested in attending some gem and jewelry events, please see the details below.
Event Name
Malaysia International Jewellery Fair (MIJF)
Venue
Kuala Lumpur Convention Centre, Hall 2, Kuala Lumpur, Malaysia
Dates
January 9 - 12, 2015
Event Name
Kolkata Jewellery & Gem Fair
Venue
Milan Mela Exhibition Complex, Milan Mela 3, JBS Haldane Avenue, Kolkata, India
Dates
January 10 - 12, 2015
Event Name
Bisutex / Madrid Joya
Venue
Juan Carlos I Exhibition Centre, Feria de Madrid, Spain
Dates
January 14 - 18, 2015
Venue
Fiera Milano Exhibition Center, Milan, Italy
Dates
January 17 - 20, 2015
Event Name
Showcase Ireland
Venue
RDS Ballsbridge, Dublin, Republic of Ireland
Dates
January 18 - 21, 2015
Event Name
Tucson Gem Shows
Venue
Tucson Convention Center, 260 S. Church Ave, Tucson, AZ, USA
Dates
January 19 - February 14, 2015
Event Name
26th International Jewellery Fair Tokyo (IJT)
Venue
Tokyo Big Sight, 3-11-1 Ariake, Koto-ku, Tokyo, Japan
Dates
January 21 - 24, 2015
Event Name
Bijorhca Paris
Venue
Porte de Versailles, Pavilion 5, Paris, France
Dates
January 23 - 26, 2015
Venue
World Trade Center, Salon Mexica 1 & 2, Montecito 38, Mexico City, Mexico
Dates
January 27 - 29, 2015
Event Name
Best Adornments of Russia
Venue
Manege Central Exhibition Hall, St Petersburg, Russia
Dates
January 28 - February 1, 2015
Event Name
Tucson Gem & Mineral Show
Venue
Tucson Convention Center, 100 South Church Avenue, Tucson, AZ, USA
Dates
January 31 - February 15, 2015
Keep up with our new arrivals before they hit the newsletter by joining our thousands of fans and followers on our social networking pages. We love interacting with our customers - you can visit us on Tumblr, LinkedIn, Twitter, Facebook or Pinterest!
To ensure you can receive our emails, please be sure to add help@gemselect.com to your list of safe contacts, or you add us into your email address book! Please feel free to contact us with any questions, comments and queries! We respond to each and every email we receive.
Happy Gem Hunting!
Your friends at GemSelect