Gemstone Jewelry: Crystal Healing Jewelry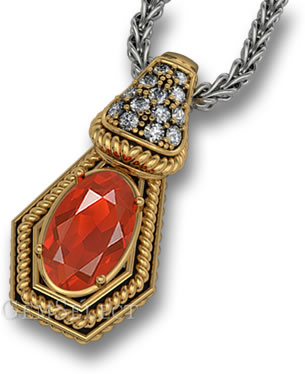 There is a great variety of gemstone jewelry available today. The first recorded use of jewelry as a form of personal adornment was composed of organic Nassarius shell beads which date back approximately 100,000 years. Scholars believe that the use of gemstones in jewelry can be traced to the biblical story of Aaron's breastplate, which was a garment inlaid with twelve types of colored gemstone. Each gemstone was thought to represent one of the twelve tribes of Israel from the Old Testament, and each are associated with one of the Twelve Apostles. Later, the twelve gemstones of Aaron's breastplate developed alternative modern concepts, such as astrological and birth gemstones.
The use of astrological gemstones in jewelry was first witnessed in the birthstone jewelry of 15th century Poland. Centuries later, the United States formalized a modern birthstone list defined by the Jewelers of America Organization (JA). Today, gemstones have deeper meanings owing to the modernization and acceptance of birthstones by millions of people all around the world. The concepts surrounding the use of gemstones in jewelry are often spiritual or therapeutic. Many gemstones are even believed to possess the energy and ability to aid in holistic and alternative healing. In fact, one of the most popular reasons for wearing gemstone jewelry today is for their therapeutic and healing purposes.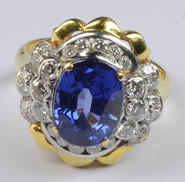 Each gemstone type is thought to act like a tonic, either for the body or for the mind. Each gemstone has unique properties that are thought to aid the wearer in some way. Although many doubt the legitimacy of alternative healing with gemstone jewelry, just as many people (if not more) find that they truly do help with whatever therapeutic aspect they're being used for. Indeed, the usage of gemstones for healing has been practiced for hundreds of years by many ancient civilizations.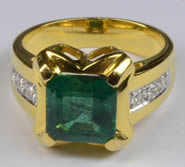 Emerald Gemstone Ring
Even though the therapeutic use of gemstone jewelry for healing has been around for many years, many practitioners still lack understanding of how gems best work for healing ability. It is believed by authoritative figures that the greatest healing energies come from gemstones of high quality, in regard to color, cut and shape. Thus, for crystal healing jewelry, only natural gemstones of the best and highest quality are recommended. As for shape, spherical gemstones are ideal, since they radiate energy evenly in all directions, but any shape can be utilized as long as it is set properly in its mounting.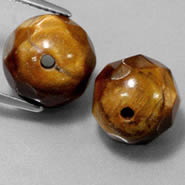 Tiger's Eye Beads
For our customers who wish to buy gemstones or gemstone jewelry for healing, we suggest setting your gems into jewelry items such as necklaces, pendants and amulets. This is because they are worn in a centralized location that can help the energy to be emitted to the entire body. We recommend wearing them so that they lay against the skin to achieve maximum benefits. Many people focus too much on the gemstone itself and fail to consider how it should be worn as jewelry. Gemstones are also best set into gold alloy or silver; since precious metals conduct energy very well, the gemstones and metals potentiate the effects through synergistic energy.
Properly matching your gemstone jewelry with your attire is also important. For formal situations, it may be best to wear something more subtle, such as a bracelet or ring. So when choosing and designing your gemstone jewelry, think beyond the gemstone and also consider how you plan to wear it as jewelry. Lastly, identify the meaning and be aware of the characteristics of your gemstone of choice in order to ensure that you are maximizing its benefits. To get the most out of your gemstone jewelry, you must have a full understanding of your gemstone's properties.