Feng Shui and Gemstones
Feng shui is an ancient Chinese system of beliefs in the balance between the forces of the natural world and the arrangement of objects to create peace, harmony and prosperity in the home and family. The ancient Chinese divided the universe into five elements; water, fire, wood, metal and earth. Each element embodies one of the basic energies that shape all events and processes. It is thought that if the energies of the world flow well within your home, it will result in a relaxing but energizing space, which is at once welcoming and calming. As part of this method, gemstones can be used to help balance the energy of your home.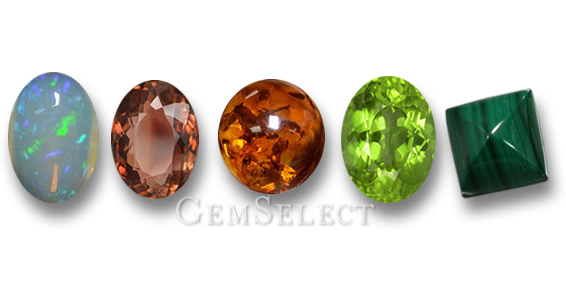 Water, Earth, Wood, Fire & Metal (Opal, Tourmaline, Amber, Peridot & Malachite)

Natural Peridot
Gemstones are perfect for feng shui because they are formed through the powerful dynamic processes of nature. As a result, gemstones embody the energy of the elements that are central to feng shui. Each gemstone is thought to contain specific energy according to how it is formed. For example, peridot or obsidian invoke fire because both are formed as a by-product of volcanic action, or in the case of peridot, also in meteors.
Traditional feng shui practitioners positions these five elements, or objects that represent them, in a particular location in order to balance their energy. In gemstone feng shui, gemstones and crystals are used in place of other objects.

Australian Opal
To apply gemstone energy to your environment, you can use the feng shui tool known as the Lo Shu grid, or magic square, which divides space into nine sections or directions. Each square represents certain attributes and associations, as follows:
| | | | |
| --- | --- | --- | --- |
| Direction | Association | Element | Gemstone |
| North | Harmony and spirit | Water | Opal or pearl |
| Northeast | Career and personal journey | Earth | Andalusite or tourmaline |
| East | Wisdom and self-cultivation | Wood | Jet or amber |
| Southeast | Family and community | Wood | Jet or amber |
| South | Prosperity and self/net-worth | Fire | Peridot or obsidian |
| Southwest | Success and reputation | Earth | Andalusite or tourmaline |
| West | Relationships and partnership | Metal | Malachite or azurite |
| Northwest | Creativity and children | Metal | Malachite or azurite |
| Center | Achievement and benefactors | Earth | Andalusite or tourmaline |
To use the magic square, you should make a drawing of the floor plan of your house or the room where you want to perform feng shui. Make sure you know the direction of north, then orient your floor plan in the correct direction. Next, draw a magic square grid over your floor plan with the middle row of squares oriented north and south, and with the center square in the center of your floor plan.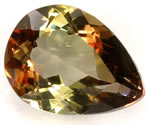 Brazilian Andalusite
Using this as a guide, you can determine the area of a room or house in which to invoke a particular type of energy. To do so, simply place one of your gemstones in the corresponding sector.
For example, to improve the progress of your career, put some opal or a pearl in the "north" square of the grid. You can make the stones a decorative feature or disguise them; they can be put in corners, taped onto skirting boards, suspended from the ceiling or displayed on tables or shelves. Regardless of where they are placed, you may be surprised and pleased, by the power of gemstones to improve the ambience of your home, as well as the progress of your life.