Moonstone Lore & Legend
Few gemstones have accumulated as much lore and romance as moonstone. This unusual gem with the distinctive milky shimmer has been known for thousands of years, and has been revered by many cultures.
According to Hindu legend, moonstone was formed from moonbeams. At one time it was believed that if you held one in your mouth during a full moon, you would see your future. In India, moonstone is still regarded as a sacred stone and is widely believed to bring good fortune.

Rainbow Moonstone, Star Moonstone and White Moonstone Gems
The ancient Romans also associated moonstone with the moon and speculated that the gem was formed from drops of moonlight. They considered the gemstones as possessing those properties traditionally associated with the moon; romance, femininity, intuition, dreams and the emotions.
George Frederick Kunz, in his famous book The Curious Lore of Precious Stones tells the story of a famous moonstone that allegedly displayed a white point that changed shape and size in accordance with the waxing and waning of the moon.
In many cultures, moonstone is strongly associated with love. It is a highly prized gift for lovers as it is thought to arouse tender passion. Lovers who possess a moonstone are said to be able to foretell their future life together. According to one legend, two people wearing moonstone will fall passionately in love when the moon is high.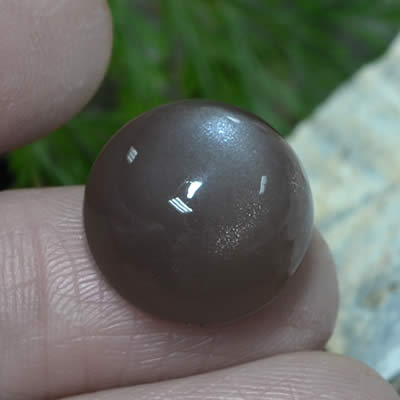 Mocha Moonstone Cabochon
Many cultures have believed the moonstone to be a calming, healing stone. Due to its feminine associations it has also been said to increase a woman's fertility.
Moonstone also has a historical connection with travel. Once known as the "Traveler's Stone", it was used for protection against the perils of travel.
Moonstone is associated with all goddesses, but especially the moon goddesses. In Europe, moonstone is considered to be the birthstone for June, although in the United States it shares that distinction with alexandrite and pearl. Moonstone is an accepted gem for the 13th wedding anniversary.
In general, the energy of moonstone is thought to be balancing, introspective and reflective. It is a stone for wishing and hoping as well as a stone for embracing the cycles of change. Moonstone is a stone for feeling and understanding via intuition and emotional thoughts rather than intellectual reasoning. It is said to bring flashes of insight and stimulate intuitive recognition, helping in the application of intuitive knowledge.