Rainbow Moonstone Gemstone Information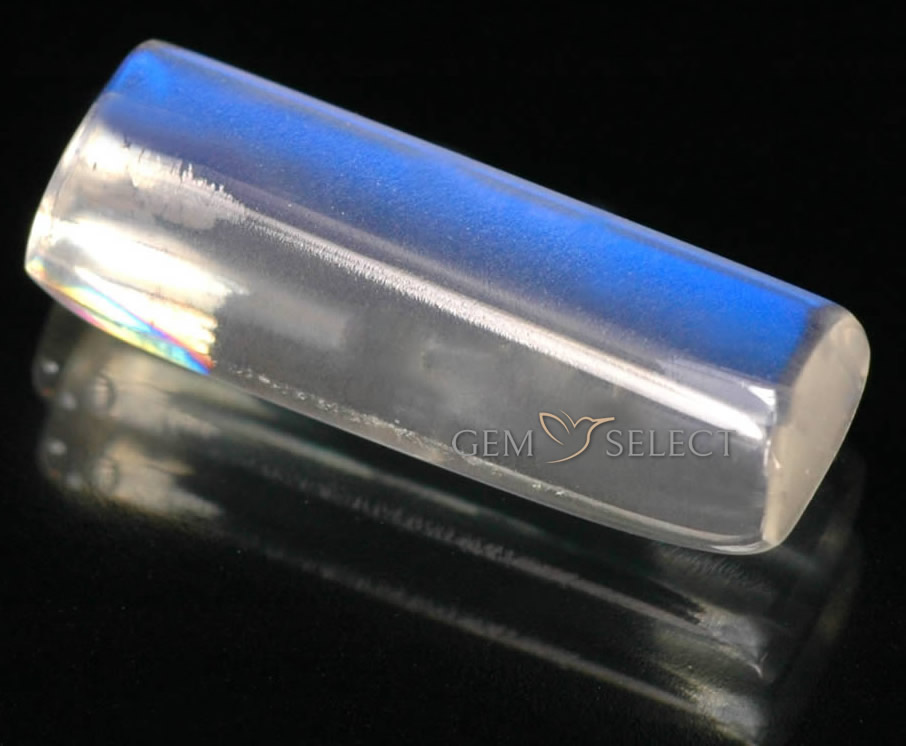 Buy Rainbow Moonstone Gemstones from GemSelect
About Rainbow Moonstone - History and Introduction
Rainbow moonstone is the name given to a variety of labradorite that exhibits a blue or multicolored adularescence on a light body color. Rainbow moonstone is a member of the feldspar group, which makes up approximately 60% of the Earth's crust.
True moonstone is orthoclase (potassium feldspar), rather than labradorite (plagioclase feldspar). Though these two moonstones are related, they are technically not the same material. The reason for rainbow moonstone being referred to as "moonstone" is due to its adularescence, which according to some deems it worthy of the name. However, the adularescence of rainbow moonstone is caused by the same phenomenon as labradorite (reflection from twinning planes), where the true orthoclase moonstone gets its unusual adularescence from albite inclusions. This, and rainbow moonstone's composition set it apart from true, orthoclase moonstone. Some refer to rainbow moonstone as "labradorite moonstone" to distinguish it from orthoclase moonstone, but neither one of these is technically sound. Yet, the name, "rainbow moonstone" has stuck and some people prefer rainbow moonstone to regular moonstone.
The Romans admired moonstone and believed that it came from the rays of the moon made solid. Moonstones have been used as jewels for hundreds of years. They were admired by the ancient Romans and Greeks, and then were used in Art Nouveau jewelry. Moonstones later became popular during the hippie movement of the 1960s and the contemporary New Age spiritual movement.
Rainbow moonstone can be identified by its characteristic adularescence, which appears as an internal source of light or sheen. It can be distinguished from orthoclase moonstone by its higher refractive index and higher specific gravity.
Rainbow Moonstone; Origin and Gemstone Sources
Back to Top
Rainbow moonstone deposits are found in Canada, Australia, India, Madagascar, Mexico, Myanmar (Burma), Russia, Sri Lanka (Ceylon) and the USA.
Buying Rainbow Moonstone and Determining Rainbow Moonstone Gemstone Value
Back to Top
Rainbow Moonstone Color

Rainbow moonstone is usually colorless with a blue or, in rare cases, it may have a rainbow-colored sheen. The blue sheen is highly valued, so gemstones that exhibit the strongest blue sheen are most sought after. A strong blue sheen is sometimes referred to as "royal blue".

Rainbow Moonstone Clarity and Luster

Rainbow moonstone is typically heavily included, especially in larger sizes. However, these inclusions are the reason for its attractive rainbow sheen. The inclusions resemble centipedes; cracks with shorter, perpendicular lines. When rainbow moonstone has fewer inclusions, this results in fewer colors, so a cleaner gemstone will tend to exhibit a blue sheen, rather than a rainbow-colored sheen.

Rainbow Moonstone Cut and Shape

Opaque rainbow moonstone is mostly cut en cabochon to maximize its attractive adularescence. The orientation of the cut is important and an appropriate height will achieve the desired sheen. Transparent stones are faceted. Large transparent gemstones command high prices because they are rare.

Rainbow Moonstone Treatment

Rainbow moonstone is not currently known to be treated or enhanced in any way.
| | |
| --- | --- |
| Chemical Formula: | NaAlSi3O8 to CaAl2Si2O8 Sodium calcium aluminum silicate |
| Crystal Structure: | Triclinic; prismatic |
| Color: | Colorless, blue sheen, multicolored sheen |
| Hardness: | 6 - 6.5 on the Mohs scale |
| Refractive Index: | 1.559 - 1.570 |
| Density: | 2.65 - 2.75 |
| Cleavage: | Perfect |
| Transparency: | Transparent to translucent |
| Double Refraction or Birefringence: | 0.008 to 0.010 |
| Luster: | Vitreous to pearly |
| Fluorescence: | Yellow striations |
Please refer to our Gemstone Glossary for details of gemology-related terms.
Rainbow Moonstone: Related or Similar Gemstones
Back to Top


Star Moonstone
As a member of the feldspar group, rainbow moonstone is related to other feldspars such as orthoclase (including moonstone), amazonite, labradorite and sunstone. Rainbow moonstone can appear similar to chalcedony.
Rainbow Moonstone Gemstone Mythology, Metaphysical and Healing Powers
Back to Top
Rainbow moonstone is technically a variety of labradorite. Therefore, the properties of labradorite should apply. Rainbow moonstone is thought to be a magical stone that possesses powerful protective properties and helps its wearer to find their true path in life. It is thought to "bring light" to the otherwise unknown, and thus provide its wearer with insight. Additionally, rainbow moonstone is said to possess the ability to bring out the positive in people and calm overactive minds, bringing peace to its wearer. Rainbow moonstone is also thought to soothe menstrual problems, aid disorders of the lungs, prevent colds, help with digestion and regulate both metabolism and blood pressure. In traditional Hindu belief systems, rainbow moonstone is associated with the throat chakra, or Vishuddha, which is the center of purification. The throat chakra is associated with hearing, speech and self-expression. Wearing rainbow moonstone is thought to contribute to true and honest expression. Rainbow moonstone is said to facilitate communication between the spiritual and physical world, helping its wearer to recall dreams and experiences from past lives. It is therefore thought to help bring out psychic abilities.
Disclaimer: Metaphysical and Alternative Crystal Healing Powers and Properties are not to be taken as confirmed advice. Traditional, Ceremonial and Mythological Gemstone Lore is collected from various resources and does not represent the sole opinion of SETT Co., Ltd. This information is not to replace the advice of your doctor. Should you have any medical conditions, please see a licensed medical practitioner. GemSelect does not guarantee any claims or statements of healing or astrological birthstone powers and cannot be held liable under any circumstances.
Rainbow Moonstone Gemstone and Jewelry Design Ideas
Back to Top
Rainbow moonstone jewelry is striking due to the mysterious shimmer that appears to emanate from inside the stone. It is used in wire-wrapped jewelry and drilled for pendants, bracelets and earrings. Rainbow moonstone looks equally attractive in funky tribal designs and fine jewelry with clean lines. Both cabochons and faceted gemstones can be incorporated into jewelry in both vintage and modern styles, using silver or gold settings. Moreover, rainbow moonstone can be mixed with other colored or clear gemstones for a combination of colors and textures.
Note: Buy colored gemstones by size and not by carat weight. Colored stones vary in size-to-weight ratio. Some stones are larger and others are smaller than diamonds by weight in comparison.
Ivanka Trump, daughter of Donald and Ivana Trump, model and successful businesswoman, launched a fine jewelry collection called "Patras", which features rainbow moonstones surrounded by Art Deco style diamond borders.
René Jules Lalique (1860 - 1945) was a famous Art Nouveau jewelry designer who created exquisite pieces of jewelry, some of which featured moonstones, such as an intricate tortoiseshell tiara comb with moonstone cabochons. It is not clear whether these are rainbow moonstones or regular moonstones.
Rainbow Moonstone Gemstone Jewelry Care and Cleaning
Back to Top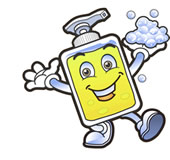 Rainbow moonstone is quite durable, but should be properly cared for to maintain its beautiful appearance. Since household dust contains quartz, which has a Mohs scale hardness of 7, simply wiping the dust off a rainbow moonstone gem could cause scratches. To clean your rainbow moonstone, simply use soapy water and a soft cloth. Be sure to rinse well to remove soapy residue. Always remove any jewelry or gemstones before exercising, cleaning or engaging in harsh physical activities such as sports. Store rainbow moonstone away from other gemstones to avoid scratches. It is best to wrap gemstones in soft cloth or place them inside a fabric-lined jewelry box.