Intro to Setting Gems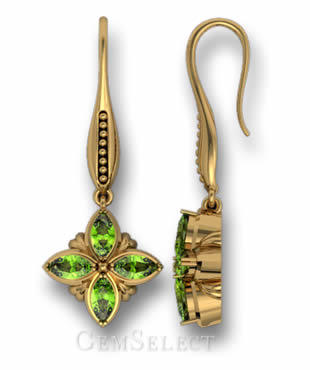 Bezel-Set Peridot Earrings
A setting is a metal form into which a gemstone is placed to make jewelry. The metal, known as a mounting or finding in the jewelry trade, may be made of a precious metal like gold, silver or platinum; or some less valuable metal like tungsten steel or titanium.
The setting uses claws, prongs, a bezel, or other means to hold the gemstone securely in place. The task of setting a gemstone can be simple or complicated, depending on the size and shape of the gem and the type of setting.
The simplest case of setting a gemstone is one where a gemstone in a calibrated size is placed in a standard mass-produced setting. Some of these standard settings are designed for inexperienced consumers to use with only very simple tools. Some cleverly designed mountings will snap shut once the gem is placed in the correct position, merely requiring the claws or prongs to be tightened to ensure that the setting is secure. However, most gemstone buyers still go to their local jeweler to have their gemstones set.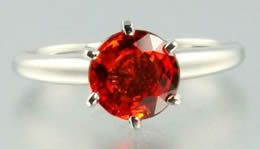 6-Prong Ring Setting
The term calibrated size refers to a gemstone that is sized to fit in these standard settings. There are a variety of calibrated sizes for each popular gemstone shape. The sizes are measured in millimeters, and the measurements for most gems have two values, such as 7 x 5 mm. This means the gem is 7 millimeters long and 5 millimeters wide. Since gemstones are three dimensional, they obviously have a depth measurement as well. But this measurement is generally not important for the size of the setting, so the size is usually given with two numbers only. The exception to this is round stones, where the length and width is the same. So calibrated sizes for round stones are stated with a single number, which indicates the diameter of the stone.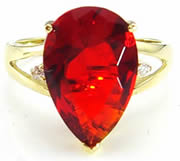 3-Prong Ring Setting
Nearly any round gem can be put in a standard claw or prong setting, even if the gem is not a calibrated size. That's because it's easy to adjust the prongs in a 4 or 6 claw round setting. With other shapes, there are various factors to be considered. As a rule, gems under one carat can be within .1 mm of the calibrated setting size. For gemstones over one carat in weight, a .2 mm variance can usually be accommodated and sometimes more.
If a a non-round stone is not close enough to a calibrated size, it will require a custom setting. This means that instead of using a cheaper mass-produced setting, the jeweler will have to create a setting especially designed for the specific gemstone. This will be more expensive and time-consuming, but for a special or unique gemstone it is usually worth the effort and expense.