Tension Settings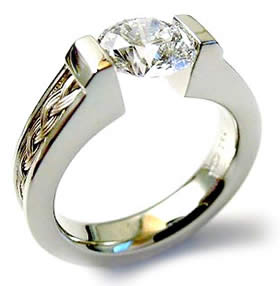 Gelin & Abaci Tension Setting
If you want to set a gemstone in a ring, the conventional wisdom is that you need to set it in something; a set of prongs, a bezel, a channel or suchlike. Yet, a new type of setting challenges this idea with a setting where the gemstone appears to be suspended in air.
Known as the tension setting, it was first invented by Friedrich Becker, at the German company, Niessing, in the 1960s. But Niessing did not release a product with this type of setting until 1981. Technically, this type of setting presents some challenges. The metal band that holds the gemstone is actually spring-loaded to exert pressure on the gemstone in order to hold it in place. This requires special strength in the metal.
The original Niessing design was made of 18 kt gold, and the 25% alloying metals were not typical jewelry metals. The entire setting weighed 35 grams and appeared unusually bulky on the finger. Therefore, an American, Steven Kretchmer, patented a new and very strong platinum alloy in 1987, and a number of companies have licensed this metal for tension-set rings. These rings are much lighter without sacrificing strength.
Tension settings actually use compression rather than tension to hold the gem in place. Tiny grooves in the metal allow the girdle of the gemstone to sit in the ring so that pressure is applied evenly to the stone. The tension setting applies about 12,000 pounds of pressure per square inch on the gemstone. As a result, only very hard stones - those with a Mohs hardness score of 9 or greater can be mounted in these settings.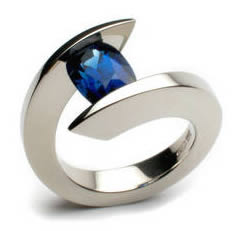 Tension-Set Sapphire
Tension settings must be manufactured specifically for the particular gemstone to be set into. The specifications are so exact that these rings cannot be resized; an entirely new ring must be made for a new size.
Making tension rings is still a very specialized business and only a handful of companies are known to make high-quality products. They include Niessing in Germany, and Steven Kretchmer, Gelin & Abaci and Danhov in the USA.
Though the tension setting looks slightly precarious, the manufacturers assure customers that these settings are actually more robust than a traditional prong setting, where it is not unknown for a prong to break. As long as the spring-loading of the ring is not lost, it is almost impossible for the gemstone to fall out.