Caring for Opals
Opals are among the most delicate gemstones that are commonly worn, and require some special care. With a little knowledge and some common sense, you can keep your opal in beautiful condition for many years to come.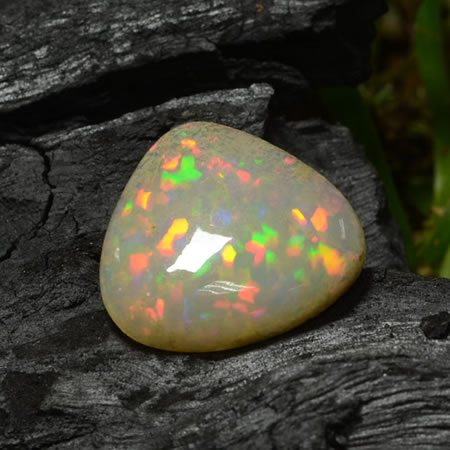 Solid Opal Cabochon from Ethiopia
There are two main reasons why opals are regarded as delicate. One reason is that they are relatively soft gemstones (between 5.5 and 6.5 on the Mohs hardness scale), so they can be easily scratched, even by common household dust, which often contains quartz. Another reason is that they have significant water content - from 3 to 30 percent. If an opal is kept in an environment with very low humidity, it can dry out and crack. Due to their water content, opals are also sensitive to sudden changes in temperature.
Some opals have an additional vulnerability. Opal doublets and triplets consist of a layer of precious opal glued to a black backing. Since the layers are glued together, prolonged exposure to water can weaken the glue and allow water to penetrate the space between the layers. The opal may then take on a gray or foggy appearance. Solid opals are not vulnerable to this problem.
Solid opal should be cleaned gently with mild detergent in warm water using a soft brush or cloth. Bleach, chemicals and cleaning fluid should always be avoided. Doublets and triplets may be wiped with a damp soft cloth and mild detergent, but should never be soaked or immersed.

Australian Opal Doublet
Opals should never be cleaned in an ultrasonic cleaner. The intense vibrations created may cause cracking in a solid opal, and water penetration in a doublet or triplet.
If you need to store your opal for a long period, it is a good idea to keep it in a sealed plastic bag with a damp piece of cotton to prevent dehydration.
The best way to avoid damage to an opal is preventative care. Opals are best suited for earrings, brooches and pendants, since these types of jewelry are less exposed to wear and tear. If you absolutely must have an opal ring, choose a protective setting like a bezel. If you wear an opal ring on a daily basis, it will need to be repolished from time to time to maintain its luster.