Gemstone Doublets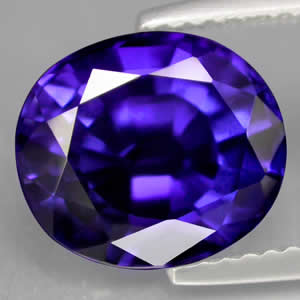 Sapphire Doublet
Recently a prospective customer wrote to us to ask about a sapphire doublet he had just acquired. He wasn't quite sure what a doublet was and wondered whether the gem was especially valuable.
On the face of it, a doublet sounds like a good thing; you would think it should be twice as good as a singlet. Unfortunately that's not the case in the gemstone world.
A doublet is a gemstone that is composed of two parts; usually valuable gemstone material in combination with other, less expensive material. This is not a natural occurrence, but rather a man-made fabrication where two pieces of material are glued together to form a sort a composite or "gemstone sandwich". Usually the crown (top of the stone) is natural gemstone material while the pavilion (bottom) is composed of an inexpensive material such as synthetic sapphire, quartz or glass.
There are several reasons why a gemstone doublet may be created. It could be done with the intention to deceive since well-fabricated doublets can only be detected by the expert eye. Since a 2 carat sapphire doublet may contain less than 1 carat of natural sapphire, it would certainly be fraudulent to sell a doublet as a natural sapphire.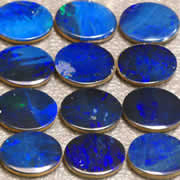 Opal Doublet
A sapphire doublet may also be produced simply with the intention of saving cost. As long as the stone is disclosed as a doublet at the time of sale, there is nothing wrong with this practice. However, an ethical dealer should ensure that the customer is aware of what he's buying when he purchases a doublet. That was clearly not the case with the buyer who wrote to us asking about the value of his sapphire doublet.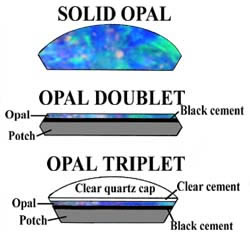 Opal Doublet
Any kind of gemstone material can be produced as a doublet, especially expensive varieties such as sapphire, ruby and alexandrite. However, doublets are most often found in opal, since high quality precious opal is both very expensive and fragile. An opal doublet consists of a slice of precious opal usually glued to a black backing (common opal or glass), designed to imitate the appearance of a solid black opal. Fixing the slice of opal to a black backing causes the color to become much darker and more vibrant. Opal doublets are well regarded as a less expensive alternative to solid opals, which are very expensive in larger sizes.