Gem Carvings and Engravings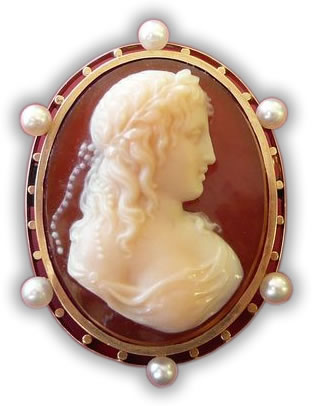 Carnelian Cameo
The art of gemstone engraving or carving is known as glyptography. It is an ancient art, going back to the creation of seals and amulets in the ancient civilizations of Sumeria, Babylon and Assyria. Stone engraving was practiced in ancient Greece and reached a high standard in ancient Rome.
In antiquity, the most popular materials for carving were agate, amethyst, jasper, carnelian and onyx. Today, nearly all types of gemstones may be engraved, even very hard materials like diamond. However, due to cost, gem carvings are usually less expensive materials.
One of the most traditional of gemstone carvings is the cameo. It features a raised (or positive) relief image; in contrast to the contrast intaglio, which has negative relief. Cameos have come to be associated with the image of a head in an oval frame, but cameos were not always images of heads or people.
Historically, cameos were most often used for signet rings. The wearing of signet rings (from Latin "signum" meaning sign) goes back to ancient Greece; the distinctive personal signature was not developed in antiquity and most documents needed a seal. Signet rings were usually carved from onyx, agate or carnelian.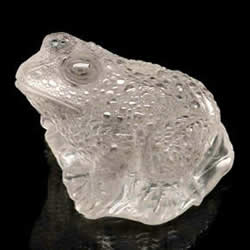 Carved Quartz Frog
Many cameos exhibit a light-colored relief on a darker ground. These were first carved from layered materials such as banded agate. The craftsman took advantage of the different colors in the layers to produce the white-on-black, white-on-blue and white-on-red-brown images that have become so familiar.
The carving of decorative objects from gemstone materials also has a long history. The Chinese carved elaborate figures in nephrite jade. In modern times you can find gemstone carvings in quartz, onyx, amber, bloodstone, lapis lazuli, opal, sapphire, ruby, jasper and ruby-zoisite.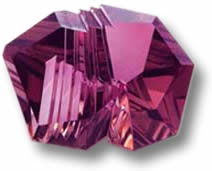 FT-IR Spectrometer
Gemstone carving has become an art in the innovative work of the German cutter Bernd Munsteiner. Munsteiner was trained as a lapidary in his family's workshop in Idar-Oberstein, the famous gem-cutting center in Germany. Munsteiner also studied painting, sculpting and jewelry design, and he applied modern artistic ideas to gemstone materials. Munsteiner's style was geometrical, abstract and thoroughly modernist.