Animal Motif Gemstone Jewelry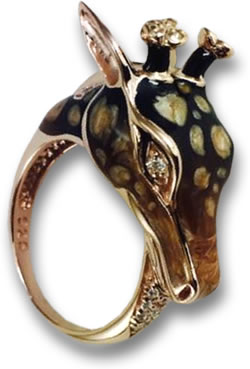 Giraffe Rose Gold, Enamel and Gemstone Ring
Nowadays, anyone can feel some animal attraction by wearing their favorite animal, not as a tacky motif on a sweatshirt or as a "Life Gem" that is made up of the deceased animal's ashes, but as a piece of jewelry. Cartier has the panther, but there is no reason why we should be limited to one single animal when the animal kingdom is so diverse.
Animals have featured in jewelry for centuries, from ancient Egyptian scarab beetles and cobras to Cartier's iconic panther. Most high jewelry houses have featured collections of animals. For example, Chopard have an "Animal World" collection that celebrated their 150th anniversary in 2010 and Boucheron have "The Audacious Menagerie". In the Chopard collection is a Regal Tiger Necklace that makes use of fire opal for the tiger's face, which is surrounded by a cascade of colored diamond and moonstone gems. One of the most interesting pieces in the Boucheron collection is a turtle ring with emerald eyes and a shell fashioned from carved tiger's eye. A similar turtle ring is rose gold with diamond eyes and has a shell carved from rose quartz.
Jewelry lovers far and wide enjoy fun jewelry in the form of animals. For example, Jackie Kennedy Onassis liked her collection of "critters". One of these was a beautiful jade butterfly brooch. Some people identify with a certain animal; there are dog people and cat people, and others may have a totemic animal, astrological creature or spirit animal that they feel represents their personality.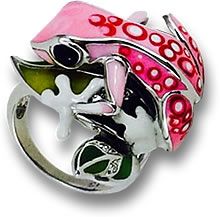 Silver and Enamel Frog Ring
Different animals suggest different things. For example, tigers, panthers and lions are powerful, regal creatures. Others, such as the dragon and phoenix are fantastic and mythical. The flamingo, swan and peacock are flamboyant and graceful. Chameleons, snails, frogs and geckos are different and quirky. Spiders, scorpions and snakes are sensual and dangerous. Jewelry with animal motifs can sometimes give hints as to the wearer's style and nature. Some animal jewelry is big, bold and only for the daring jewelry lover and other pieces incorporate animal motifs while remaining subtle.
Animal themed jewelry may be made from small, closely-set gemstones, from enamel or other materials such as gold or other precious metals. Enameling became sophisticated and popular during the Art Nouveau era, when jewelry had natural forms and flowing lines. During this time, enamel was fashioned into very realistic looking animal features, such as dragonfly wings or peacock feathers. Among the best examples of this are a "Dragonfly Woman" brooch (diamond, moonstone, chrysoprase and enamel) and a nine-headed serpent corsage ornament (gold and enamel) by Réné Lalique.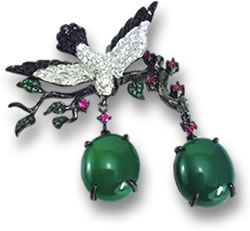 Black Gold Bird Brooch with Colored Gemstones
Contemporary Italian jewelry brand, Roberto Coin, known for the use of a signature ruby in each jewelry piece, has an amazing array of animal jewels. These jewels are minutely detailed masterpieces. Also, the work of Parisian jeweler, Lydia Courteille is comprised of some of the most startlingly unique and creative pieces that really bring the animal theme to life. These stunning jewels include bright pink tourmaline and sapphire rabbits, and two tsavorite and brown diamond lizards with red ruby eyes that encircle green turquoise on a black rhodium gold ring.
For those who like something a little less cuddly and cute, there is a plethora of reptiles and other interesting creatures. Snakes lend themselves well to jewelry forms such as rings and bangles. In fact, the ancient Greeks made some exquisite golden snake armlets and the ancient Egyptians had golden diadems and other serpent-themed pieces. One of the most stunning pieces of snake jewelry is a Boucheron Python Bracelet, which contains 700 tsavorite garnets, 440 sapphires and 120 diamonds all set in white gold. With regard to other reptiles, a notable crocodile necklace was designed by Cartier. The necklace was commissioned by Mexican actress, María Félix in 1975. It features two crocodiles made of yellow gold, one of which is set with 1023 fancy yellow diamonds and emerald cabochon eyes, and the other has 1060 emeralds and ruby cabochon eyes. The two crocodiles are fully articulated and can be separated and worn as brooches.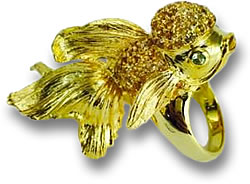 Gold Cocktail Ring with Spessartite Garnet
One of the most stunning water creatures shown in a piece of jewelry is the Van Cleef and Arpels Carpe Koï Watch Bracelet. This tribute to the Japanese culture takes the form of a koi carp and contains a staggering 8,000 gemstones in both yellow and white gold. The gem types used to depict the happy fish features are diamond, yellow sapphire, spessartite garnet, black spinel and Paraiba-like tourmaline. The watch dial is also set with gems and is cleverly hidden inside the mouth of the fish, which opens and closes when the head is lightly pressed.
For those who have a taste for the unusual, British punk style jewelry designer, Stephen Webster created jewels in the form of extraordinary creatures such as a deep sea black shrimp, scorpions and spiders. Webster's jewelry has a darker side and more edgy look than mainstream jewelry designs.
Nature has always been a source of inspiration for art and jewelry, and art often mirrors nature. Producing animal inspired jewelry showcases design techniques and creative talent. Moreover, the animal kingdom is so vast that there is an almost limitless choice of creatures that offer stimulation for the imagination. Animal jewelry can be appreciated by everyone, no matter what jewelry style is required.