Royal Colored Gemstone Engagement Rings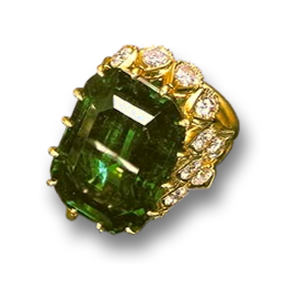 Wallis Simpson's Emerald Engagement Ring
Fairytale marriages between princes and princesses tend to involve the most sumptuous jewels. More often than not, the gemstones that adorn the betrothed are white diamonds. However, there are some interesting colored gemstones to be seen if you look closely.
Wallis Simpson was given a 19.77-carat emerald in yellow gold (see, right) by King Edward VIII of Britain in 1937. King Edward abdicated to be with her, since, as the head of the Church of England, his advisors were unwilling to allow him to marry a divorced woman. Wallis Simpson had been previously married to an American businessman. The royal newlyweds were given the titles of Duke and Duchess of Windsor. The gemstone ring was engraved with a message that read, "We are ours now" with the date of the proposal.
Prince Andrew, Duke of York, the second son of British monarch Queen Elizabeth II, presented Sarah Ferguson with an engagement ring that featured an oval Burmese ruby surrounded by ten white diamonds and set in white and yellow gold. The ring was made by Garrard of London. The Prince designed the ring himself and it is said that he chose a Burmese ruby to match his fiancé's fiery red hair. Sarah Ferguson and Prince Andrew met when they were children and became engaged in 1986, and married during the same year. The couple have two daughters, Princess Beatrice and Princess Eugenie. Sadly, just less than ten years after the marriage, they divorced.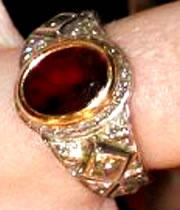 Princess Mathilde's Oval Ruby Ring
Prince Philippe of Belgium also gave an oval ruby engagement ring. The ruby is set into a diamond band (see, left). Princess Mathilde was the lucky receiver of the jewel in 1999. They were married during the same year and have four children together. In 2013, at the age of 53, Prince Philippe became King of the Belgians and Princess Mathilde was made Queen after the abdication of Philippe's father due to ill health. King Philippe is one of the youngest reigning monarchs in Europe. The royal couple's eldest daughter, Elisabeth, is next in line to the throne.
The Crown Prince of Denmark, Prince Frederik, gave Mary Elizabeth Donaldson a diamond engagement ring with two emerald-cut ruby side stones. These are said to symbolize the colors of the Danish flag. The couple met in a pub during the Sydney Olympics in 2000, when the Prince introduced himself simply as "Fred". They were engaged in 2003 and married in 2004 in Copenhagen. They have four children including twins. Prince Frederik may be the only crown prince in the world who runs marathons and has competed in an Ironman contest. Prince Frederik is a descendant of the British monarch, Queen Victoria.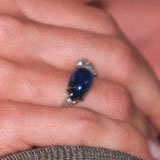 Princess Marie-Chantal's Sapphire Cabochon Ring
Most people interested in colored gemstones have heard of Princess Diana's famous sapphire engagement ring that was later presented to Kate Middleton. However, not many will know of another blue sapphire royal engagement ring, the one belonging to a Greek princess. The sapphire belonged to the Greek Royal Family and the ring was given by Prince Pavlos in 1995 to Marie-Chantal Miller. The central gemstone is a blue sapphire cabochon with a heart-shaped diamond that was added later (see, right). The royal proposal was made in 1994 on a ski-lift in Switzerland.
Princess Margriet of the Netherlands received an unusual and simple ring from Pieter van Vollenhoven, set with a single pearl and diamond baguette side stones. The couple met whilst she was studying at Leiden University. They were engaged in 1965 and married in 1967. For the wedding, Princess Margriet wore more pearls, in the form of a pearl button tiara. According to some superstitions, pearls symbolize tears and should not be given as an engagement ring gemstone or worn by a bride on her wedding day. However, the engagement and marriage of Princess Margriet disprove such beliefs. They have four sons and eleven grandchildren.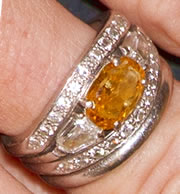 Queen Maxima's Orange Diamond Ring
Queen Maxima of the Netherlands has one of the most unusual engagement rings containing an oval orange diamond, which was given to her by King Willem-Alexander. The orange gemstone was a suitable gift from the Prince of Orange. At the time of the engagement, King Willem-Alexander was the Crown Prince. They married in 2002 and he became King in 2013 when his mother abdicated in his favor. The unusual diamond has two white diamond side stones and is surrounded by an oval white diamond band. Queen Maxima was originally from Argentina. She met her prince in 1999 at the Seville Spring Fair in Spain and it is said that she was not aware that he was a prince until later. The couple have three children.
These are just some of the interesting colored gemstone royal engagement rings. We hope that they give you some inspiration for creating your own colored gemstone engagement ring.