Sri Lanka's Gem and Jewelry History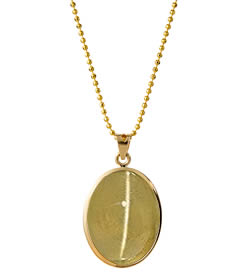 Chrysoberyl Cat's Eye Set in Gold
When it comes to gems and jewelry, there are very few places in the world as historically important as Sri Lanka. Sri Lanka's jewelry history dates back some 3,000 years. Recently, archaeological discoveries were made in Sri Lankan burial grounds which can be traced back to 1000 BCE, roughly around the time of King Solomon's reign. The ancient discoveries included pieces of jewelry set with polished gemstones and beads originating from Sri Lanka. Due to its rich gem and jewelry history, centuries ago, Sri Lanka earned itself the nickname of 'Ratnadeepa' or 'Gem Island'.
Known as Ceylon until 1972, Sri Lanka is a small tropical island southeast of India in Southern Asia. It has a land mass of approximately 65,000 square kilometers, consisting mostly of flat coastal plains, and mountains located in the central regions. The district of Ratnapura, which is Sinhalese for 'city of gems' is where most of Sri Lanka's gem and jewelry trade takes place. Ratnapura is roughly 100 kilometers southeast of Sri Lanka's capital city of Colombo and is home to some of the world's oldest sapphire mines. Ratnapura lies at the foot of Adam's Peak, a 2,243 meter tall mountain, revered by several religions as a holy place.
Sri Lanka boasts over a hundred rivers, including the Mahaweli River which extends over 330 kilometers. Various gemstones can be found as secondary alluvial deposits in the many waterways and natural waterfalls of Sri Lanka. The vast majority of Sri Lanka's gem wealth is sourced from weathered alluvial gravel. Sri Lanka's gravel pits, known as 'illam' are considered to be some of the richest in the world, yielding a variety of gemstones including garnet, spinel, and of course, sapphire and ruby. Most of Sri Lanka's commercial deposits are found in the Highland Complex, Sri Lanka's most important region for gemstone formation.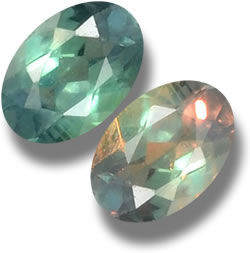 Color Change Alexandrite
From mining to export, the gem and jewelry industry is heavily regulated by the National Gem and Jewellery Authority. The NGJA has very strict regulations when it comes to mining, which is why most mining is still done by hand today. The vision of the NGJA is to bring Sri Lanka into the international spotlight as a center for gems and jewelry. The authority requires by law that all exported gems and jewelry are channeled through their organization to ensure only genuine items are exported.
Along with Thailand, Brazil, South Africa and Myanmar (Burma), Sri Lanka ranks among the top geographical locations for gems and jewelry. Today, Sri Lanka is not only the steadiest producer of the fine blue sapphire we see on the market today, but it also supplies the world with over 75 other unique gemstone varieties, including chrysoberyl cat's eye and color change alexandrite. Sri Lanka is best known for gem mining, but it actually has a full domestic and export mine to market industry.
Sri Lankan gemstone cutters are some of the most experienced cutters in the world, combining years of tradition with modern techniques. Sri Lankan gem cutters are known to be able to bring out the best face-up color while maximizing carat weight. Their ability to perfectly orient gems for the placement of cat's eyes and stars is among the best in the world.
The domestic jewelry market is Sri Lanka's 2nd largest market segment. Like most of Asia, Sri Lanka demands a higher purity of gold when it comes to jewelry. 22K yellow gold is the traditional purity, though gaining in popularity now are other alloys, especially with younger generations, including platinum and colored gold. As with Sri Lanka's native style of gem cutting, most jewelry is handmade with traditional methods. In Sri Lanka, 22K gold jewelry is often used as an investment. Many locals buy and sell gold jewelry like stocks as the price of gold fluctuates. For well over twenty years, Sri Lanka's gem and jewelry industry has been thriving, and today it is still on the rise. The sapphire mines are still in production and the jewelry production of Sri Lanka will very likely continue to grow along with its economy for many more years to come.