GemSelect September 2013 Newsletter - The Legendary Ring of King Solomon
Without a doubt, one of history's most mysterious artifacts is 'Solomon's Ring'. The relic of King Solomon has been mentioned for thousands of years in many Christian, Jewish and Islamic legends. The historical treasure is known by many names, including the Ring of the Fisherman, the Seal of Solomon, and the ring of Aandaleeb. The ring of Solomon is believed to be one of the most powerful rings ever mentioned in recorded history, possessing the properties of a talisman. To this day, the ring of Solomon has never actually been found and it remains shrouded in mystery and controversy. Many people believe the ring never even existed at all. But if the ring truly never existed, why are there so many references to it in historical scriptures?
What do you believe? Did the ring of Solomon really exist? It's been proven by historians that Solomon was not a fictional character of fable or myth. Solomon was the last King of Israel, circa 970 to 931 BC. According to the scriptures of Talmud and the Qur'an, Solomon was one of the 48 Major Prophets, often referred to as 'Sulayman', an Arabic variation of 'Solomon'. King Solomon was the son of David and a descendent of Saul, Israel's first king. King Solomon was thought to have been responsible for building the First Temple of Jerusalem, and although he was revered as a great king among his people, his actions inevitably led to the division of his kingdom.
King Solomon was known as one of the most powerful sorcerers of his time. Many believed he had supernatural powers, including the ability to communicate with animals, summon genies and expel demons and evil spirits. But according to historical legend, it was the Seal of Solomon that provided him with his supernatural abilities. There has been much speculation regarding the appearance of Solomon's Ring. Some believe it was a simple signet ring bearing a seal of the Star of David, composed of chalcedony, jasper or carnelian (one of the 12 gemstones of Aaron's Breastplate). Others describe the ring as being more extravagant, consisting of four smaller gems cornering a larger, oval-shaped cabochon.
Some legends claim that the gemstones were given to Solomon by the angels of God, while others claim that the ring was given to him by fallen angels (demons). One theory is that the ring worn by the Pope (also referred to as the 'Ring of the Fisherman') is actually a replica of King Solomon's ring, but with a different seal. This speculation is further supported by the fact that every Pope swears an oath upon receiving their ring. The ring is exchanged with a promise to the Cardinal Bishop, that upon the death or resignation of Pope, the ring shall be forever destroyed.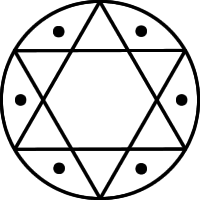 We can only imagine what Solomon's ring looked like, since despite countless expeditions and numerous failed attempts, no actual proof of the ring's existence has ever been revealed. If King Solomon truly existed, why hasn't his legendary ring ever been found?
According to a Christian legend, Solomon's ring is believed to be our only weapon of salvation against the apocalypse. Since it is thought to have the power to cast away demons and evil spirits, many believe the ring was hidden long ago and is being protected deep inside the realms of the Vatican, where it is waiting... waiting for the day of reckoning; remaining within reach of the hands of the Pope, the only person believed to be worthy enough to use the ring for its intended power. What do you believe?
The best just got better! At GemSelect, we strive to be the best wholesale gemstone supplier in the world, which means improving our website everyday! You may already have noticed some of the newest updates we've made, but in case you haven't, here's a quick look at some new enhancements we've made to www.gemselect.com:
1: Live Gem Count and Quicker Navigation!

Whenever you click to view any of our 120+ different gem types, you'll see a live count of gems available. In addition, you can click on any of the 'quick-links' to go straight to the specific shapes or colors you need.

2: Quicker 'Sort by' Feature!

We've always had the ability to sort gems by price, size and weight - but now, we've made it even easier with our quick 'sort by' option. Just click on the 'sort by' button (pictured below) and then choose one of our drop-down options: Sort by price, sort by mm size or sort by weight!

3: List View Option for Fast Gem Comparisons!

With our new 'list view' arrangement, you can easily compare gemstones without having to click through to each individual detail page! This is one serious time-saver! Just click the 'list view' toggle button (#3 in the image below) and you switch from our classic grid-view to our new 'list view'. View multiple gemstone details on a single page! Compare gem size, clarity, weight, description, prices and images quickly and efficiently!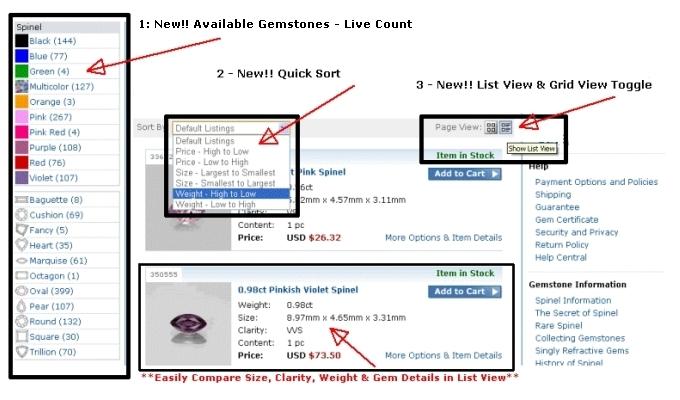 Top Ten Most Popular Gems - Colored Stone Trends
Back to Top
If you're a jeweler by profession or even by hobby, our list of top 10 trending gems can give you some valuable insight. By seeing what gems have been selling well in previous months, you can get a good idea of what your customers will want in the upcoming months. Statistics confirm that customers simply don't want to wait! If you have it, they'll buy it, and if not, they'll move on.
That's why we've compiled our list of top 10 best-selling gems for you, and we encourage you to review and use this data to your advantage. Surprisingly, many of our top 10 trending gems are 'affordable' gems, with many that are priced at just a few dollars per carat. With thousands of gems priced less than $10 to $20, it certainly doesn't hurt to have a few of our 'popular' gems on-hand, because based on our experience, they'll certainly move very quickly!
The following list is our "Top 10 Most Popular Gemstones" of the Year So Far:
1: Blue Ceylon Sapphire
Blue sapphire is arguably the world's most famous colored gemstone and based on our sales reports, is unquestionable. Unheated sapphire has been demanding extraordinary prices, often over $2,000/carat. If you're like most people, you simply can't afford to spend that much on a single stone! So how else can you afford a blue sapphire? Well, we suggest looking at treated sapphire. In most cases, people can't see any difference between treated, heated and unenhanced sapphire.

2: London Blue Topaz
Blue topaz has always been a favorite for jewelers, but with all the different shades of blue available, which blue is in highest demand? Well, according to our sales, London blue topaz is the undisputed number one contender, followed by lighter, Swiss blue topaz. Blue topaz is an exceptional gemstone, and no matter which shade of topaz you prefer, you're guaranteed the excellent hardness, durability and affordability that all topaz offers!

3: Tourmaline
Year-after-year, tourmaline ranks in our top 3 best-selling gems; this year is no exception. Bicolor tourmaline and watermelon tourmaline are especially popular this year, with consumer demand at an all-time high. Surprisingly, prices for tourmaline have remained quite affordable, despite the sudden growth in popularity. Tourmaline is versatile and has it all! It occurs in almost every color, from colorless to black, and is extremely durable. We currently have over 2,400 tourmaline gemstones available, making us one of the biggest tourmaline providers in the world!

4: Amethyst
Amethyst is the most popular variety of quartz gemstones. Moreover, it is one of the most popular all-time gems. Amethyst offers vivid and intense color, combined with the reliable hardness and durability of quartz. Quartz sets the par for all other gems in regard to hardness and durability. One of the best things about amethyst is the availability of very large stones. They are also considerably clean, containing very few inclusions. The demand of amethyst has slightly decreased due to the rising demand for violet-blue iolite and tanzanite, but despite the small drop in popularity, amethyst still remains on our list of top 10 trending gems and probably always will.

5: Red Burmese Ruby
Despite the high costs of fine ruby stones, they are still in very high demand. Madagascan ruby has gained in popularity recently, but fine ruby from Myanmar (Burma) still tops the charts. Burmese ruby is considered to be the finest quality ruby on the market. Surprisingly, Burmese ruby prices can easily exceed $5,000/ct retail, but our Burma rubies have much more reasonable prices. This 1.00 ct red Burmese ruby is available for a fraction of the average Burmese ruby price. Many of our customers ask how we can offer such low prices for Burmese ruby. Well, the answer is quite simple - because we're located within hours from Burma and we have excellent relationships with Burma's top ruby suppliers.

6: Golden Citrine
Golden citrine, another wonderful variety of quartz, is an important item on our list of top 10 gems. Most citrine stones available today are actually heated-treated amethyst, because natural citrine is quite rare. Many prefer deep orange citrine, while others prefer lighter, brighter and refreshing lemon-yellow colored citrine. Regardless of which shade you prefer, you're guaranteed excellent value! Citrine offers bright and vivid golden color combined with quartz durability and affordability. Like amethyst, citrine is typically very clean, lacking visible inclusions. Large citrine gems can be acquired at excellent bargain prices as well, making them a favorite for jewelers and jewelry designers.

7: Spinel
Spinel is a very special gem and it has quite a history dating back hundreds of years. For centuries it was mistaken for precious red ruby, only to be later identified as its own gem type; spinel. Spinel occurs in a range of beautiful pastel shades, including pink, purple, orange, blue and red. Over the past year, we have seen a tremendous spike in spinel demand, especially for pink and purple spinel and red spinel from Burma. Red Burmese spinel is exceptionally rare and highly desirable. Spinel has excellent hardness and superb clarity. Best of all, spinel is never treated or enhanced in any way, making it one of the few untreated gemstones available today.

8: Smoky Quartz
Smoky quartz is another popular variety of quartz. As you can see from our list, quartz most certainly dominates the gem and jewelry market. With regard to color, smoky quartz is actually quite unique. When most people imagine a brown gem, it doesn't sound very special or attractive, but surprisingly, there are actually very few gems that naturally occur in brown color. Smoky quartz has excellent hardness and durability, and large sizes are very affordable. Smoky quartz is slowly becoming one of the top designer gemstones of the decade, owing to its tribal and earthy vibe. Its use in jewelry has increased exponentially and we predict it just may be in the list of top 5 trending gems by the end of the year.

9: Spessartite Garnet
An unexpected gemstone that is trending this year is spessartite garnet. Spessartite is one of the rare types of red garnet, and it is extremely attractive and desirable for its garnet hardness and durability. Spessartite occurs in unique Fanta-like colors, which no other gem can replicate. Surprisingly, despite spessartite's rarity and high demand, it's available at 'Fanta-stic' bargains!

10: Green Chrome Diopside
Chrome diopside has become increasingly popular this year, in fact, we're surprised that it made our top 10 gem list. It is one of the few chrome colored gemstones available today, but is rarely found in large sizes. In fact, most stones weigh less than 1 carat. Chrome tourmaline is an excellent alternative for those needing large chrome colored gemstones. Although exceedingly rare, chrome diopside remains surprisingly affordable...for now.
Gem and Jewelry Events Calendar - September 2013
Back to Top
| | | |
| --- | --- | --- |
| Event Name | Location | Date(s) |
| INT'L Jewelry Show (IJL) | Held in Earls Court - London, England | Sept 1 - Sept 4, 2013 |
| 52nd Bangkok Gems & Jewelry Fair | Held at Impact Challenger Arena & Complex - Bangkok, Thailand | Sept 5 - Sept 9, 2013 |
| 23rd Facets, Sri Lanka INT'L Gem & Jewelry Fair | Held at BMICH Exhibition & Convention Centre - Colombo City , Sri Lanka | Sept 5 - Sept 9, 2013 |
| Hong Kong Gems and Jewelry Fair | Held at AsiaWorld Expo Hong Kong - Lantau, Hong Kong | Sept 11 - Sept 15, 2013 |
| Hong Kong Gems and Jewelry Fair - II | Held at Hong Kong Convention and Exhibition Centre - Wanchai, Hong Kong | Sept 13 - Sept 17, 2013 |
Every month we answer questions of general interest from our customers. Please feel free to send us your questions or suggestions to our support team at help@gemselect.com!
Q:
Hi! Can you ship gemstones to France? I've tried to order gemstones before from other sellers, but they won't accept my orders. Can you ship quickly too? I need my items this week.


A:
Previously, shipping loose gemstones to France via any express courier service was not possible. However, we're pleased to confirm that GemSelect can now ship gemstones to France in as little as 3-4 days!

We will continue to offer standard registered mail which takes about 2 weeks and is extremely reliable, but if you need gems quickly (for orders over $200), we can now offer express shipping for only $20.00 USD.

**Express shipping available for orders over $200.**


Q:
I'm looking for peachy gemstones. Are there any specific gemstones or types that often come in peachy colors?


A:
Peachy gemstones have been extremely popular this year. Many people have trouble finding peachy colored stones. The definition of peach color varies tremendously from person to person, but generally, most would consider peach a mix of pink, yellow, orange and/or rose color.

Here are some excellent gem types to look at if you happen to be hunting for your own peachy gem: Malaya garnet, andalusite, morganite, zircon, spinel, tourmaline and sapphire. This is not a complete list of peachy gems, but it should give you a good place to start.
To ensure you can receive our emails, please be sure to add help@gemselect.com to your list of safe contacts, or you add us into your email address book! Please feel free to contact us with any questions, comments and queries! We literally respond to each and every email we receive.

Happy gem hunting,
Your friends at GemSelect