Buy Watermelon Tourmaline Gems
You Selected (1): Watermelon Tourmaline - Tourmaline
Clear All
Click for Details
1 pc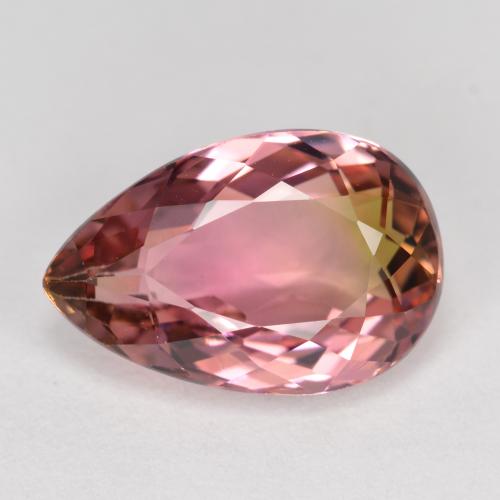 Pear Multicolor Tourmaline
3.8ct
12.5 x 8.3 mm
Item in Stock
Watermelon Tourmaline
Tourmaline
is derived from the Sinhalese word, 'turamali', meaning 'stone of mixed colors'. Tourmaline is second to none in the realm of precious stones when it comes to color and versatility. Tourmaline crystals can range in hue from completely colorless to black, and from pastel to dark. Also, tourmaline gems can exhibit multiple colors within the same stone. This is why many tourmaline gemstones are often cut into long bars, as this shape brings out its best color and highlights its attractive and desirable color zoning. In fact,
tourmaline
is quite famous for its bi-color and tri-color gemstones, often sought after by collectors and fashion jewelry designers. One of the most well-known trade names for such tourmaline is watermelon tourmaline, which is uniquely banded in colors which resemble a sliced watermelon. Watermelon tourmaline with especially vivid and bright colors, clear zoning, and high clarity can easily demand top prices. Almost all watermelon tourmaline is heavily included which makes eye-clean gems a true rarity for this variety of tourmaline. Other colors of tourmaline tend to form with higher clarity, as seen in green tourmaline or chrome tourmaline.
Tourmaline is quite durable, rating 7-7.5 on the
Mohs hardness scale
, which makes it slightly harder than varieties of quartz. Tourmaline is an attractive buy, as large size gemstones are quite affordable and relatively easily available. However, as tourmaline's popularity increases, so does its price. In the last few years alone, prices for quality tourmaline have gone up tremendously. Today, tourmaline is one of the most important gemstone groups in the world. What makes tourmaline even more special is the fact that this gemstone typically does not require any enhancements. It is one of the few natural gemstones available that is not known to be treated in any way, though some specific neon-like colors (often neon blue or neon green-blue) can be created through intervention and enhancement. Along with precious opal, tourmaline is one of the official birthstones for the month of October.
Certified Customer Reviews
Overall Rating -> 10

I love that I was able to find a site that offers REAL gemstones. I love the pictures provided of the gems so I can look at each one from different angles, I love the variety of gems on the site & I love the ability to narrow down my search to look at certain gems that fit my criteria.
Posted By Risuna in January, 2019
Overall Rating -> 10

Always a pleasure to do business with you. Gems have always been as pictured, certificate option is appreciated.
Posted By Lawrencekramer in January, 2019
Overall Rating -> 10

My experience with gemselect was awesome so far. I had a few questions about their website and making orders and they replied quickly and were happy to help. I have not received the items I ordered yet as I just ordered them this morning. Although, I truly feel I am going to be a very happy customer once I do receive my items. Gemselect guarantees all their items and have a great return policy just incase. The have a vast selection of all kinds of stones and not to mention their prices are much better than some other websites. Thanks Gemselect I'll be doing business here from now on!
Posted By Jpapaleo in January, 2019
Overall Rating -> 10

I was very happy on the quality of the gemstones I recieved from GemSelect, I will deffinetly buy again.
Posted By Mckeg in January, 2019
Overall Rating -> 10

Great, easy to use, efficient!
Posted By Olive in January, 2019
Overall Rating -> 9

Great selection. Love the many learning features like articles and gem information. Prices competitive for natural stones. I do miss not having a selection of lab-made stones, CZ's, etc, which are useful when price and cost are factors.
Posted By Dirk in January, 2019
Popular Gemstones