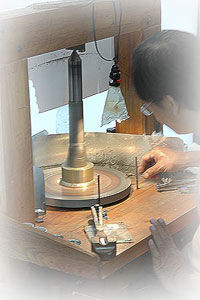 Known as lapidary work, the shaping, engraving, faceting and polishing of stones is performed by a person known as a lapidary.
Before cutting, the lapidary selects the rough stone by inspecting the uncut crystals for clarity, size, flaws, and color. Viewing the crystals through a strong light source is the preferred method. It is important to choose the stones carefully, as mistakes in choice can lead to stones breaking during cutting, which wastes time and valuable gemstones.
After selection, the cutter studies the stone first, deciding the best way to cut the stone for ideal color and size. If the stone is cut badly, a potentially outstanding stone could be reduced to mediocrity. After selection, the stone is shaped, using circular diamond saws or carbide grinding wheels. During this step, the stone is roughly shaped to the desired size from the original crystal form.
After the stone has been roughly cut to its proper size, it is cemented with epoxy to a small stick (known as a 'dop'). The dop is then held by the cutter and the stone is then faceted as it is ground. This is done on a small vertical diamond-grinding wheel and the facets are roughly shaped by this grinding, into for example, a round-cut or a step-cut.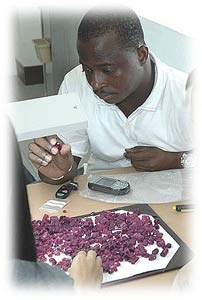 After the stone has been faceted, the dop is placed in a holder that the cutter can rotate, which holds the stone at an angle against a larger, horizontal wheel used for polishing. The cutter rotates the stone at an angle to the wheel, in order to polish individual facets and adjust their exact sizes so that the stone is uniform in cut and appearance. This final step also removes the last traces of cutting scratches and improves luster by causing a fine layer on the surface of the stone to melt, heightening the polish.
It is not easy to say how long it takes to shape and facet a stone from beginning to end. Our experienced cutters, with many years of experience in all stages of gemstone cutting can finish approximately six stones per day. Some older cutters are experienced in all steps of gem faceting, while others are skilled only in certain steps.