Rare Tourmaline Gemstones
Tourmaline is one of our favorite gemstones and we always have at least 500 or 1000 pieces in our inventory. One reason is that tourmaline is in many ways the quintessential colored gemstone. It combines good hardness (7 to 7.5 on the Mohs scale) with excellent durability (it has no cleavage). It occurs in an astonishing array of colors, including bi-color and tri-color crystals, such as the distinctive watermelon variety, that are instantly recognizable as tourmaline. The best tourmaline has excellent clarity and a vitreous luster that makes it the equal of any of the precious stones. Also, because of its tremendous color variation and pleochroism, nearly every piece of tourmaline is quite unique.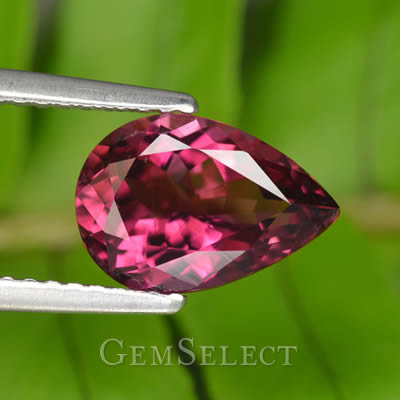 Rare Rubellite Tourmaline Gem
Tourmaline is found in many places in the world and it is one of the few gemstones for which the USA is famous. The first American discoveries were made in 1822 in the state of Maine. California also became a large producer of tourmaline in the early 1900s. The Maine deposits tend to produce raspberry pink-red crystals as well as minty green material. The California deposits are known for bright pink and interesting bicolored gems. During the early 1900s, Maine and California were the world's largest producers of gem-quality tourmaline. The Empress Dowager Tz'u Hsi, the last Empress of China, loved pink tourmaline and bought large quantities for gemstones and carvings from the Himalaya Mine, in San Diego County, California. Today most of our tourmaline supply comes from Africa, particularly Mozambique, Namibia, Nigeria and Tanzania.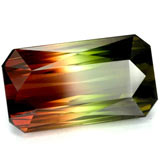 Among the 100 or so hues of tourmaline are some rare and special varieties that are particularly valuable and sought after by collectors. These include chrome tourmaline, an extraordinary vivid green material from Africa; the neon blue-green Paraiba tourmaline from Brazil (with recent finds in Africa); and the tri-colored variety aptly named watermelon tourmaline.
Chrome tourmaline, colored by chromium and vanadium, has perhaps the richest, most intense green in the gemstone world, rivalling the very finest emerald and tsavorite garnet. Chrome tourmaline was first mined in Tanzania in the 1960s and is very difficult to find. Generally it can only be found in small sizes, but the quality is usually high. The color is typically a pure forest-green with slightly yellowish to bluish secondary hues. A blue secondary hue is preferred.
The electric blue-green Paraiba tourmaline was first discovered in the Brazilian state of Paraiba in 1989. Colored by copper and manganese, this new tourmaline caused a sensation in the market. The market demand was so great and the supply so limited that the original Brazilian mine has been completely worked out.
However, in 2001 some similar copper-bearing, blue-green tourmaline was discovered in Nigeria, though the color saturation was not quite as good as the Brazilian material. Then in 2005, a third find was made, this time in Mozambique. The Mozambican material is found in a range of colors, from green and blue-green to violet.
The new finds of copper-bearing tourmaline led to a vigorous debate in the gemstone community about whether the term "Paraiba" should be used for the African copper-bearing tourmaline. Some argued that the Brazilian and African material were chemically similar, if not identical. Others argued that "Paraiba" was a location name and should be reserved for the Brazilian material only. Some gem dealers started to use the term "African paraiba". The debate is not really settled, but it has become clear that the consumer has latched on to the term "paraiba", regardless of the origin of the material. Demand continues to be extremely strong, with prices accordingly high.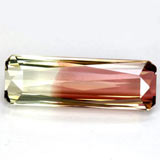 Tourmaline is famous for bi-colored and tri-colored gems, and the aptly named watermelon tourmaline is unique among these multicolored stones. With zones of green and pink/red, typically separated by a narrow white line, these unique pieces are extremely desirable to collectors. Available in many shapes, including cross-sections or slices, large gems with strong colors are quite rare and expensive.