Rubellite Rubric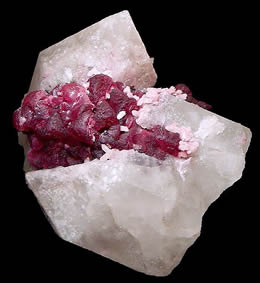 Rubellite Tourmaline Crystals
Rubellite is a highly prized - and usually highly priced - type of tourmaline. There is some confusion in the gemstone trade about what exactly counts as rubellite and how it can be identified. We've wondered ourselves which tourmaline to label as rubellite, and sometimes whether we should have a category of rubellite at all on our website.
Upon investigating this matter, two schools of thought became apparent. One view is represented by the mineralogist Walter Schumann, who wrote one of the standard texts in gemology, Gemstones of the World. According to Schumann, the term rubellite is one of a number of trade names used in the gemstone business to refer to different colors of tourmaline. These names include terms such as indicolite (blue), verdelite (green), dravite (brown), schorl (black) and achroite (colorless). In Schumann's opinion, rubellite tourmaline is "pink to red, sometimes with a violet tint." He also notes that "ruby color is the most valuable".
Schumann's opinion carries a lot of weight in the gemstone world, since his book is regarded as something of a gemstone Bible by serious gem enthusiasts. He goes on to observe that the trade names for specific colors of tourmaline are now often replaced simply by the color description added to tourmaline, such as "red tourmaline", "yellow tourmaline" and so on.
Rubellite Tourmaline Setting
A different view is expressed by the International Colored Gemstone Association (ICGA). They claim that "there are red and pink tourmalines in many nuances, which include a tender pink, a fine shocking pink, an intense violet and a bold ruby-red. However, only a few of these are entitled to call themselves 'rubellites'." According to the ICGA, the test for a genuine rubellite, is that true rubellite red shines just as intensely in artificial light as it does in daylight. Non-rubellites, on the other hand, will show a tinge of brown under artificial light.
How do we decide between these two esteemed authorities? It's not an easy task. Gemologists would argue that rubellite is not a specific variety of tourmaline, distinguished by its chemical composition in the way that elbaite, liddicoatite and uvite are. On the other hand, there is little point to the term rubellite if it refers to all pink and red tourmaline. Perhaps that's the very reason why the use of the term has declined. We might think instead of rubellite as a qualitative term that picks out the outstanding examples of intensely red tourmaline that are truly comparable to fine ruby in color.