Rare Chrome Tourmaline
Chrome tourmaline is a rather special member of the tourmaline group. Found only in east Africa, it is usually found mainly in small sizes. But what it lacks in size it makes up for in color - it displays perhaps the richest, most intense green in the gemstone world.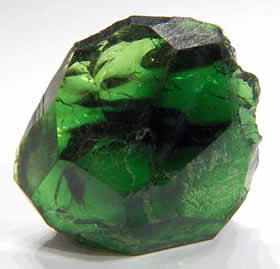 Chrome Tourmaline Rough
There are many similarities between chrome tourmaline and tsavorite garnet. They are found in the same locations in Tanzania, and both are colored by chromium and vanadium. Miners will usually concentrate their attention on tsavorite, since it has more of an established market and fetches higher prices. But chrome tourmaline, though more scarce, in many ways is equal to the finest tsavorite.
Chrome tourmaline is actually a distinct variety of tourmaline, called chrome dravite. Like emerald and tsavorite garnet, fine chrome tourmaline is a pure forest green with slightly yellowish to bluish secondary hues. The blue will normally show itself in incandescent light and the yellow will be more visible in daylight. A blue secondary hue is preferred to yellow.
Chrome tourmaline is distinguished from the more common and less vibrant green tourmaline by its chromium content. Collectors can test for chromium content with a Chelsea filter. Under the filter, stones that contain chrome will show flashes of red or orangy red. Common green tourmaline is colored by traces of iron. So when common green tourmaline is subjected to a Chelsea filter test, its color remains green.
Chrome tourmaline is generally quite rare, and it is particularly rare in sizes over one carat. A stone of fine quality weighing over one carat is especially rare. Therefore, the collector should expect a large increase in the price of stones weighing more than one carat.
One reason why high quality chrome tourmaline is found mainly in smaller sizes is because the green color saturation is so high that larger stones can appear too dark. The smaller stones generally maintain a vivid green color. Chrome tourmaline also looks best in daylight; some stones can look opaque under incandescent lighting due to their intense color.
First Published: July-15-2008
Last Updated: January-23-2019
STAY IN TOUCH
*You're signing up to receive GemSelect promotional email.
Privacy Notice © 2005-2023 GemSelect.com all rights reserved.
Reproduction (text or graphics) without the express written consent of GemSelect.com (SETT Company Ltd.) is strictly prohibited.
594
Popular Gemstones

All Gemstones (142)

Main Categories

| | |
| --- | --- |
| | Drilled Gems, Briolettes and Beads |
English speaking customer support only
Toll Free - USA & Canada only:
1-800-464-1640

International:
+66-39609697
Save Money
No shipping Fees for Additional Items!
$8.90 Worldwide Shipping
Size and Weight
Gems are always measured in Millimeter (mm)
Dimensions are given as;
length x width x depth,
except for round stones which are;
diameter x depth
Select gems by size, not by weight!
Gem varieties vary in density, so carat weight is not a good indication of size
Note: 1ct = 0.2g