Trilliant-Cut - Trillion Cut Gemstones
Trilliant-cut gemstones are triangular shaped stones that are usually faceted based on the brilliant cut, hence the name. The basic trilliant design has 43 facets, but modern variations may have 50 or more facets. Due to their equilateral form, trilliants return substantial light and color to the eye. Trilliants are considered nearly as brilliant as round cuts, so are a good choice for buyers who like brilliance but want something other than round.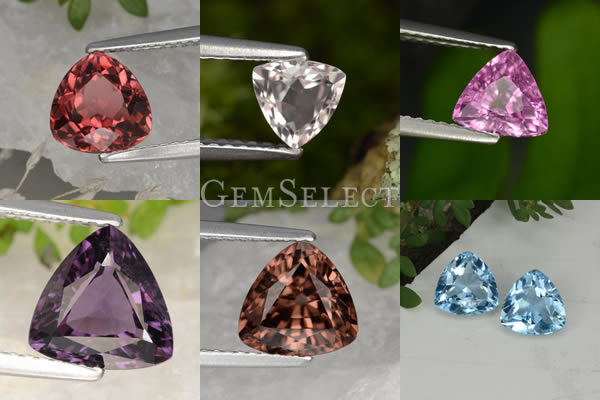 Trilliant-Cut GemStones from GemSelect
Trilliants work very well with light-colored gems - such as diamond, aquamarine, beryl and white sapphire - where cutters try to maximize brilliance. Some cutters use trilliants effectively to lighten and brighten the appearance of darker stones such as tanzanite, spessartite garnet, rhodolite garnet and amethyst gems.
Trilliants are rarely used for softer gems, such as apatite, unless the corners are rounded. The tips and culets of trilliants are pointed and thin, making them vulnerable to breakage. Some jewelers bezel-set trilliants, though prongs that protect tips work well and show more of the stone.

Trillions are almost always cut with a 1:1 length to width ratio. But there are some variations in shape, including rounded-corner triangles, straight sides and curved sides. Trillions with straight sides are usually used for side stones in a setting, while stones with slightly curved sides are used for center stones or solitaires.
The trillion cut was introduced by the Asscher brothers in Amsterdam and was later trademarked by the Henry Meyer Diamond Company of New York in 1962. Now that the patent has expired, the term "trilliant cut" is used to refer to all triangular shaped gems, even step-cut and cabochon stones.