History of the Cushion Cut
We get many requests for cushion-cut gemstones, a sign of the growing popularity of this intriguing shape that is somewhere between the rectangle and the oval. Some buyers see the cushion cut as a distinctively modern cut, but the opposite is true - it is a classic, even antique cutting style that has recently undergone a revival.

Cushion-Cut Peridot Gemstone
Cushion cuts were incredibly popular from most of the nineteenth century until the early twentieth century. The basis for the cushion cut is the so-called old mine cut, which was a square cut with rounded corners, deep with a high crown, small table and large facets. The old mine cut had 33 crown facets and 25 pavilion facets.
The modern cushion cut resembles a cross between the old mine cut and a modern oval cut. But whereas the old mine cut had 58 facets, the modern cushion cut has 64 facets. The cushion cut has an open culet (the bottom of the gemstone) and a rectangular to square shape, with rounded corners and a facet plan to give the gemstone depth. This is quite different from today's brilliant cuts, which intend to maximize the light returned to the eye. The cushion cut is not quite as fiery or brilliant as more modern cuts, but it has a romantic and classic look that maximizes a gem's luster.


While in the nineteenth century most gems were cut as cushions, this standard was superseded in the early twentieth century by new modern cuts. The cushion cut is sometimes called the antique cushion cut in recognition of its historical roots. Modern cushion cuts are often given different faceting treatments and you will see cushion cuts with interesting checkerboard, Portuguese cut or even concave facets.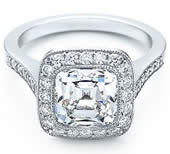 Cushion-Cut Diamond in Tiffany White Gold Ring
Many of the most famous gemstones in the world are cushion cuts, including the blue Hope Diamond (45.52 ct), the Regent Diamond (140.5 cts) and the yellow Tiffany Diamond (128.54 cts). The largest cut blue sapphire in the world, the 423 ct Logan Sapphire in the Smithsonian Museum of Natural History, is a cushion cut. In 2003 Tiffany introduced the cushion-cut Legacy Collection as one of their five iconic engagement ring styles.
Though cushion cuts are once again in vogue, they can be quite difficult to find. At any given time, only about 5% of our extensive inventory will be cushion cuts. So despite its important place in the history of gemstones, the cushion cut still counts as unusual in today's market.