GemSelect Newsletter - July 2008
In our newsletter this month:
On March 13th, 2008, the price of gold reached a record US $1,000 per troy ounce for the first time. Though the price has fallen slightly since then, gold is still trading at over $910 per ounce in late June. For everyone involved in the gem and jewelry business, whether buyers or sellers, the high price of gold is a major worry.
What's going on in the gold market? Is gold becoming like oil, where the price just continues to go up and up? Is world demand for gold pushing up the price to record levels? If so, who's buying all the gold?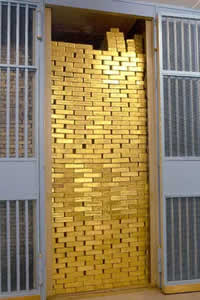 Federal Reserve Bank of New York
Though both gold and oil prices have been rising rapidly along with many other commodities, the demand for gold does not appear to be based on consumer market demand. Gold has some uses in the electronics industry, but for the most part gold is not an industrial metal, unlike copper or platinum. About 70 percent of gold consumption is for jewelry. But when gold prices are very high, gold jewelry sales fall. Since production of gold is steady, that should lead to falling prices, shouldn't it?
It seems as though it should. But gold attracts speculators as well as jewelry buyers. When the financial markets - traders, mutual funds, hedge funds and so on - decide to buy gold, they buy it in vast quantities. They don't even need to buy actual gold to affect the gold price; speculators trade in futures and options as well.
Why is so much cash moving into gold? Experts point to the credit crunch set off by out-of-control mortgage lending in the USA and the falling US dollar. Low interest rates, a slowing economy and worries about international oil supplies have apparently led financial institutions to move a lot of cash into the safety of gold.
So is the high gold price just a temporary bubble? There's reason to think that it is, though no one knows how long the bubble will last. The gold price has been high before. In fact the recent $1,000 record is not a record at all. In January 1980, gold reached a price of $850. Adjusted for inflation, that's $2,200 in 2008 dollars! By 1999 the price of gold had fallen all the way back to $250.
Developing countries, especially China, are increasing their consumption of the world's oil reserves. But the demand for gold is reasonably steady. When the financial markets move cash out of gold and into stocks, bonds or real estate, the price of gold will fall, probably as quickly as it increased. All of us in the gem and jewelry business are looking forward to this.
We add hundreds of new gems to our inventory every day. We also add new content to our site each week as well, in the form of articles and reference material.
Recently we've added new articles on topics ranging from padparadscha sapphire to feldspar gems and zoisite. If you're interested in learning more about the history of the gemstone business, we are also adding short biographies of some of the most interesting figures. See our new pieces on Jean-Baptiste Tavernier, Friedrich Mohs and William Earl Hidden. Click the link to see all our gemstone articles.
Each month we feature a rare and unusual gem from our recent acquisitions. This month's featured gem is a very large flawless sapphire from Sri Lanka:

Natural Blue Sapphire
Sapphires tend to be cleaner than rubies, but large flawless sapphires weighing over 3 carats are quite rare. This outstanding violet-blue sapphire from Sri Lanka, at 4.76 carats, is a good example of the excellent large sapphires that can still be found at affordable prices. But we see very few of them.
The color of this sapphire is reminiscient of fine tanzanite, but with all the virtues of sapphire (superb hardness and no cleavage). Though the lighter shades of blue sapphire have not been as highly valued as the darker tones, the lighter colors actually exhibit great fire and brilliance.
Every month we answer questions of general interest from our customers. Please feel free to send your questions or suggestions to our support team at help@gemselect.com!
Question
I noticed you've been adding some new kinds of gems, like
bloodstone
and
scapolite
. I was wondering, how many different kinds of gems are there in the world? TW, USA.
Answer
It's not an easy question to answer in a definitive way, but the latest edition of Walter Schumann's Gemstones of the World lists about 135 different varieties of natural gemstones. We currently stock about 80 varieties, but our eventual goal is to stock every known kind of gemstone, as soon as we can find them.
Question
I'm not a gemstone expert and I'm not familiar with all the different varieties of gems. But I'm looking for some particular colors (blue-green and soft pink). Do you have a way to search your stock by color instead of gem names? Thanks for any advice. JM, Australia.
Answer
A good place to start is with our
gems by color
page. This will show you all the different gem types that can be found in the basic colors (red, pink, blue, green, etc.). You can also type a color name, such as "blue-green" in the search box that you'll find on every page, and that will take you to a page with all of our blue-green gems, sorted by variety.
Keep up with our new arrivals before they hit the newsletter by joining our thousands of fans and followers on our social networking pages. We love interacting with our customers - you can visit us on Tumblr, LinkedIn, Twitter, Facebook or Pinterest!
To ensure you can receive our emails, please be sure to add help@gemselect.com to your list of safe contacts, or you add us into your email address book! Please feel free to contact us with any questions, comments and queries! We respond to each and every email we receive.
Happy Gem Hunting!
Your friends at GemSelect