Citrine Meanings and Properties
Citrine quartz is a popular, gem-quality yellow, golden or orange colored quartz, which draws its distinctive color from traces of iron and its name from the French for lemon; citron, though citrine tends to be more golden than lemon yellow. Quartz is an abundant mineral; therefore, citrine is an affordable gem type, even in large sizes.
Citrine is found all over the world, with commercial deposits coming from countries as diverse as the United States, Burma, Namibia, Bolivia and Madagascar. The leading producer of citrine gemstones is Brazil, where some of the largest citrine stones on earth have been discovered in Minas Gerais, including an enormous, 20,200-carat citrine stone called "The Malaga". The attractive luster, excellent clarity, beautiful color, durability and properties of citrine gemstones make them perfect for any kind of jewelry, from simple earrings and pendants to rings and bracelets. Bold, statement citrine rings are especially popular jewelry items.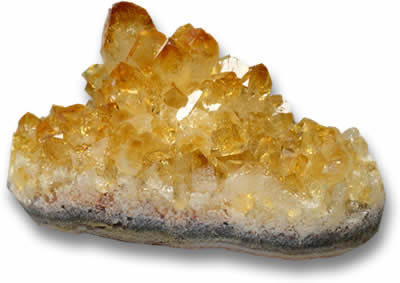 Citrine Geode Gemstone
Click to Browse Citrine Gems
The sunny color of citrine may have led to the belief that citrine radiates positive energy. Citrine is known as the "success stone" because it is thought to promote success, prosperity and abundance, especially in business. The practice of placing citrine in the cash register of shops has also earned it the nickname "the merchant's stone". One of the official birthstones for November, and an alternative to the highly-priced imperial topaz, citrine is often worn in November birthstone jewelry and by those born under the zodiac sign of Sagittarius. As for citrine as an anniversary stone, it is given in celebration of 13 years of marriage.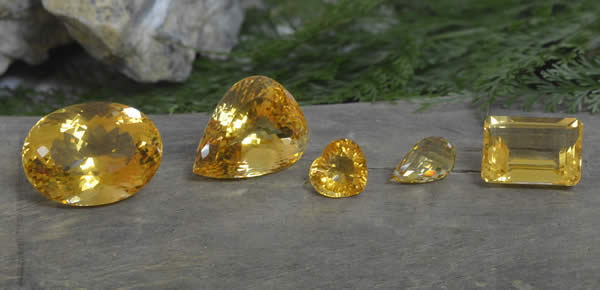 Various Citrine Gemstones
Click to View Our Citrine Collection
According to gemstone lore, citrine not only radiates positive energy, but also dissipates negative energy of all kinds. Furthermore, it does not absorb any negative energy from its surroundings and thus never needs to be "cleared" or "recharged". In fact, citrine can be used to clear unwanted energy from the environment. Family issues caused by negative energy are also thought to be resolved and cleared with citrine. Since citrine eliminates negative energy, it is said to help generate stability in all areas and is good for general protection.
Emotionally, citrine is presumed to relieve depression, self-doubt, anger and irrational mood swings. Citrine is a stone that is believed to bring happiness and cheer to one who carries or wears it. It is also said to reduce self-destructive tendencies, to eliminate fears and to overcome emotional trauma and grief. Sensuality and sexuality may also be heightened by citrine. Citrine is also believed to be of value in healing the spiritual self, since it is a powerful cleanser and regenerator. It carries the virtues of self-healing, inspiration and self-improvement. Citrine is said to hold the power of the sun, and be excellent for overcoming depression, fears and phobias. It is also believed to help those with low self-esteem. One's sense of self becomes more radiant with the use of citrine, which helps its wearer to look forward to the future optimistically, and to go with the flow instead of hanging onto the past.
As for physical healing beliefs, citrine is said to be beneficial for nightmares and other sleep disturbances. Moreover, it is thought to be helpful to the digestive system, stomach, thyroid, heart, kidneys, liver, muscles, endocrine system, circulatory system, urinary system and immune system. Citrine is also purported to be good for removing toxins and overcoming addiction.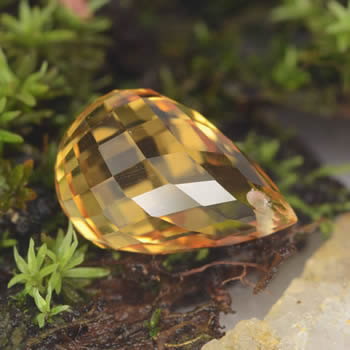 Citrine Briolette
Click to Shop Citrine
Since citrine quartz tends to be more popular than amethyst quartz, some of the commercial-grade citrine gemstones on the market have been produced by heat-treating amethyst, which will turn yellow at relatively low temperatures (around 470 degrees centigrade) and dark-yellow to red-brown at higher temperatures (around 1000 degrees centigrade). This is a stable and permanent procedure that is disclosed by all reputable gemstone suppliers. While it is difficult to tell whether citrine has been heated or not, virtually all heat-treated citrine has a reddish tint.
It is easy to see why citrine gems are so popular for jewelry. In addition to their metaphysical properties and meanings, their wonderful golden color, suitability for all types of jewelry, availability and affordability make citrine stones a great choice. Many different shapes and cutting styles make citrine gemstones perfect for unique jewelry. Conventional calibrated-sized stones are easy to find, but those looking for something a little more unusual can find more modern styles, such as concave cuts. Whether you wear citrine as a birthstone, a lucky stone or simply as a beautiful piece of gemstone jewelry, the golden glow of sunny citrine will surely brighten up your day, and hopefully, it will also bring you success.