Peridot Gemstone Information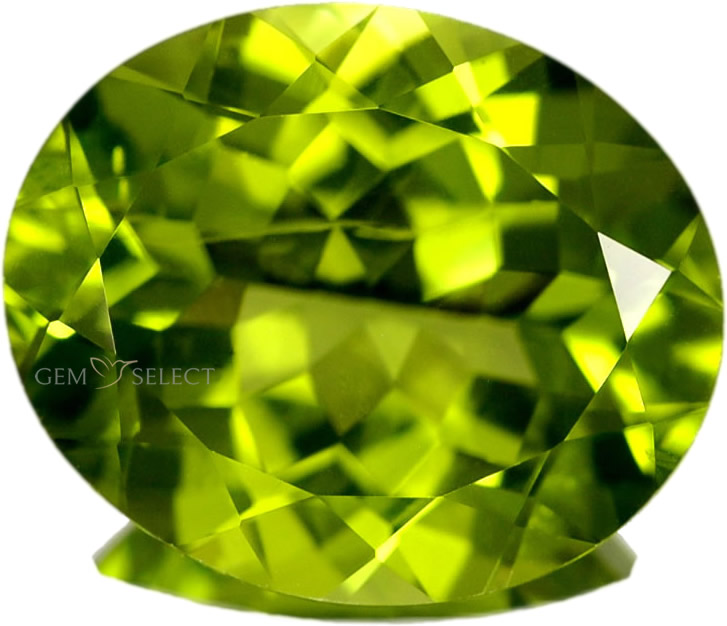 Buy Peridot Gemstones from GemSelect
About Peridot - History and Introduction
Peridot is a gem-quality variety of the mineral olivine. It belongs to the forsterite-fayalite mineral series. Some even refer to peridot as 'olivine', but when it comes to the gemstone, 'peridot' is the correct term. Peridot is an idiochromatic gem, meaning its color comes from the basic chemical composition of the mineral itself and not from minor traces of impurities. Thus, peridot is found only in green. In fact, peridot is one of the few gemstones available that can be found only in one color, although the shades of green may vary from light yellowish to dark brownish-green.
The name 'peridot' was derived from the Arabic word for gem - 'faridat'. It is sometimes referred to as 'the poor man's emerald' or as 'chrysolite', a word derived from the Greek word 'goldstone'. It is one of the oldest known gemstones, with records dating back as early as 1500 B.C. Historically, the volcanic island of Zabargad (St. John) in the Red Sea, east of Egypt, had the most important deposit that was exploited for over 3500 years. Today, the finest quality peridot comes from Mogok in Burma, although Pakistani peridot is now highly regarded as well. There are other very important deposits found in Arizona, China and Vietnam. Peridot has also been discovered in fallen meteors and it has also been discovered on Mars and the moon in olivine form.
| | |
| --- | --- |
| | |
Chemically, peridot is an iron magnesium silicate and its intensity of color depends on the amount of iron it contains. There may also be traces of nickel and chromium present. Peridot is not especially hard and it has no resistance to acid. On very rare occasions, peridot is known to form with cat's eye chatoyancy (asterism) in the form of four ray stars. Peridot can be mistaken for similar colored gems, but its strong double refraction is often a very distinguishing trait. In thicker stones, the doubling of lower facet edges can be easily seen by looking down through the table without the need for magnification.
Most gemstones are formed in earth's crust, but peridot is formed much deeper in the mantle region. Peridot crystals form in magma from the upper mantle and are brought to the surface by tectonic or volcanic activity where they are found in extrusive igneous rocks. Historically the volcanic island Zabargad (St. John) in the Red Sea was the location of the most important deposit. It was exploited for 3500 years before it was abandoned for many centuries; later, it was rediscovered around 1900 and has been heavily exploited ever since.

Today, the most important deposits are found in Pakistan (in the Kashmir region and the Pakistan-Afghanistan border region). Beautiful material is also found in upper Myanmar (Burma) and Vietnam. Other deposits are found in Australia (Queensland), Brazil (Minas Gerais), China, Kenya, Mexico, Norway (north of Bergen), South Africa, Sri Lanka, Tanzania and the United States (Arizona and Hawaii). Recently, China has become of the largest producers of peridot.
Buying Peridot and Determining Peridot Value
Back to Top
Peridot Color

Peridot is one of the few gemstones that comes in a single color. The depth of green depends on its level of iron content. Peridot's color can vary from yellow-green and olive to brownish green and looks best under natural daylight. Its vivid green color does not change under artificial light. The best-colored peridot has an iron percentage of less than 15% and typically includes some trace elements of nickel and chromium, which contribute to its color. A deep and intense green colored peridot is considered the most desirable and the most valuable.

Peridot Clarity and Luster

Peridot occurs with excellent transparency. Eye-clean specimens are abundant. Larger stones may appear slightly cloudy owing to the presence of inclusions and impurities. When cut and polished, peridot has an attractive, greasy and vitreous luster.

Peridot Cut and Shape

Peridot is typically faceted due to its excellent transparency. Table and step cuts are very popular, as well as unconventional checkerboards. Peridot can be found in many shapes including fancies and traditional rounds, ovals, emeralds (octagons) and cushions.

Peridot Treatment

Peridot is not typically treated or enhanced in any way. However, there have been reports of metal-foiled peridot to increase stability, and some paler stones may be coated with green foil to enhance color. Imitation peridot can also be found, typically of synthesized spinel or sapphire.
| | |
| --- | --- |
| Chemical Formula: | (Mg,Fe)2SiO4 Magnesium iron silicate |
| Crystal Structure: | Orthorhombic; short compact prisms, vertically striated |
| Color: | Yellow-green, olive-green, brownish |
| Hardness: | 6.5 to 7 on the Mohs scale |
| Refractive Index: | 1.650 to 1.703 |
| Density: | 3.28 to 3.48 |
| Cleavage: | Indistinct |
| Transparency: | Transparent |
| Double Refraction or Birefringence: | 0.036 to 0.038 |
| Luster: | Vitreous, greasy |
| Fluorescence: | None |
Please refer to our Gemstone Glossary for details of gemology-related terms.


Chrysolite
Peridot is a transparent gem variety of olivine. Olivine is not officially a mineral but is composed of two end-member minerals: fayalite and forsterite. Fayalite is iron rich olivine, while forsterite is magnesium rich olivine. Although iron is the coloring agent for peridot, it is technically closer to forsterite than fayalite with regard to chemical composition.
Peridot is sometimes referred to as 'chrysolite', a historical name which archaically refers to several green to yellow-green colored gemstones. Other forms of 'chrysolite' include chrysoberyl, zircon, tourmaline, topaz and apatite.
Peridot Mythology, Metaphysical and Crystal Healing Properties
Back to Top
Peridot has an ancient history and has been used for jewelry for thousands of years. It is a gemstone with a fascinating history, both in nature and culture. The ancient Romans called it 'evening emerald' since its color did not darken at night, but could still be appreciated by candlelight and the light of a campfire. It is a gem especially connected with ancient Egypt, and some historians believe that the famous emeralds of Cleopatra were actually peridot gems. Peridot was also brought back to Europe by the Crusaders and was often used to decorate medieval churches. In ancient beliefs, peridot was a gift of Mother Nature to celebrate the annual creation of a new world. National leaders who publicly wore peridot were in former times thought to be gentle, fair and wise.
Peridot is mentioned in the Bible under the Hebrew name of 'pitdah'. Peridot gems along with other gems were probably used in the fabled breastplates of the Jewish high priests, artifacts that have never been found. Legend has it that peridot was the favorite gemstone of Cleopatra. Crusaders brought peridot to Central Europe where it was found in many medieval churches such as the Cologne Cathedral. In the Baroque era, peridot experienced another short period of popularity, before it was forgotten again. Napoleon used peridot to assure Josephine of his undying love and admiration, which of course happened before he had their marriage annulled. Peridot is assigned to the planet Saturn.
Disclaimer: Metaphysical and Alternative Crystal Healing Powers and Properties are not to be taken as confirmed advice. Traditional, Ceremonial and Mythological Gemstone Lore is collected from various resources and does not represent the sole opinion of SETT Co., Ltd. This information is not to replace the advice of your doctor. Should you have any medical conditions, please see a licensed medical practitioner. GemSelect does not guarantee any claims or statements of healing or astrological birthstone powers and cannot be held liable under any circumstances.
Peridot is an excellent gemstone for jewelry. It possesses good hardness and durability, rendering it suitable for just about any type of jewelry application, including everyday-wearing peridot gemstone rings. Its attractive color and affordable pricing makes it prized by many jewelers. It is especially popular in China, since many important deposits are now being mined from there. Peridot's green color is ideal for men's jewelry, women's jewelry and unisex jewelry designs. Along with spinel, peridot is often set and worn in August birthstone jewelry too.
Owing to its abundance, peridot can be found in many interesting shapes, calibrated sizes and in matching sets. This makes peridot ideal for earrings and other designs which require precisely matched stones. Peridot's hardness is comparable to that of quartz, so with care, peridot can make excellent daily-wear ring designs. For men, cuff-links, tie-tacks and pendants are great ideas. For women, bracelets, necklaces, bangles, pins, brooches and earrings can make stunning fashion jewelry accessories.
Note: Buy colored gemstones by size and not by carat weight. Colored stones vary in size-to-weight ratio. Some stones are larger and others are smaller than diamonds by weight in comparison.
The largest cut peridot was found on the island of Zabargad, weights 319 carats and belongs to the Smithsonian Institution in Washington D.C. In Russia there are some cut peridots from a meteorite that came down in Eastern Siberia in 1749.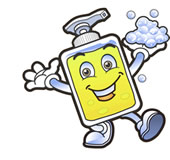 Peridot is relatively hard and durable. It is considerably softer than many other gems, so care should be taken to prevent scratches. It is not particularly sensitive to acid, but it does have a brittle tenacity. It is also known to burst under great stress, so avoid settings that expose the gem to high pressure (tension-set rings). Also, avoid extreme temperature and climate changes. Peridot can be easily cleaned using warm, soapy water and a soft cloth. Be sure to rinse well to remove any soapy residue. Do not use ultrasonic cleaners or heat steamers to clean your peridot.
Always remove any gems and jewelry before playing sports, exercising or performing harsh household chores. When storing peridot gemstones, store them separately and away from other gems and jewelry. If possible, wrap them using a soft cloth and place them inside a fabric-lined protected jewelry box.