History of Peridot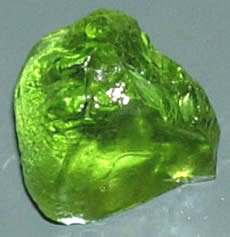 Natural Peridot Crystal
Peridot is a gemstone with a fascinating history, both in nature and culture. It is one of the oldest known gemstones, with ancient records documenting the mining of peridot from as early as 1500 B.C. It is a gem especially connected with ancient Egypt, and some historians believe that the famous emeralds of Cleopatra were actually peridot gems.
With regard to its formation, peridot's history is different from that of almost all other gems. Most gems are formed in the Earth's crust. The two exceptions are peridot and diamond, which are formed much deeper in the Earth; in the mantle. Peridot forms in magma in the upper mantle, about 20 to 55 miles deep. It is brought to the surface by tectonic or volcanic activity. Diamond, by contrast, is formed much deeper in the mantle, around 100 to 150 miles below the surface, under extreme pressure and high temperatures.
The main source of peridot in the ancient world was Topazos Island, now known as Zabargad or St. John's Island, in the Egyptian Red Sea. The island was discussed in Pliny the Elder's Natural History (23-79 A.D.) as having been explored in the fourth century BC. Peridot was probably originally referred to as topaz; only much later did the name come to be applied to the gemstone we know today as topaz. Peridot has been mined on Zabargad for over 3,500 years. Incidentally, the exact location of the island was lost for several centuries and was only rediscovered in 1905. The tiny island, often shrouded in fog, is located about 35 miles off the Egyptian coastal port of Berenica.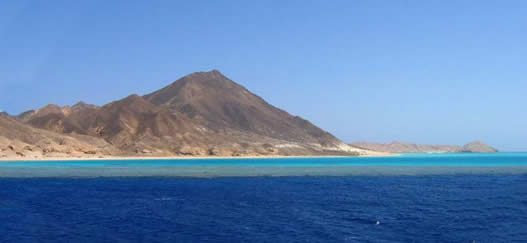 Zabargad Island
Mining ended on Zabargad around the time of World War II. Today there are five major sources of peridot. Very fine specimens come from Burma, and new material from Pakistan has generated considerable excitement in the gemstone world. Arizona and New Mexico in the USA are important producers of commercial grade peridot. Additionally, Vietnam and China have become increasingly important suppliers.
Peridot was first used a talisman in the ancient world and it has a longstanding mystical reputation. It was once thought to ward off anxiety, making men more articulate and facilitating successful relationships and marriages.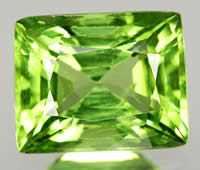 Burmese Peridot
Peridot was also believed to be able to dissolve enchantments. To exert its full potential, the stone was set in gold. If it was intended to provide protection from evil spirits, it had to be pierced, strung on the hair of a donkey, and worn on the left arm. As a medical remedy, it was powdered to cure asthma. Additionally, holding a peridot under the tongue was supposed to lessen the thirst of a person suffering from fever. The high priest's breastplate, which is described in the Book of Exodus, includes a stone for each of the twelve tribes of Israel, one of which is believed to have been peridot.