Gemstones from Pakistan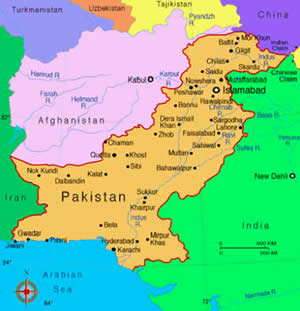 Map of Pakistan
In recent years, most of the excitement in the colored gemstone world has been generated in Africa - especially Tanzania, Mozambique, Madagascar, Kenya, Nigeria and Namibia. Mineralogists believe that the African mines still have tremendous potential and we expect many new discoveries to come. But as we consider new untapped sources for the future, one of the countries at the top of the list is Pakistan.
Thus far we have seen only a limited supply of a few gemstone varieties from Pakistan, chiefly peridot and chrysoberyl. Yet Pakistan is believed to hold rich sources of an astonishingly wide range of gems, including ruby, emerald, tourmaline, all the garnet varieties, topaz, aquamarine, spinel, diopside, moonstone, serpentine jade, morganite, sphene, zoisite, lapis lazuli, turquoise, kunzite and almost all known varieties of quartz.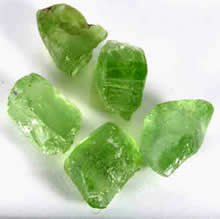 Peridot Rough from Pakistan
The challenges in exploiting these vast gem resources are many - Pakistan needs political stability, foreign investment and geological expertise. The climate and terrain are challenging. Pakistan's mineral wealth is found mainly in the northern and northwestern parts of the country in three of the highest mountain ranges in the world; the Hindu Kush, Himalaya and Karakorum. The climate is extreme, with hot, dry summers and bitterly cold winters. The mountain peaks reach 6,000 meters (19,500 feet), separated by narrow river valleys. The road network is limited and many areas can only be reached on foot.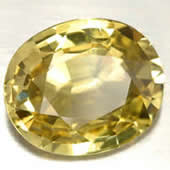 Pakistan Chrysoberyl
Gemstone mining in this area is still at a very early stage of development. Even in neighboring Afghanistan, mining goes on despite a series of recent wars. But political instability makes it difficult for foreign buyers to enter the mining areas in Afghanistan. Therefore, Afghan gems are brought to Pakistan and traded at the market in Peshawar. So while there is only limited gemstone mining in Pakistan, there is already a flourishing gem trade in the country. The Pakistanis also have expertise in lapidary and jewelry manufacturing in Karachi. They could some day become a major force in the international gemstone trade.